A new chapter for ISER Books
Apr 27th, 2015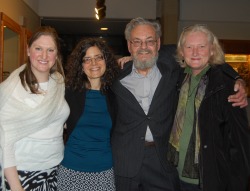 A new chapter for ISER Books
ISER Books, the publishing division of the Institute of Social and Economic Research in the Faculty of Arts, has launched a completely revamped and improved website (www.arts.mun.ca/iserbooks/). And it's a whole new world for ISER Books.
Customers will now be able to purchase books directly from the publisher - an innovation that has been at the top of managing editor Alison Carr's wishlist since joining the publisher in 2012.
"We're really excited about the launch of the updated website — not just because of the new look and the more functional online store — but because we're actually doing so much these days! We're publishing four books this year, instead of the usual two, and we're getting really active in the community," said Ms. Carr. "We're doing launches, community events, conferences, trade shows and tons of online stuff, like 49th Shelf and an e-newsletter. The new website enables us to share with our readers everything we and our authors are up to, as well as other writing and publishing related news."
To celebrate the new website, ISER Books will be offering a 25 per cent sale on all books (frontlist and backlist) until May 31, 2015.
ISER Books author and sociologist Dr. Adrian Tanner is one reason Ms. Carr is so busy these days. The second edition of his book Bringing Home Animals was recently published by the press and has been shortlisted for an Atlantic Book Award in the category of scholarly writing. Dr. Tanner will read along with his fellow shortlisted author (and Faculty of Arts staff member Jenny Higgins) on May 12 in AA 1026 at 7:30 p.m.
Academic editor Dr. Sharon Roseman is delighted with the redesigned platform and with the work currently being submitted to ISER Books from a variety of genres, specialities and authors.
"Visitors to our site will discover new volumes as well as earlier works that we have maintained in print. We continue with ISER Books' longstanding commitment to publishing high quality, peer-reviewed books on
Newfoundland and Labrador and other North Atlantic regions and on topics relevant to our place such as maritime and coastal studies; Indigenous Studies; culture, politics, and identity; and public policy."
The next volume for ISER Books is Dr. Katherine Side's Patching Peace: Women's Civil Society Organizing in Northern Ireland, which will be published in the fall of 2015.