Jeremy Bonia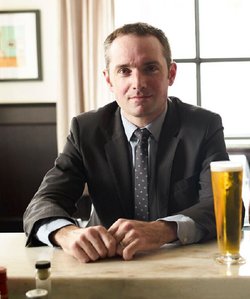 Jeremy Bonia grew up in Logy Bay, and began his career in the restaurant business at Bianca's, one of Newfoundland's original fine dining restaurants. It was here that he developed an interest in wine, which led him to become a certified sommelier. In 2007 he met Jeremy Charles and went to work with him at Atlantica, where, in their first year, they earned the title Best New Restaurant in Canada from En Route. Together they opened Raymonds in 2010, and took the Best New Restaurant title for an unprecedented second time and is now considered one of the best restaurants in Canada. In 2015 they opened a second restaurant: The Merchant Tavern. Jeremy has traveled extensively throughout Europe and Canada researching and buying wines for both restaurants. He has been featured in Decanter, Wine Spectator, Fool, The Globe & Mail and Maclean's and was recently added to Wine Business International's "Power List" as a top wine professional in Canada.
Twitter: @JeremyBonia
Instagram: jeremybonia
How and why did you decide to attend Memorial for your degree?

I love living in Newfoundland so Memorial was always going to be my first choice, I knew it was a top school so there was no sacrifice there. Midway through my degree I had seriously thought about moving out west to become a ski-bum but my oldest sister Stephanie managed to convince me to go back and finish. I'm very thankful that she did.
Do any particular memories stand out from your time here as student?
There are so many but 9/11 would probably be the most significant one. I remember getting ready to head into class when we first heard the news reports. I don't think we realized how world-changing it would be at the time.
What drew you to study history?
History, was a subject that I gravitated towards at an early age. I loved reading and pretty much devoured any books I came across. And through high school it was a favorite subject of mine so it was a natural fit that I would pursue a history degree when I came to Memorial. It didn't hurt that the history department had an amazing faculty with many diverse topics to offer students, Plus the many cross-listed courses between other departments at Memorial were also excellent.
How did you go from a degree in history to the restaurant business?
I worked in the restaurant business while I was attending Memorial. It was a great way to pay for my degree. When I graduated, I realized that I loved the business so much that I decided to stick with it.
What's the best piece of advice you ever received?
To become a better leader you have to become a better listener.
What's a typical day like for you at Raymonds?
Well, now my time is split between Raymonds and The Merchant Tavern, so my day begins just after 6 am as I get up with the kids, get them fed, lunches packed and out the door. Usually head to Merchant for 9 or 10, stay there till lunch service is over, try to stop into Raymonds between 2 till 4 pm, pick up the kids and try to have a meal with them and my wife, and then go back downtown for service at either one or both restaurants over the night. Home by midnight and repeat. I'm very fortunate in that I have an amazing team at both restaurants who allow us to be pretty flexible with our days and run the show when we have to travel.
Anthony Bourdain's suicide has shaken people around the world. Can you comment on how restaurant culture might contribute to mental health issues in vulnerable people?
The industry can be very tough on people – it's faced-paced, sometimes stressful, and constantly "on" and moving. It's a world where you work long hours late into the evening and occasionally into the early morning only to turn around and do it all over again the next day. Over the years mental health has been a growing topic of discussion and concern for many workplaces.
The sad and unfortunate death of Anthony Bourdain has hit the restaurant industry hard for all who knew him as well as countless others who were inspired by him. His struggle has helped bring awareness to the issue and made us realize that we need to do more to recognize and help those suffering from mental health issues in our workplace.
What is your own personal food philosophy and what's your favourite meal to eat/prepare at home?
Real butter always! Margarine is for removing turpentine from your hands. My favorite meal to prepare and eat is stewed fish (Cod, potatoes, onions, fatback, water, salt, butter)
What has your biggest professional challenge been to date?
Managing two busy restaurants with my best friend (and staying friends in the process), dealing with 100 staff and trying to juggle all that with home life and all the curveballs that life will throw at you. But I love what I do.
In a perfect world, what initiative (building, service, cultural offering, etc.) would you add to Newfoundland and Labrador (or St. John's) to make it a better place?
I would bring back the Newfoundland History/Cultural Studies courses to all school levels and make it mandatory. Our history is such a big part of who we are today and should be celebrated more and everyone who lives here should know it.
In what ways has studying humanities/social sciences affected your worldview? What do you say to those who question the value of an arts degree?
I cannot think of any other discipline that manages to broaden and expand your worldview, teaching you the cultures and traditions of other races and religions which for me has nurtured tolerance and openness towards others. Those that question the value of an arts degree most likely have never participated in a course, or just do not enjoy the subjects. I feel for them. (Tolerance!)
What advice would you give a student who is unsure of what to study?
What are you interested in or love to do? Pick courses that follow that path. Do things that interest you and everything else will fall in place.
What's your favourite place to visit?
I think my favourite place is the side of any river, fly rod in hand.
What are you reading and listening to, looking at these days?
Lately my reading is limited to wine magazines and children's books, but I really enjoy listening to podcasts in the car or on a flight. Malcolm Gladwell's "Revisionist History" being my favourite. Our family spent the last few months watching every Marvel movie in order to prep us for the most recent releases. And I binged watched the Ken Burns Vietnam documentary as I love everything he has made.
What are you most looking forward to within the next year?
A brighter future. We have so much here in the province to offer the world. We have to focus more on our positives. I think that's what I'm most looking forward to.