Drew Brown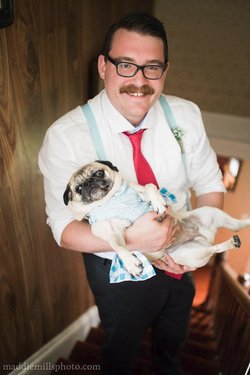 Drew Brown is a freelance writer living in St. John's. He grew up in Grand Falls-Windsor and enrolled at Memorial University in 2005. He completed two political science degrees at MUN and did freelance writing for different blogs and local papers (and ran in a few provincial elections). In 2012 he left for Edmonton to pursue a PhD in political theory at the University of Alberta.
Drew was in Edmonton for four years and got all the way to his doctoral candidacy, but was "pretty burned out on academia by the end of it." He had continued freelancing in his spare time, which in 2015 led to a semi-regular gig with VICE Canada writing a mix of real political analysis and what he calls "extremely stupid jokes." Graduallyhe started getting more (and higher-paying) freelance work, which forced him to choose between getting a doctorate and embarking on a writing career.
Writing won out and he returned home to Newfoundland in 2016, writing full time and stirring up trouble ever since.
How and why did you decide to attend Memorial for your degree?
I did a BA (Hons) in political science and economics at Memorial. My honours thesis was about the political economy of 20th century Newfoundland and Labrador, so getting my masters at MUN seemed like a natural progression. I knew most of the professors in the department who would be teaching our grad work and liked them all a lot. Also, every other university that accepted me was very expensive.
What drew you to do a degree in political science?
I was always interested in questions about how the social world works and why people do what they do (and the ways in which those two things are related). At various points I have wondered if it would have been better to follow that line of questioning into psychology or philosophy or literature or history, but I chose political science instead. I'm glad I did.
Do any particular memories stand out from your time here as a graduate student?
So many… and most of them unprintable. All things considered, it's probably the time our class threw an end-of-semester kegger and then went downtown and some guy tried to cop a feel on a colleague so she beat him to a pulp in front of Lottie's. That is something you definitely never forget.
What sort of extracurricular activities were you involved in?
Other than working a few odd jobs to pay the bills, I ran in the 2011 provincial election for the Liberals, and I did a little bit of freelance writing on the side. I wouldn't recommend either one as a hobby.
If you could do any course over again, what would it be?
Re-doing any coursework is my personal nightmare at this point in my life. But in seriousness I would have to say my political theory class with Dmitrios Panagos. The coursework was intense (less charitably, you might call it grueling), but now on the other side I don't think I've ever taken a more valuable class in grad school, including at the PhD level.
What's the best piece of advice you ever received?
I spent a lot of my time in pursuit of wisdom, and I've discovered a few gems. But career-wise, so far the best advice I got comes from Ed Riche: "you're not paid enough to read the comments."
What's the biggest misconception the general public has about journalists/freelance writers?
Probably that we're cool or interesting or that this is in any way a glamorous lifestyle. Freelance writing is a wondrous adventure that I wouldn't wish on my worst enemy.
You are one of the contributors to the Democracy Cookbook. Why do you feel democractic reform is important for the province?
Not to put too fine a point on it, but I genuinely don't think the province has a future without drastically renovating its civic institutions. The problems facing Newfoundland and Labrador are so big that you need to bring the full weight of the state to bear against them. But the mechanisms through which our collective interests are articulated to the state – represented by and through our politicians – are arcane, clumsy, and increasingly compromised. (There is some dispute over how much of this is by design, and how much is the result of politically expedient neglect).
Without empowering the people of the province to think and speak politically - and creating a state capable of actually responding to those voices - we're just going to keep on drifting listlessly through the storm. Newfoundlanders live more like subjects than citizens, and unless we change that soon then not many of us will be able to continue living here at all.
What do you say to those who question the value of an arts degree?
An arts degree, taken seriously and done well, will make you into a better person by connecting you to the shared cultural heritage of the human race. (I don't know how often it actually does this.) It should at least teach your how to read and think and write clearly, which comes in handy anytime you have to live in the world with other people. In my experience, the people who don't see the value in that are usually those who need it most.
What would people be most surprised to learn about you?
I love RuPaul's Drag Race. My wife and I spent the summer and fall watching every season of the show (included every episode of Untucked) and I am obsessed. It's structurally the perfect reality show. The competitions are fierce are often cutting, but everything is always coming from the shared place of love and vulnerability involved in living and working as a professional drag queen - which is in turn its own fascinating subculture at the absolute bleeding edge of working through gender and sexual expression in America. It's genuinely compelling television and I feel like I have grown as a person by watching it. Seriously. Start with season 8 on Netflix, you'll love it.
In a perfect world, what initiative (building, service, cultural offering, etc.) would you add to Newfoundland and Labrador to make it a better place?
Universal and timely access to mental health services would probably fix a solid 80 per cent of the province's social problems right off the bat.
What advice would you give a student who is unsure of what to study?
Cast a wide net, electives-wise, and follow your heart. You will be much happier doing what you want to do instead of doing what you feel like you "should" do. That said, figuring out what you actually want in life can be difficult and even terrifying… but the benefit of an arts degree is that it can help prepare you for dealing with that part of the human condition.
What's your favourite place to visit?
My great-grandfather bought a place out in Lethbridge on the Bonavista Peninsula and it has stayed in the family. It's this verdant green place just up the hill from rocky beach. Long summers there roaming the shore were the backbone of my childhood. My wife and I were married there in a clearing overlooking the bay. Truly a magical spot and my favourite place in the world.
What are you reading and listening to these days?
I saw Robert Chafe's theatrical adaptation of Colony of Unrequited Dreams not long ago, so my plan is to dig out my copy of the Wayne Johnston novel. I also have a collection of Franz Kafka's short stories on my nightstand, which has so far just resulted in my lying awake thinking about the meaning of "Before the Law" every night.
My music tastes are all over the place these days. Lately though I am very into the new Chastity Belt album I Used To Spend So Much Time Alone, because I really like bleakly ironic fuzzy guitar rock about depression.
What are you most looking forward to within the next year?
2018 looks like it will be pretty wide open for me. My contract with VICE is up in March so I'm excited to see what comes next - whether that's more work with them, or something new altogether.
In all honesty, though, I'm most excited about RuPaul's All Stars 3 in January. If Trixie Mattel doesn't bring home the crown this year I'm going to be very upset.