Colleen Power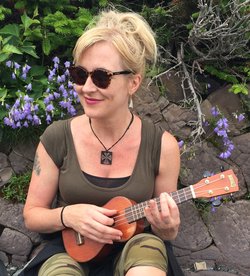 Colleen Power graduated with a Bachelor of Arts degree in French and English (Dean's List) from Memorial University in 2010. She returned to MUN in 2009 to complete her degree, after leaving in the early 1990s to pursue a music career.
A self-taught musician, Colleen has won several MusicNL awards, and been nominated for several East Coast Music Awards, along with a Canadian Folk Music Award. In August 2017, MusicNL announced that Colleen has been nominated for two awards — Female Artist of the Year, and Celtic/Traditional Artist of the Year.
Colleen has been a Newfoundland Francophone ambassador at festivals and events around Canada since 2000 and the release of her debut album 'Lucky You Are', included several French songs. She has been commissioned by CBC Radio One to write satirical songs on current events, and a number of her music videos (New Townie Man) have gone viral. Colleen's music is hard to categorize, with an eclectic range from French chanson to traditional, original to rap/hip-hop.
In 2011, Colleen was hired as News Director at CHMR-MUN Radio, and thoroughly enjoys working with students. She is a single Mom to three girls, and continues to work at music full-time, performing and engineering recordings for herself and others at her home-based Baygirl Music studio in the heart of downtown St. John's.
How and why did you decide to attend Memorial for your degree?
I had my mind made up in Grade 9 that I wanted to go to university in St. John's because I knew Memorial had a huge library. I never thought of doing anything else after high school.
What drew you to do a degree in French?
I was fascinated with French from as far back as I can remember, having learned of the French history of Placentia and Freshwater from my father, who was a teacher and historian. He did a lot of research on the French in Placentia, and he helped uncover artifacts at Castle Hill before it became a National Historic Site. I later learned that my Irish family name, Power, came from the French, DePoer, who first came from Normandy to Ireland in the 12th century. My uncle, Pat Power, knew several languages and always encouraged us to speak with him in French. He told me I had to work on my 'u' pronunciation, and introduced me to one of my favourite French poets — Jacques Prevert. My next French lesson was performing in St. Pierre, where I wrote my first French songs. I went on to do a French minor, and studied French Immersion in Trois-Rivières for a summer, which made me want to learn even more. I decided to go back and do the major years later, after having hosted an all-French show on CHMR.
Do any particular memories stand out from your time here as an undergraduate/graduate student?
My graduation was very special for me, and a personal accomplishment.
After working as a musician, I returned to MUN in 2009 — again, as a new Mom. I balanced home and school, which was quite the job with two small kids and music. My convocation ceremony was a big deal for my parents, especially my Dad, who was an academic and the smartest man I ever knew.
What sort of extracurricular activities were you involved in?
Not many. I was a new mom when I was in university both times. I went to class and I took care of my daughters. When I did get out, I sang karaoke. In the end of my fourth year I went to the Ship Inn's Wom/men Jammin' night and got hired to work the door and perform. So the beginning of music, my only extracurricular activity, meant the end of university.
If you could do any course over again, what would it be?
Dr. Bill Schipper's Chaucer course. I just was too distracted at the time with music to read all of Chaucer's work. It was the next semester that I quit Memorial, three courses short of finishing my degree. I ran into Dr. Schipper a few years back, and he joked it wasn't too too late to finish the course.
What's the best piece of advice you ever received?
"Don't ever kill yourself. Think of all the brilliant work you'll be mis-creating."
That was from the legendary Man of a Thousand Songs, Ron Hynes, my late friend and mentor. I went through periods of self-doubt as an artist, which sometimes led to depression, and I guess Ron caught on to that. I really thought about his advice over the years. I respected Ron so much as a writer and artist, and appreciated him telling me the world would miss me. With him gone, I now find his words particularly sad, because the world misses him. Ron's death was a huge loss for the province. I can only dream of being the musical documentarian that he was. We were lucky to have had him contribute so much to our culture. Another handy piece of advice from Ron: "Talk to your audience, Colleen. They love it."
Can you explain your career trajectory – how did you go from a degree in French and English to making music your career?
Working with languages, my mind is always exploring various rhyme schemes. Learning new words and expressions in any language, I find exciting. I was always writing poems as a child, and in high school I wrote mostly satirical poetry and songs about my teachers. I have always loved music, but I am certain that music chose me.
What's the biggest misconception the general public has about musicians?
"Money for nothin' and chicks for free."
What do you say to those who question the value of an arts degree?
You never know what an arts degree can get you in life — especially if you have languages. Being bilingual has allowed me to have two completely separate music careers, when I think about it. I have two separate audiences, French and English.
What would people be most surprised to learn about you?
That I have a firearms permit?
What advice would you give a student who is unsure of what to study?
Vary your courses and see what you like. Study your arse off and get wicked marks at whatever you do.
What's your favourite place to visit?
Oh, I have a few. In St. John's, walking the Signal Hill trail always takes my breath away. First Beach in Freshwater, Placentia Bay, my hometown, is always a good spot. The Eastport Peninsula is perfect in the summer. I am in awe of the beauty here, and I love to discover new places in my province. I love Cape Breton, too. I call it my second home.
What are you most looking forward to within the next year?
I just met with the Department of Modern Languages, Literature and Cultures, and have discussed starting my Masters in French this winter. I'm also involved in a French history/arts project centered around Newfoundland. I've got a new album of originals to record. Of course, I am looking forward to what the next year brings at CHMR, and watching students move on from our news department to work at media outlets and graduate programs around the world. I'm looking forward to being firmly planted on campus!