Gold star for instructor
Nov 6th, 2015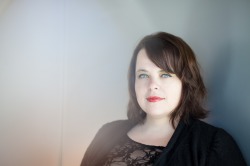 Gold star for instructor
hannon Webb-Campbell, a per course instructor in Memorial's English department, has just received a major accolade from Halifax's weekly alternative newspaper The Coast.
Ms. Webb-Campbell's poetry collection Still No Word was named the gold winner and Halifax's best book of the year, according to Coast readers.
"It's an honour to have Still No Word recognized. It's a small collection exploring the self and the self within others, grief, love, identity, loss and longing. It's rooted in my M'kmaq ancestry, and complicated relationships I hold with Nova Scotia and Newfoundland," said Ms. Webb-Campbell, who moved from Halifax to St. John's in August of this year.
"The Coast is where I got my start as a writer and it's a yardstick for my first book to win gold in the reader's choice awards."