Stacey Tuttle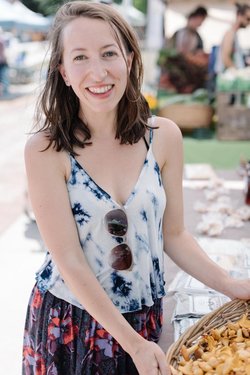 Stacey Tuttle is a holistic nutritionist and plant-based chef residing in downtown St. John's. Her energy, positivity, and creativity inspire people to adopt healthy habits that help them glow from the inside out.
Stacey's business, Your Glowing Health, offers a range of services, from workshops to one-on-one consultations, and is an inclusive, non-judgemental place for individuals to be heard and supported throughout their health journeys.
Stacey is also the co-creator behind Well and Good Dinners, a seasonal community meal showcasing local ingredients re-imagined through the eyes of two holistic nutritionists. She is passionate about food security, local food culture, and foraging for wild and medicinal plants.
Stacey has worked with organizations such as Lululemon, Moksha Yoga, Cod Sounds, Province Apothecary, EmpowHER Fitness, and Bite Sized Farms, as well as many Canadian non-profit organizations.
Stacey's brand of NL inspired wellness helps shift people's attitudes about health through rediscovering the healing capacities of their food.
Social:
Find her on Facebook: yourglowinghealth & wellandgooddinners
On Instagram: @yourglowinghealth & @wellandgooddinners
Website: yourglowinghealth.ca & wellandgooddinners.com
How and why did you decide to attend Memorial for your degree?
I decided to attend Memorial because of the encouragement of my high school English teacher. My biggest passion at that time was English literature, and I knew a lot about the quality of MUN's program from my teacher's mentorship.
What drew you to do a degree in English?
My original goal was to pursue an English degree because I enjoyed reading, writing, and critical analysis so much as a high school student. Mid-degree, I flirted with the idea of a political science degree, and I ended up taking a lot of interesting courses in history, politics, film, and literature. However, my love for reading books stayed constant, so I ended up graduating with an English degree.
Do any particular memories stand out from your time here as an undergraduate/graduate student?
I have so many wonderful memories from my time at MUN. It was a place where I made and cemented lifelong friendships. I really enjoyed taking numerous classes with Jennifer Lokash, who is an English department superstar. I also loved history of film and German film too. Film is another big interest of mine, and I still love attending MUN Cinema. MUN also introduced me to a lot of the St. John's arts community, and I really discovered my love of local music, art, and literature throughout my time at MUN.
If you could do any course over again, what would it be?
One of my most memorable courses at Memorial was Bill McGrath's human rights course (political science). Everyone in that class was so intelligent, engaged, and passionate. It was really inspiring! Bill also let us ransack his personal library at the end of the course which was so generous and amazing.
How did you go from graduating with a BA to becoming an entrepreneur and launching Your Glowing Health?
Becoming an entrepreneur was the organic result of the path I travelled during and after university. After finishing my degree, I spent some time working in the food industry, travelling, and living abroad. The whole time I was debating what to do next. I considered law, education, and a Master's degree, but not of these options held the appeal I was looking for. I've always loved food and working with people. My mom is a nurse, so I grew up very health-conscious. However, I knew I didn't want to work in restaurants, or healthcare because I didn't care for the lifestyle. After using food to solve some of my own health issues, I decided to take a leap and move to Toronto to attend The Institute of Holistic Nutrition. My business followed shortly thereafter. Originally, I focused on 1:1 health coaching, but it's grown exponentially in the past year to include hosting talks, workshops, cooking classes, pop-up dinners, and even a retreat this summer!
What was your biggest challenge in getting your business up and running?
The biggest challenge in getting my business up and running was educating the public on what a holistic nutritionist is, what I do, and how I can help them! I really leaned into social media, focusing on taking beautiful photos, creating educational videos, and reaching out to other female entrepreneurs to create unique partnerships. It's all grown from there!
Where did the idea come from for Well and Good Dinners and how does the partnership with local restaurants work?
I've always loved the idea of a pop-up. It gives you so much freedom! You get to experiment with food and create unique events that really build a community. I was also inspired by the idea of 'supper clubs' around the globe. They always looked like so much fun, so I wanted to try my own, with a unique NL wellness spin. I approached another holistic nutritionist who I'd worked with in the past – Allison Connors, and we hosted our first dinner at Mallard Cottage. The event (and all events going forward) have sold out and we've been so grateful. Typically, we move in a 'pop-up' during a time the restaurant is closed. It works well for both parties!
What's a typical day like for you?
As an entrepreneur, there aren't a lot of typical days. Instead, I try to ground myself and create organization through daily routines. I'm definitely a morning person, so I try to maximize my working hours during the daytime and accomplish my most important tasks then. If I do have to work in the evening, I try to keep those tasks simpler. I've also started to organize my week by dedicating Mon/Tuesday to meetings and admin and Wednesday-Friday for content creation or recipe testing. Tuesday and Thursday evenings I'll see clients, and on the weekends I run workshops or events. There's not a lot of free time, so I take a day off or rest whenever I can!
How did your arts/HSS degree prepare you for life as an entrepreneur?
My arts degree was invaluable to me as an entrepreneur. Most importantly, it gave me essential communication skills (written and verbal) that I use in all my day to day work! From writing an engaging social media post to creating workshop content, the skills in learned in my BA are what help me brand Your Glowing Health and Well and Good Dinners effectively. There's also a lot of conflicting information out there in the wellness world. The critical thinking and research skills I learned in my arts degree help me find the most insightful and legitimate resources for my clients.
What in your opinion is something the province of NL can do right now to improve the situation for young entrepreneurs?
Newfoundland has such an entrepreneurial spirit! There are so many steps the province can take to improve our situation. Offering more funding, training, and mentorship is a great start! I'd also love to see both the province and the city promote and prioritize local businesses over corporate interests, franchises, and chains.
Where do you see yourself in five years?
I have a lot of plans for the next five years. With Your Glowing Health, I'd love to expand partnerships with local businesses to bring more unique events and workshops to the province. I also want to grow my retreat offerings and host more local and international retreats. Well & Good Dinners will continue to bridge the gap between wellness and local food by working with local farms and the St. John's Farmer's Market. We also have plans for several e-books, a cookbook, and a more permanent dinner & workshop space!
What do you say to those who question the value of an arts degree?
An arts degree has equal value to a science degree, a business degree, etc. If you make the most of it, it can be the backbone for any of your future endeavors. An arts degree is unique because of the perspective it gives you. You learn how to communicate, analyze, organize, and think critically. These are marketable skills for anyone in the workforce, but especially for entrepreneurs!
What would people be most surprised to learn about you?
Most people would be surprised to learn that I didn't even know what a holistic nutritionist was until about 5 years ago. It's not something I always dreamed of becoming "when I grew up." But as soon as I found out what it was, there was an immediate click! I instantly knew that it was my dream career!
What advice would you give a student who is unsure of what to study?
Being unsure of what to study isn't the end of the world! Some people's paths are longer and more winding than others. Take classes in what you're interested in, refine your skills, and dig deeper. It's also okay to take some time off, work, travel, and re-evaluate. You can always come back and pick up where you left off.
What's your favourite place to visit?
It's difficult to choose, but Paris is my favorite city. It embodies every possible form of joy for me! I've visited twice, and both trips have been eventful. I love the people, the art, the style, the architecture, the markets, and of course the food! I could spend all day wandering the streets and admiring the city. I also really love to visit rural Newfoundland! I grew up 'around the bay', and I love how peaceful it is. I love the sound of the ocean and exploring the woods. And I love being able to see the Milky Way!
What are you reading and listening to these days?
I tend to read a lot of non-fiction just to keep my work current. Cookbooks especially! I love to read them cover to cover, just like a novel. Currently, I'm super inspired by Karen Mordecai's Simple Fare and Jeremy Fox's On Vegetables. I love NL Lit, and I've been enjoying Sharon Bala's The Boat People. As for music, I could listen to The Boss all day every day. Springsteen forever.
What are you most looking forward to within the next year?
I'm really looking forward to my upcoming trip to Maui! We'll be doing a lot of hiking, swimming, and road-tripping around the island. I can't wait to disconnect for a while and return to my work re-energized. Work-wise, I can't wait to get back outside to forage and grow some beautiful food! Keep an eye out for our events this upcoming summer – there's some really special things happening.