Robert Escott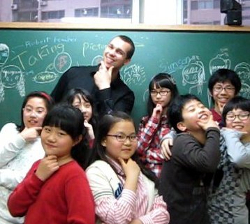 Robert Escott is the head native English teacher in a fast growing News & Debate academy in South Korea, managing teachers in seven branches throughout Seoul. A proud Newfoundlander of St. John's origin, Robert considers himself an intrepid explorer and man of the world. As a Russian and political science student at Memorial University, he completed programs in Russia and the EU. His interests in languages, cultures, exotic cuisine and travel photography led him to backpack through China, India and other locations well off the beaten track. Robert is presently law school bound. When he isn't shaping young minds, he can usually be found polishing his Korean, butterfly swimming, or finger picking on an acoustic guitar.
How and why did you decide to attend Memorial for your undergraduate degree?
Memorial has a well-deserved reputation for excellent professors who love their work, comfortable class sizes, and low tuition compared to other universities. Furthermore, Newfoundland has a reputation for awesomeness in general. Ergo, MUN was an ideal choice.
What drew you to major in Russian?
The study abroad option in the program influenced me to major in Russian. For one semester, each student was assigned to a Russian family in Pushkin, St. Petersburg. I chose to stay with a family who spoke no English. Each morning, I brought my dictionary and my rudimentary language skills to the breakfast table, and endeavored to hold a conversation with my 'Russian mother' over tea and homemade blini (Russian pancakes). Our class enjoyed the spectacular art collections of the Winter Palace, the socialist-realist architecture of the Moscow metro, the dissident music of the samizdat, and the verses of Alexander Pushkin, Russia's greatest poet. We came by cruise ship along the Volga River to an area previously closed to foreign visitors. We were welcomed with an enormous feast, lively dancing, games, and festive folk music. I was fascinated by the history, culture and politics of the country. Learning about Russia became a true passion.
Do any particular memories stand out from your time as an undergraduate student?
I returned from Russia with many comical, and even jaw dropping, tales. My introduction to the Russian banya, (bathhouses) stands out in particular. The ritual of banya began by selecting a special hat to protect the head from intense sauna temperatures. Once thoroughly cooked, we were instructed to jump into an icy pool of water for a 'cold dunk', and then rest with a cup of tea, though some prefer vodka. We returned to the sauna to hotter temperatures and the aroma of eucalyptus, for a venik massage. In order to improve circulation, metabolism, and destroy pathogens, we were mercilessly whipped from top to bottom with eucalyptus and birch branches. I maintain that venik is the least relaxing form of massage in the known universe. However, if you've never ran from a leaf beating nude, except for a funny hat and covered in birch and eucalyptus, from a scorching hot sauna into an icy cold pool, you haven't really lived.
How did the Russian program influence you and your career trajectory?
The Russian program was a transformative experience. After St. Petersburg, my academic performance greatly improved. Moreover, the program fundamentally changed how I saw my place in the world. I gained an appreciation for the indispensability, and even urgency, of cooperation and inclusion between individuals, communities, and across national boundaries. I've travelled extensively across Asia since moving to Seoul. People have so much in common everywhere, irrespective of how our countries behave on the international stage, and it's very enriching to connect with people of different cultural backgrounds. Russia provided my first experience of this kind. My work in Korea is a natural extension of my studies at Memorial in this respect.
You've been living and working abroad (teaching English in Korea and managing English speakers at Seoul branches of the school) for a couple of years now. Can you explain what that experience has been like for you and how it has prepared you for your next challenge, whatever that might be?
I recently applied for law school. I have a particular interest in the domestic implications of immigration and refugee law. My experience in Seoul has prepared me in two important ways. First, Korean corporate culture has conditioned me to the demands of challenging work. Second, I've gained valuable perspective on the natures of power, liberty, and collective responsibility. These factors are indispensable for understanding the relationship between North and South Korea.
The situation of North Korean refugees is an excellent example, which illustrates all three points. North Korean refugees need a strong support network to adapt to South Korean society. Power in South Korea is concentrated mainly in a powerful private sector, or chaebol, rather than a strong central government. North Korean refugees gain extensive individual liberties, but are often isolated from society and have limited upward mobility. We have a collective responsibility to give refugees a fair shot at a decent quality of life. I believe a legal education will provide me with the skills to help vulnerable sectors of society develop and confront these inequalities.
What's the best piece of advice you ever received?
When choosing between two or more options, consider which will make a better story, and when all seems lost, remember: this too shall pass.
What advice would you give a student starting out who is unsure of what to study?
First, consider areas of the economy where there is demand, at home or abroad. Make an honest assessment of your strengths and weaknesses, and recognize what makes you happiest. If you don't love what you do, you will be outperformed by someone who does. Finally, simplify your decision making by focusing on the next step, rather than the distant future.
What would people be most surprised to learn about you?
I will eat anything. I've eaten black emperor scorpions in Bangkok. I've had live octopus in Busan. I have a fondness for the Japanese blowfish, fugu, which can cause paralysis and death if improperly prepared. Silkworms, crickets, fish eye, chicken feet, dog, durian, or internal organs - if it's on the menu, I'll try some.
What are you reading and listening to these days?
I'm reading Neil deGrasse Tyson's Death by Black Hole. I'm really enjoying David Bowie's 'The Next Day' and the eponymous St. Vincent album.
What are you most looking forward to in 2015?
I plan to visit North Korea, Iran and Egypt before I return to Canada. If I can begin law school in September, I will start backpacking this summer. My fingers are tightly crossed for all of the above.