Old Harlow, Essex Celebrations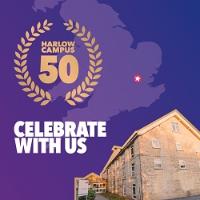 While this event has passed, we hope you will consider joining the additional Harlow Campus 50th Celebrations taking place in Corner Brook, NL on September 21 and in St. John's, NL on October 25-26.
---
Celebrations are planned overseas at the Harlow Campus with accommodations being available between Aug. 17 - 26, 2019. Anyone with a connection to Harlow Campus is invited to travel back and stay on campus for a 3 day celebration on Aug. 23-25. Registration will close out after Aug. 16, 2019.
Harlow Campus accommodations are available from August 17-26, 2019 and can be booked by emailing Harlow Campus General Manager Sandra Wright at sandra.wright@mun.ca. You can view more information on accommodations here.
Attendees are responsible for costs related to flights and accommodations.
Friday, August 23, 2019
9 a.m. Breakfast at Harlow Campus
10 a.m.-12:30 p.m. Walking tour to Newfoundland Garden including a sculpture tour
1-4 p.m. BBQ with alumni, friends and stakeholders at Harlow Campus
Saturday, August 24, 2019
10 a.m. Brunch at Harlow Campus
12 p.m. Travel to London
2:30 p.m. 'Come From Away' Phoenix Theatre, London followed by dinner at the Phoenix Artists Club. ****SOLD OUT****

Sunday, August 25, 2019
10 a.m. Brunch at Harlow Campus
1 p.m. Linkfest 2019 - Outdoor free music festival in Harlow Town Park
REGISTRATION:
Registration has closed out for this event.
Learn more about Harlow.