Memorial teams win national climate competition
Jul 17th, 2023
Two Memorial-led projects that tackle plastic waste have topped a national climate competition.
Enactus Memorial's Project R3D and BioLabMate were two of four winners in the inaugural Ocean Communities Climate Challenge recently held by the Ocean Startup Project.
First national competition
Dr. Sarika Kumari and her co-founder, Sanjay Dubey, created the company following a decade of working in laboratories where they noticed a large amount of single-use plastic being discarded.
By their estimation, labs can generate between 60-80 kilograms of plastic waste every month.
"Considering there are multiple labs and medical facilities in Newfoundland, one can only imagine the magnitude of this significant and staggering problem," said Dr. Kumari, (PhD'22), chief executive officer of BioLabMate.
Mr. Dubey is a PhD candidate in the Department of Process Engineering and Dr. Kumari is a post-doctoral fellow in the the Department of Biochemistry.
They aim to create laboratory products that use seaweed as their base to create pipette tips and other plastic lab equipment; a unique, biodegradable lab product that can decompose easily.
"We were super excited upon hearing the news," Dr. Kumari added. "It was a great occasion for our company as it marked our first participation in a national-level competition. Emerging as the winners provided us with a deeper understanding of the validation of our business ideas."
BioMateLab won $7,500, which it will use for research and to develop a process to create its products.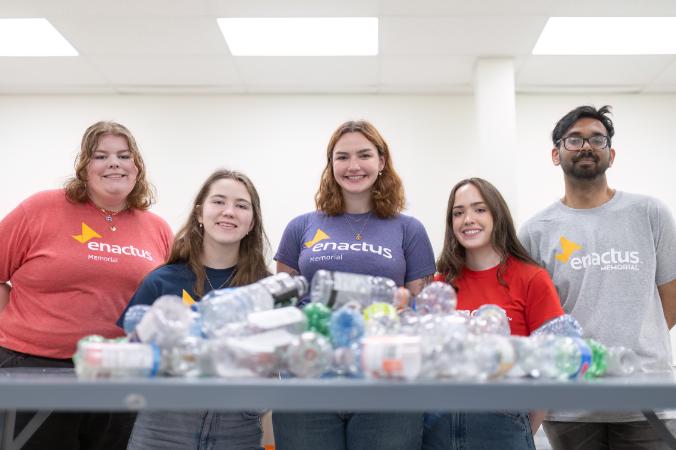 'Saw an opportunity'
Enactus Memorial's Project R3D converts plastic bottles into filament for 3D printers.
The group's $1,500 prize will help them expand their project to combat plastics in the ocean, specifically old and discarded fishing nets, often referred to as ghost nets.
"In our community right now, there are currently initiatives that are taking out that plastic from the ocean but there isn't actually a way to do anything with it," said Jenny Hillier, a fifth-year business student who is president of engagement with Enactus Memorial.
"It just ends up being disposed of in a landfill. So we saw that opportunity and thought, although this is a really good thing that's happening, it could be expanded upon."
Project R3D, which includes undergraduate students from the faculties of Business, Engineering and Science, was created in late November.
The project won the Scotiabank Climate Change Challenge at the Enactus Canada Regional Exposition for Atlantic Canada in March.
"We're going to use this funding to develop our process and do some testing to see how we can properly break down those plastic fishing nets in order to turn it into a high-quality filament," said Ms. Hillier, "and hopefully get that back into the community, into the tech fields that are currently working with 3D printing and into our own university.
"We're very excited to have won this competition and we're really looking forward to implementing this aspect of our project."
Investing in entrepreneurs
The Ocean Startup Project inspires, initiates and invests in early-stage entrepreneurs.
It created the Ocean Communities Climate Challenge to identify and validate ways for coastal and rural areas to monitor and predict ocean conditions, transition to net-zero port communities, create resilient communities where nothing is wasted, and to preserve and leverage natural assets.
Along with BioLabMate and Project R3D, Ocean Aid from British Columbia and Aquarius from Quebec were also named winners.