Surprises surface at sixth SPARKS Literary Festival
Feb 2nd, 2015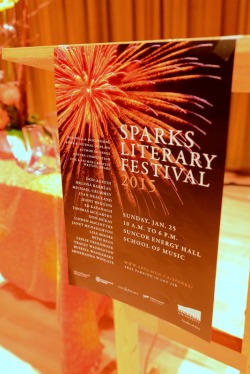 Surprises surface at sixth SPARKS Literary Festival
Again this year, the annual SPARKS Literary Festival, now in its sixth year, saw packed sessions and dazzling performances Sunday, Jan. 25. Once again the Memorial University Bookstore sold out of many titles, with an eager audience snapping up books after each of the four reading sessions. And once more, there was a lively public reception following the festival.
But this year the festival was bookended by two surprise announcements.
At the first session, Mary Dalton, founder of SPARKS and its director for the past six years, announced she is passing the directorship into other hands in order to give more time to her writing.
And in the closing session, Paul McDonald of Cox & Palmer revealed the cash prize for the Cox & Palmer SPARKS Creative Writing Award had been increased to $4,000 from $2,500). SPARKS participant Melissa Barbeau, a writer of short stories who intends to begin a master of arts program at Memorial this fall, is the winner of the 2015 award.
"We are honoured to support the creative and talented writing of Melissa Barbeau," said Mr. McDonald. "Her inspired stories are sure to lend a beautiful and imaginative contribution to the literary scene of Newfoundland and Labrador for years to come."
In her closing remarks, Professor Dalton elaborated on her decision to withdraw by way of an analogy.
"When I lived in England while engaged in doctoral studies," she explained, "I lived in a house with a lovely garden. Wanting a garden when I came back to St. John's, I decided I had to make one. But the trap is that you never get to sit in the garden; you are always making the garden. I wanted to see a festival in St. John's to honour our writers and bring them together in a special kind of merry space, but, inevitably, in the process I have had less time to participate in other facets of literary life, than I did before. SPARKS is now thriving; it is on a solid footing indeed. I am happily handing it over to others so that I can appreciate it from another perspective - having built the garden I now want to contemplate its beauty."
Professor Dalton
also acknowledged the vital support of volunteers, supporters and patrons of the festival, including that of Faculty of Arts communications co-ordinator Janet Harron, who has handled many aspects of the festival's logistics from the outset.
The SPARKS poetry competition winners were announced by judge Nick Avis − his fellow judge Don McKay was a festival participant – whose law firm Browne Morgan Fitzgerald & Avis sponsors the poetry contest. Meghan Greeley received the first of three prizes for her poem, Those Eyes, with second prize going toWishbone by Tia McLennan. Carmelita McGrath and Sarah Spurrell tied for third place, with Poem on the Eve of the Feast of the Epiphany and What Are Little Girls Made Of?, respectively.
Highlights of the always eclectic festival included the sudden appearance of Stan Dragland's metal sculpture of a bird made of brake pads and two rakes; he displayed the bird while discussing the joys of being a bricoleur − someone who makes new objects out of found bits and pieces. Journalist and novelist Linden MacIntyre gave a compelling reading from his novel Punishment and Memorial staff member Jenny Higgins read about and presented archival images of the sealing disaster of 1914 from her book Perished. Irish writer Thomas McCarthy held the audience spell-bound with his beautifully cadenced poetry, and Don McKay's comic essay on his first and only foray into theatre had audience members in stitches. Leslie Vryenhoek gave listeners a glimpse of her new novel, out in the spring, and Russell Wangersky took listeners into the psyche of a sinister collector of grocery lists.
The 2016 SPARKS Literary Festival will be held on Jan. 31, 2016. For further information on this year's festival, please seewww.arts.mun.ca/sparks.