Such a fine crowd
Mar 7th, 2014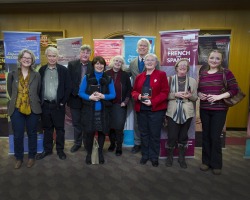 Such a fine crowd
The Faculty of Arts recently held its annual celebration to demonstrate and celebrate the accomplishments and achievements of colleagues and the important contributions of the Faculty to the life of Memorial University as a whole.
Relaunched in 2013 as A Fine Crowd (originally known as Author, Author) the event honoured the 18 faculty members who wrote, edited or translated books in the past academic year. Dr. Mariya Lesiv of the Department of Folklore published her first book, The Return of Ancestral Gods, in 2013. The book explores Pagan beliefs and practices in Ukraine and amongst the North American Ukrainian diaspora.
"I am very happy that the Faculty of Arts makes an effort each year to recognize its members' academic contributions and achievements," said Dr. Lesiv. "The inter-disciplinary nature of these events is especially important. We all know that academic books generally attract narrow audiences and then often only within a particular discipline. Featuring all departments in the Faculty's recognition ceremonies helps all of us to maintain an inter-departmental and inter-disciplinary connection."
Recipients of the Dean's Awards were also recognized at the event. These included Dr. Reade Davis of the Department of Anthropology (teaching excellence), Dr. Julie Brittain of the Department of Linguistics (distinguished scholarship), Vince Walsh of the Maritime History Archive (exceptional service) and Dr. John Hewson, professor emeriti in the Department of Linguistics (William J. Kirwin Award for retiree recognition).
"Winning the Dean's Award for teaching excellence was truly humbling and most unexpected," said Dr. Davis. "Teaching really is one of the great pleasures of my life and I feel much richer for having had the opportunity to work with so many exceptional undergraduate and graduate students during my time at Memorial."
Memorial University president and vice chancellor Dr. Gary Kachanovski recognized faculty members who received national and international recognition over the past year including Dr. Trevor Bell of the Department of Geography (Arctic Inspiration Prize), Dr. Jim Connor (cross appointed to Department of History, Royal Society Fellow), Marguerite MacKenzie of the Department of Linguistics (SSHRC Impact Award), Dr. Barbara Neis of the Department of Sociology (Royal Society of Canada Fellow), Dr. Gerald Pocius of the Department of Folklore (Fellow of American Folklore Society) and Dr. Adrian Tanner of the Department of Anthropology (Weaver-Tremblay Prize from Canadian Anthropology Society).
Faculty members that received tri-council and NIH grants were congratulated by Dr. Ray Gosine and Dr. Lynne Phillips recognized those faculty and staff members who received 2013 President's Awards.
"The people we are honour at A Fine Crowd represent the depth and the breadth of our scholarship – which, as we know, may take the form of an influential book, a hard won grant, a community-engaged graduate course – or any other number of effective ways we circulate and apply the knowledge we create, and often co-create," said Dr. Phillips. "What we have in common is that we all, in one way or another, convey something of the significance of the human experience. And, despite some evidence to the contrary, I think that increasingly the world is realizing how important that knowledge is – for when the social, cultural, political and historical dimensions of a problem are not taken into account, solutions to the problem almost always flounder."