SPARKS Literary Festival
Jan 15th, 2014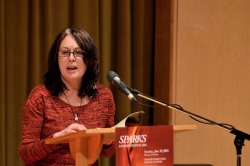 SPARKS Literary Festival
The traditional material of the fifth anniversary is wood, representing strength, solidity and warmth. And warmth definitely abounded on Sunday, Jan. 19, as the SPARKS Literary Festival celebrated its fifth anniversary.
"SPARKS 2014 had the fizz and fascination of the new, with the new readings and books, and new constellations of listeners, but it also had the deep warmth and resonance of a yearly party looked forward to and familiar in its structures and celebrations," said Mary Dalton, poet and festival founder. "I am so proud of this city for what its writers and readers together created, in their shared passion for writing and books -- and of all the people who worked behind the scenes and on the day itself to support that passion."
Sixteen writers read from their work on Sunday, including renowned Newfoundland writer Michael Crummey, literary translators Jean M. Snook and Neil Bishop and humorist Marjorie Doyle.
Irish poet Patrick Cotter made his first-ever trip to Canada to participate in the festival.
"I had a wonderful time at SPARKS," said Mr. Cotter. "Mary Dalton put together a perfect program of established and emerging authors. It was a delight for me to discover more Canadian and Newfoundland voices in fiction, non-fiction and poetry. Everyone made me feel most welcome and I was amazed to have sold 30 of my books in one go so far from home."
Iain McCurdy, who appeared at the 2013 festival as one of the student writers, received the third annual Cox & Palmer SPARKS Creative Writing Award, given to a recent graduate or current student of Memorial's creative writing program. Paul McDonald, a partner at Cox & Palmer, presented the award to Mr. McCurdy.
"It is an honour to even be considered for a creative writing award among such great writers around here," said Mr. McCurdy. "Then to have it presented in front of all of the writers and attendees of SPARKS was something else altogether. I am very lucky to be surrounded by incredibly supportive people who help me write, or help cover my rent sometimes, or understand when I hermit away for a while. I am very grateful to Paul and everyone at Cox & Palmer for such a generous gift. It helps in a way I can't put into words here. My landlord's stoked, Mom just about died, and I'm motivated to get ink to paper. I couldn't be happier."
"We are delighted to be able to support such a deserving young writer as Iain McCurdy," said Mr. McDonald. "I had an opportunity to discuss with Iain his plans for the next year, and we are very happy that the Cox & Palmer prize will help him achieve his goals."
Carmelita McGrath received first prize in the SPARKS Nature Poem contest for her poem Please See Enclosed. Second place went to E.C. Daley for Birding, third place to Jacob Bachinger for Nature Loves to Hide and honourable mention to Douglas Walbourne-Gough for Killdevil.
Deidra Newman, a staff member at the Memorial University Bookstore, has worked the SPARKS book table for the past five years. According to Ms. Newman, SPARKS-generated book sales increase every year.
"We sold approximately 105 books this weekend at the festival. Titles we featured this weekend are now in the book store on a special SPARKS display," Ms. Newman said.
The next SPARKS Literary Festival will take place on Sunday, Jan. 25, 2015.