Re-enacting Viking-age warfare
Oct 28th, 2015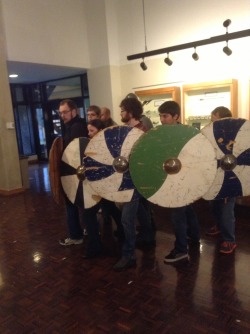 Re-enacting Viking-age warfare
Some Memorial University archaeology students will get a view into the Viking era when they workshop Viking-age warfare techniques with members of the Sea-Wolves, a local re-enactment group, on Thursday, Oct. 29, on the east lawn of Queen's College on the St. John's campus.
The demonstration is part of Dr. Shannon Lewis-Simpson's Norse Archaeology class. As part of the course requirements, students will consider the practical and symbolic nature of the warrior in Viking-age culture: who were the warriors, and how and why they conducted war.
This is the third of a series of four workshops for the course. Previous workshops discussed textile production and dress with Bonnie Johnstone and Viking-Age metalworking techniques with bronze sculptor Morgan McDonald at the Newfoundland Bronze Foundry.
"It's important to try to bring the past to life, and, more than that, to try to understand the motives and training of the person doing the spinning, the metalworking, or the fighting," said Dr. Lewis-Simpson. "This can help us understand the past in new ways that traditional methods cannot give us."
Observers are welcome. If the weather is poor, the demonstration will take place inside Queen's College.