Faculty of Arts alumnus a Rothermere Fellow
Jun 11th, 2015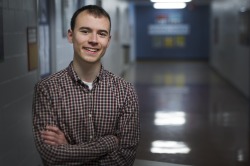 Faculty of Arts alumnus a Rothermere Fellow
It only took arts alumnus Sean Fleming about two seconds to rip open an envelope containing a letter naming him 2015's Rothermere Fellow.
That was on May 21. The news, he says, is still sinking in.
"I couldn't contain myself when I read the letter. I was absolutely thrilled," he said proudly during an interview on the St. John's campus. "I knew the letter was important because I had to sign for it. It took me about two seconds to tear it open."
Established by Memorial's first chancellor, Lord Rothermere, the fellowship is one of the most valued and lucrative scholarships offered at the university.
Currently valued at roughly £16,000 (about $30,000), plus university fees and certain other expenses such as return air travel to the United Kingdom, the fellowship assists students who have completed a bachelor's degree at Memorial, and have completed or are about to complete a master's degree either at Memorial or another university in North America, who want to continue their studies at a university of their choice in the United Kingdom. One award is made each year by the Rothermere Fellowships Trust on the recommendation of the president of Memorial.
Mr. Fleming, 24, who is originally from St. John's, N.L., graduated from the Faculty of Arts in 2012 with an honours degree in political science. He also holds a master's degree from the University of Calgary.
He will pursue a PhD in politics and international studies at the University of Cambridge in the United Kingdom. He'll begin his doctoral research this fall and focus his research on international relations and the concept of state responsibility.
"My thesis will examine why, and under which conditions, we ought to hold whole countries responsible for the actions of their officials," he explained. "My primary interest is in collective responsibility – the practice of holding groups responsible for the actions of individuals."
Mr. Fleming admits he's still riding high after learning of his fellowship. He says his family and friends are thrilled but are "only slightly less excited," than he is.
"The Rothermere Fellowship is a great honour," he said with a smile. "It is truly a privilege to have the opportunity to represent my home province and home university in the United Kingdom. It is also wonderful to be able to focus on my research without financial worries."
An avid hiker, amateur vegetable gardener and aspiring international relations scholar, Mr. Fleming says he credits Memorial for helping prepare him for the next chapter of his academic career.
"I'd especially like to thank Alex Marland and Luke Ashworth of the Department of Political Science," he noted. "They did so much more than teach me; they inspired me, guided me, and gave me the best of opportunities. I certainly would not be in such a favourable position without them.
"I will forever be grateful to Memorial," Mr. Fleming added. "And I will use my education to give back, however I can."