End of an era
Apr 30th, 2014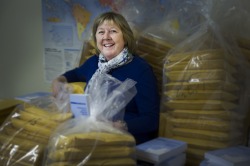 End of an era
After 25 years, the International Journal of Maritime History (IJMH) is ceasing its association with Maritime History Publications, situated in the Henrietta Harvey building on Memorial's St. John's campus.
In a new arrangement with SAGE Publications -- the world's fifth largest journal publisher -- the previously biannual printed publication will be available as an online quarterly. The editorial office will move from its current location to the University of Hull in the United Kingdom.
Recently ranked by the European Science Foundation in the top seven per cent of all scholarly journals published worldwide, the IJMH addresses the maritime dimensions of economic, social, cultural and environmental history and publishes studies of a multidisciplinary nature on a broad range of maritime historical themes, including shipping, shipbuilding, seafaring, ports, resorts and other coastal communities, sea-borne trade, fishing, environment and the culture of the sea.
Maggie Hennessey, the longtime managing editor of the IJMH, recently received the last shipment of journals from the printer. She is preparing to retire after 38 years with Memorial, two-thirds of that time in service of the journal.
"To have published an international scholarly journal for 25 years from Memorial University was quite a feat in itself," said Ms. Hennessey, who travelled to 11 countries as part of her editorial duties. "We published articles by scholars from more than 60 countries over the past quarter century. The IJMH was truly an international publication."
History professor Dr. Lewis (Skip) Fischer has been editor-in-chief of the IJMH for the entirety of its 25-year run at Memorial and co-founded the publication with the late professor Helge Nordvik of the Norwegian School of Economics and Business Administration.
"Over the years we have been approached by a number of commercial publishers and university presses to publish the IJMH and its sister publication, Research in Maritime History," said Dr. Fischer. "Since I am close to retirement, and the editorial office is moving to the University of Hull, this seemed like the right time to make this deal. I think that the move to publication by SAGE – and to the Liverpool University Press for Research in Maritime History – is a positive development and a testament to the impact of the IJMH."
Many Memorial historians have contributed to the journal over the years, including Dr. Olaf Janzen, chair of historical studies at Grenfell Campus, who served as book review editor for 14 years. History professor Valerie Burton was the journal's first book review editor and also served as editor for a time.
"'International' was by no means an accidental tag for this journal," said Professor Burton. "It enabled maritime history at Memorial to spread globally. It should be celebrated as a considerable publishing achievement in print media. I think enormous credit falls to Skip Fischer and Maggie Hennessey for the extent of what they brought to print and distributed to maritime historians across the world during the past 25 years."