Creative Writing Courses Fall 2022
Jul 5th, 2022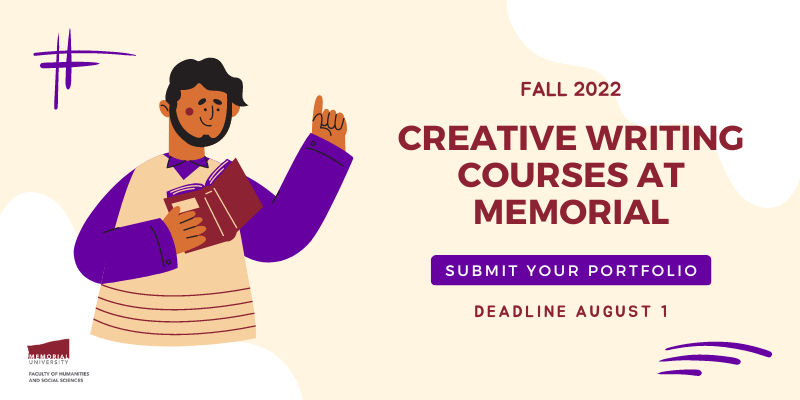 For program information please get in touch with Robert Finley at rfinley@mun.ca
*Please note that in order to register for any of our courses you must have an active MUN student number (used within the past three semesters). If this is not the case you will need to get in touch with the Registrar's Office sooner rather than later to get the necessary paperwork done.
---
Creative Writing: Advanced Poetry (ENGL 4911)
Instructor: Andreae Callanan
Tuesday evenings from 7-9:30 p.m. rm. AA-3033
English 4911 is an advanced poetry writing course focusing on technique, form, and the mechanics of verse. Through weekly lectures and writing prompts we'll explore the possibilities inherent in writing within—and against—established formal traditions. Students will be expected to share their work and to offer constructive peer-to-peer critique in a supportive, respectful, celebratory, and inclusive environment.
Portfolios should consist of a 5-10 page writing sample (ideally poetry), plus a short (less than one page) writer's statement outlining previous writing experience, favourite poets or schools of poetry, themes the student would like to explore in the class, etc. Please send portfolio directly to Andreae as a pdf attachment.
Admission is by portfolio. Due August 1
For more information, please contact Andreae Callanan at andreae.callanan@mun.ca
---
Engl 3903: Creative Writing: Intro to Non-Fiction (ENGL 3903)
Instructor: Michelle Porter
Thursday evenings from 7-9:30 p.m. rm. AA-3033
English 3903 Intro to Nonfiction is a creative writing workshop that invites writers to play with the creative nonfiction genre. In this class we will focus on creative nonfiction's potential for pushing the boundaries of genre. Students will create original creative nonfiction pieces and workshop each other's writing. Students will learn approaches to drafting their pieces and responding to each other's work, including the concept of Métis visiting as an approach to reading and responding to each other's work. Students will read examples of published creative nonfiction that demonstrate a variety of approaches. Students will discuss aspects of writing, including time, crookedness, relationality, structure, voice and more. Admission to this course will be based on the instructor's evaluation of the student's writing in the form of a writing portfolio submitted in the weeks prior to the beginning of the course (refer to the Diploma in Creative Writing). Class size will be limited. Please submit a portfolio of no more than 10 double-spaced pages of writing (including at least one example of creative nonfiction, along with any other genre of your choice) to michelleporter@mun.ca
Admission is by portfolio. Due August 1
For more information, please contact Michelle Porter at
---
Engl 3900: Creative Writing: Intro to Fiction
Instructor: Lisa Moore. x36lm@mun.ca
Wednesday evenings from 7-9:30 p.m. rm a-3033
This is a seminar course where students will be given an opportunity to workshop fiction-in-progress focussing on the short story form. We will critique original works of fiction each week, discussing elements of craft such as the use of point-of-view, exposition, dialogue, plot, language, and the art of showing rather than telling. We will focus on character development – how characters are shaped by societal pressures, and how they push back against these pressures to shape the society in which they live. We will give great attention to these questions: what makes a story, and how can we make new stories. Students will prepare weekly peer critiques of work presented in class. We will also analyze examples of published fiction that illustrate the elements of craft listed above.
An admission portfolio of 1000 words of your best fiction or creative nonfiction writing should be submitted to Lisa at x36lm@mun.ca by August 1.
Admission is by portfolio. Due August 1
For more information, please contact Lisa Moore at