Stephen Lee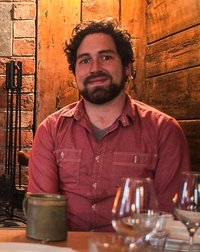 Stephen Lee graduated with a Bachelor of Arts degree in history and French (Deans List) from Memorial University in 2006. After graduation, Stephen also successfully completed the certified sommelier program from the Court of Master Sommeliers.
His past professional experience includes key management positions at Raymonds Restaurant 2009 - 2011 (2011 – EnRoute Magazine's Canada's Best New Restaurant), Rifflin' Hitch Lodge (Labrador), and Atlantica Restaurant (2007 – Canada's Best New Restaurant).
Stephen is co-owner, general manager & sommelier of Mallard Cottage restaurant and co-owner of The Inn by Mallard Cottage in Quidi Vidi Village.
How and why did you decide to attend Memorial for your degree?
As a St. John's native, Memorial University was always a great option when looking towards post-secondary education. I did look into a few other schools throughout Canada, but ultimately chose Memorial to stay close to home while I figured out what direction I wanted to take my studies.
Do any particular memories stand out from your time here as student?
I started my post-secondary studies in September 2001, so 9/11 fell on my first full week of classes. While early on in my studies, it was a defining moment for my interest in global issues, and was a major player in my decision to study history.
What drew you to study history?
The old idea that you do not know where you are until you understand how you got there was a major reason that pulled me towards history.
Like many first year students, I was not sure which direction I wanted to take my studies. Given the global climate at the time, and understanding my lack of historical perspective, I just gravitated towards history.
Before I knew it, I was taking a full course load of history classes, and found myself chomping at the bit to learn as much as possible. My first couple of terms at Memorial were shaky but once I found my footing I really excelled, dove in head first and began my plans to travel to the places I was readying about in books.
How did you go from a degree in history to the restaurant business?
While a degree in history gives you a well-rounded approach to critical thinking and analysis as well as a broad perspective on humanities in general, you need to be creative in how you apply this degree and translate it to long term employment.
I largely paid for my education with restaurant work throughout my degree, and the support of my family. This restaurant work was initially a means to put myself through school, but I genuinely loved customer service, getting to know and understand food, and took a keen interest in wine - understanding how it was made, and how it affected the food I was serving.
Having a background in history gave me an innate understanding and interest into the world of wine and I became infatuated with the industry and began focusing my travels around wine regions of the world.
After taking a year off to travel and complete some volunteer work, I came back to help open a restaurant in Portugal Cove called Atlantica with Chef Jeremy Charles. It was then I started to really take the restaurant business seriously, and began to further my wine education, culminating with successfully becoming a certified sommelier through the Court of Master Sommeliers.
Through my experience as management of a couple of different restaurants in St. John's, I partnered up with Chef Todd Perrin and Kim Doyle to begin the process of restoring Mallard Cottage.
What's the best piece of advice you ever received?
To travel. While it is a clichéd piece of advice, and not to detract from what I gained from my studies at Memorial, the extensive travel I was lucky enough to do in my 20s taught me more about the world than you can ever learn in a book. It is invaluable to have a base knowledge of the history of any country before setting out on any travel, but it is incredible how quickly you absorb and build on that knowledge once you are immersed and can tangibly relate to a place.
What's a typical day like for you at Mallard Cottage?
There's nothing typical about it, which is what keeps it exciting. There is a lot that goes on behind the scenes in restaurants that results in the plate of food, glass of wine and cocktail that the public sees.
Contrary to popular belief, my day starts at 9 am and could go until midnight and beyond.
Within the long hours associated with the restaurant business includes everything from human resource management, client relations, creating events, forecasting, developing menus, wine and cocktail lists, sourcing products, educating staff on the food and wine, strategic business development, troubleshooting, accounting and back to where I started in the industry, washing dishes and polishing glasses.
From social media it looks like the gang at Mallard Cottage is taking over Quidi Vidi – can you give us a snapshot of your plans there?
We have been very fortunate to attract excellent partners to join in with Todd, Kim and I in our developments in Quidi Vidi Village.
The Inn by Mallard Cottage is a development directly adjacent to the restaurant, and has seen Alan Doyle and his wife Joanne Pardy join us in creating an accommodation in Quidi Vidi Village that is directed by Newfoundland rural vernacular and architecture. We have used traditional materials and worked with local artisans to furnish the rooms with custom furnishings. We are just about finished with this project, and are looking forward to welcoming people this summer!
In addition to the Inn by Mallard Cottage, we have partnered with Mark Dobbin at Killick Capital to redevelop a significant portion of the waterfront of Quidi Vidi Village.
Our vision is to create a market like space that incorporates traditional Newfoundland design and thoughtful landscaping that could act as a hub for the East Coast Trail and help connect the Grand Concourse to the village.
Quidi Vidi Village is such a unique part of St. John's, and we want to create a space that naturally attracts locals and tourists alike to the area.
What is your own personal food philosophy and what's your favourite meal to eat/prepare at home?
Just to keep it simple. Your meal is only as good as your ingredients, so the most important step is buying quality products. The closer to home, the better.
At Mallard Cottage we support a hyper-local approach to source as much as possible from Newfoundland. I carry that same philosophy at home, to try and buy as much sustainably produced products as possible. When products are high quality, you do not need much more than salt, pepper and butter to make flavours jump.
My go-to meal at home would be a fresh pasta with a simple pork bolognese and an adult dose of parmesan cheese.
When chanterelle mushrooms are in season, it's chanterelle mushrooms on toast, with a soft poached egg, roast garlic and chill flakes and a heap of parmesan.
Anyone that works with me knows of my overzealous use of parmesan at any opportunity.
What has your biggest professional challenge been to date?
Without a doubt, the process of giving new life to Mallard Cottage, and turning it into a restaurant. Mallard Cottage is one of the oldest wooden structures in North America, and recognized as a National Historic Site of Canada, so we needed to make sure it was given the attention to detail it deserved.
While I have experience in opening restaurants, this was completely different. Todd, Kim and I acted as the general contractors for this project and over the course of the 18- month process had a hand in every decision made.
Just when we were getting ready to open, we had an electrical fire and came dangerously close to losing the building. It was devastating and caused a four-month delay. In retrospect, it gave us more time to really tweak our concept and made it all the more satisfying when we opened in November 2013.
In a perfect world, what initiative (building, service, cultural offering, etc.) would you add to Newfoundland and Labrador (or St. John's) to make it a better place?
Newfoundland is extremely vulnerable when it comes to food security. As we have all seen in the winter months, produce sections at grocery stores are often bare, with prices soaring to some of the highest in the country. Often the prices are matched with low quality products and limited availability.
I would love to see a big push for year-round green houses. It was unsuccessfully attempted with Sprung Greenhouse in the 80s, but I believe it would work in the right scale, with crops such as leafy greens and herbs that have quick turnaround times.
To stick close to our locally sourced philosophy at Mallard Cottage, we go months surviving on root vegetables. With so much improvement and advancements in agriculture, I would love to see a dramatic rise in our year-round food production in Newfoundland. I believe it is a necessary step to take, and luckily there are organizations like Food First NL and the St. John's Farmers Market that are driving for change. We have a long way to go, and it is definitely a big void in our province that needs to be filled.
In what ways has studying humanities/social sciences affected your world view? What do you say to those who question the value of an arts degree?
It has simply created my world view. Within the context of my studies, I was able to develop my own critical way to view the world. To study humanities & social sciences is something that you can relate to most fields of work.
I would say it is always good to question the value of anything, but in my opinion an arts degree is invaluable. With that said, an arts degree is something that requires creativity to put to practical use.
It took a lot of time and thought for me to land where I did, and it was not easy to get there. I pursued attending law school, aasters programs, and working in both the non-profit sector and public sector before landing where I have.
What advice would you give a student who is unsure of what to study?
Not to rush or bow to external pressure. Everyone seemingly has an opinion on what's best for you. I was lucky to have extremely supportive parents who did not pressure me while I figured out my path.
Take time. Looking back at my 17-year-old self is crazy. I had no idea what I wanted to do when I 'grew up'. Life experience is essential to grow, so make sure you take the time to do so.
Be open to experiences outside your comfort zone, take your time, take chances and travel as much as possible.
Oh, and go to class. In life, showing up is worth half points.
What's your favourite place to visit?
New Orleans, without hesitation. The city is brimming with life, culture, history, food and music. I challenge anyone to go to New Orleans and not have a wicked time. Impossible.
What are you reading and listening to, looking at these days?
I am lucky enough to know local writer Craig Francis Power (full disclosure, he's part of my management staff at Mallard Cottage) and am reading his most recent book The Hope. Its raw, edgy and extremely clever and witty.
Music wise I am really loving old school soul music of Lee Fields and Charles Bradley. I am also revisiting Wolf Parade, who are coming to play in St. John's for Lawnya Vawnya festival in May which I am super excited for.
What are you most looking forward to within the next year?
I am really looking forward to seeing our developments in Quidi Vidi Village come to life.
Our new Bed & Breakfast, The Inn by Mallard Cottage, is set to open in June directly adjacent to the restaurant. My partners and I have spent a lot of careful thought and time in putting this project together, so excited to open the doors on that.
Also, our waterfront development is really starting to take shape. We have taken our time to make sure this project is the best possible vision we can create for Quidi Vidi Village in the long term, so really can't wait to start seeing some shovels in the ground.