Shelley Smith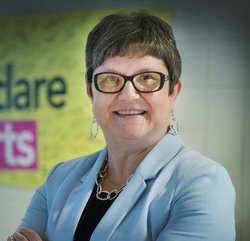 From Queen's Cove, Trinity Bay, a community of less than 100 people, Shelley Smith was the first person from her home town to earn a university degree. She is a graduate of Memorial University with a BA Hon in Sociology and Anthropology. In 2014, Shelley became Memorial University's first Chief Information Officer.
How and why did you decide to attend Memorial for your degree?
I didn't come to Memorial straight out of high school. You might say I took a bit of a circuitous route. No other person from my hometown had attended university, so initially it really wasn't even on my radar. In high school I was a bit of a science geek so I was steered toward becoming a Lab Technician by a guidance counsellor. I did the first year of the Lab Tech program in what was then the College of Trades and Technology and determined that really wasn't what I wanted to do. I then worked retail for a while – where I learned a lot about people and client service. Finally in 1979 I applied to Memorial University.
What drew you to do a degree in sociology/anthropology?
I think it was mainly that it appealed to my inquisitive nature. I loved learning about cultures and about how society was structured and worked in its many layers. It was in those early days that I began to identify myself as a feminist, and the role that gender played in society and culture was of particular interest to me.
Do any particular memories stand out from your time here as an undergraduate/graduate student?
I lived in residence (Coughlan College) for three years and so there are tons of great memories of roommates and house parties and the incredible relationships that are formed in residence. It's something I would recommend to all students!
I was also very proud to have been part of a group of students who closed down the Parkway when a student was struck and killed – we were responsible for the skywalks being built to improve safety. Participating in a protest at Confederation Building to pressure the government of the day to enshrine women's rights in the Canadian Constitution is another vivid memory. University for me was a time of both intellectual and political awakening.
What sort of extracurricular activities were you involved in?
I was one of the coordinators of Memorial's first Women's Centre. We organized self-defence courses, provided basic counselling services for women and held film showings and talks about issues of interest to women on campus.
If you could do any course over again, what would it be?
I'm not sure I can remember back that far but I know that I was honoured to have been taught by some really great profs - Judith Adler, Jean Briggs, Raoul Andersen, Adrian Tanner – to remember a few. They helped to broaden my mind and see that there was a whole world in which the ways people lived were very different than how we lived here in Newfoundland. I think it made me a more progressive and tolerant person.
What's the best piece of advice you ever received?
Do what makes you happy. When I chose to leave trade school it felt like a failure, but my grandfather (who left school after grade three to become a fisherman) said "you know what's best for you; you have to do what makes you happy."
Can you outline your career path – how you went from a BA to your current position as chief information officer?
Another one of those circuitous routes! I started out my career as an archivist at the provincial archives of Newfoundland and Labrador; moved from there to the provincial Department of Justice where I was responsible for setting up an information management program; then back to the provincial archives as director/provincial archivist, where I was privileged to have been part of the team that planned and built The Rooms; I was for about a year and a half, also director of the Art Gallery of Newfoundland and Labrador while it was transitioning into The Rooms; then I was recruited to be part of the team establishing the Provincial Government's Office of the chief information officer – my role was to establish an information management and protection program for Government – I took on the corporate services role there eventually as well; then in 2014 I was lucky enough to have been the successful candidate in the search for Memorial's first chief information officer.
What exactly does a chief information officer do?
As chief information officer, I'm responsible for an integrated information services portfolio. It includes: information technology services, information management and protection, and information access and privacy. This integrated approach is unique in Canadian universities and affords a comprehensive perspective for all information services.
In some organizations the role of CIO is still primarily an IT role. By recognizing that the "I" in CIO is the most important part of the title, Memorial has, in my view, established a more holistic approach that allows us to consider the implications of managing and protecting information in a coordinated manner – from cyber security to research data management; to the solutions required for teaching and learning and the administrative support systems upon which core functions depend.
What do you say to those who question the value of an arts degree?
When I chose arts, and especially sociology and anthropology, lots of people asked "What kind of job can you get with that?" At the time, I don't think I really had an answer; but I always remembered the advice of my grandfather to do what made me happy, and I think I've always had faith in fate and that things would just work out. My answer to that question now would be that an arts degree is the foundation upon you can build any career you want.
What would people be most surprised to learn about you?
I've never actually done an IT course.
What advice would you give a student who is unsure of what to study?
As I said above, an arts (HSS, Liberal Arts) degree is the best foundation for any career. It teaches critical thinking, writing skills and an ability to analyze that will be useful in any other pursuit. It's a good place to start – even if where you end up is a very different place.
What's your favourite place to visit?
In this province I love going out to Trinity North and the Bonavista Peninsula – Port Rexton is one of my favourite places and walking the Skerwink trail never gets old. Of the places I've been outside of NL, I would say that New York City is one of my favourites – I have a family connection of grandparents and great-aunts and uncles who lived there in the 1920s and 30s and I grew up with stories of it, so it always feels a bit like home to me. I'm also looking forward to going back to Italy this fall.
What are you reading and listening to these days?
Reading fiction is my great escape – it's Ian Rankin at the moment; I'm also a huge Jo Nesbo fan. It's CBC Radio 1 first thing in the morning and Radio 2 in my car. I love Canadian singer songwriters.
What are you most looking forward to within the next year?
I'm very pleased to be getting some of the foundational pieces of technology in place so that we can start offering improved services – especially some of the collaboration tools that we haven't been able to properly use at Memorial. Those who work with me would be shocked if I didn't say that I want us to continue with our campaign to have wireless access everywhere! I'm also keen to keep building the collaborative relationships that have characterized the last couple of years of work within the IT community at Memorial. I'm very proud of the role I've played in that.