Matt House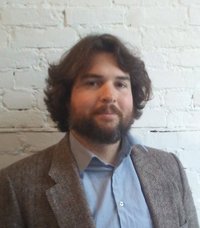 Matt House grew up in Springdale, in central Newfoundland. He completed a BA (English major, French minor), a BEd (intermediate/secondary), and an MA (folklore) at Memorial between 2002 and 2012.
How and why did you decide to attend Memorial for your degree?
Myself and my brother Jon spent a lot of time racing mountain bikes in Corner Brook when we were in high school. I figured I'd like to live there for a bit, so I went to Grenfell. After a year at the Grenfell Campus I did the Katimavik program, and then moved to St. John's to finish my undergrad. MUN was affordable, so I didn't consider going away for school.
What drew you to do a degree in English/French originally and then an MA in folklore?
The English degree was pretty much an accident. When I was registering for courses for my first semester at Grenfell, most of the English 1000 slots were in the mornings. There was, however, a 3 pm slot (Monday-Wednesday-Friday) with Stephanie MacKenzie. I didn't know it at the time, but the English department in Corner Brook was an embarrassment of riches in those days. John Steffler and Randall Maggs (now two of my favourite poets) were there, too, but I'm glad I wasn't a morning person. Aside from the fact that I played pick-up hockey every Friday at 3 pm, and consequently missed one third of the classes, Steph's course was utterly captivating. We read King Lear, Thomson Highway's The Rez Sisters, and Colm Toibin's The Blackwater Lightship, and the class discussions were vibrant and enlightening. We learned how to think critically and navigate complex social issues like colonialism, addiction, and war. The week the US invaded Iraq, Steph brought our class to residence where we commandeered a TV room and watched the NBC news coverage of the bombs destroying Baghdad. She had us write short essays on rhetoric and propaganda. I got turned onto literature and it's power to record and evaluate politics and society. I just kept doing English courses until I realized I'd done enough to get a degree.
As for the MA, I had taught for two years and wasn't sure if it was for me. I decided to go back to school, and was interested by a folklore elective I took in undergrad. First I thought about doing a second undergrad, but then I said to myself "wait a second, I've already got one of those." So I did up an application for the folklore grad program, and they let me in.
Do any particular memories stand out from your time here as an undergraduate and graduate student?
I was at Mile One for the Scott Tournament of Hearts final in 2005, and apart from it being a phenomenal curling match (Jennifer Jones made a shot between two guards that was so tight you could hear the "click-click" as the rock went through), I won the 50/50 draw! It was over $6000. I split it with my girlfriend at the time, and we went to the UK and Ireland for a month. I had an Irish roommate in Burton's Pond the semester before, and we got to spend a few days with him and his family at the end of the trip. It was pretty special.
What sort of extracurricular activities were you involved in?
I was on the Sea-Hawks X-country squad for 4 years (2004-2007). We trained together six days a week, and were a tight crew. I still see a lot of those guys regularly. I only ever traveled to one race on the mainland and I didn't do too well (31st out of 45), but it was the highlight of my experience in sports. I felt like a pro, even though I was the "rookie" and had to carry everyone else's bags through the airport.
If you could do any course over again, what would it be?
Wow, I don't know. There were so many great ones. Scottish Literature with Don Nichol was amazing, as was Philip Hiscock's Newfoundland Folklore grad course.
What's the best piece of advice you ever received?
"Watch for the red jerseys." That came from my X-country teammate, Mike King. We roomed together the weekend of my only AUS (Atlantic University Sport) race, and I was nervous about running strategically well against a bunch of guys I was unfamiliar with. "Watch for the red jerseys" meant "forget about everything you don't know and focus on what you do know." All us Sea-Hawks knew each other well and we knew where we stacked up in our own workouts. All I had to do was position myself on the course in reference to my teammates, and go from there. Amidst the chaos of elbows and shoulders and people shouting (the race was at St. FX and they are CRAZY about their sports) there were those red jerseys to keep everything calm and familiar. I think that was good advice for just about any endeavour, not just running.
How did you decide to become an entrepreneur? And why, in the age of Amazon and Chapters, did you opt to open a bookstore?
Teaching junior high is enough to make anyone do crazy things. I had been teaching off-and-on for six years in Burgeo, Twillingate, St. John's, and Baie Verte, and didn't see any stability in my future. I was just going from replacement to replacement, and I decided I wanted to stay in one place. I figured I wanted to live in St. John's, and I was saddened by the closure of the Bookery (which was an excellent shop). I thought "hey, I like books and people, and I like bookstores. St. John's could certainly use another bookstore." So I used some savings and suckered the bank into loaning me more money, and all of a sudden I've been at this for three and a half years.
Amazon sells books, but they are not a bookstore. There's a big difference. A bookstore is an experience. You peruse the shelves; you have a coffee; you talk to the staff and patrons; you might even plot a socialist revolution. Amazon doesn't provide that experience. And Chapters sells more candles and cushions and beer kits than books now. What a strange place.
What do you say to those who question the value of an arts degree?
In all honesty, I have never met anyone who questioned the value of an arts degree. If I do, my response will surely be "go fuck yourself."
Can you expand on how your various degrees help you in your day-to-day life at Broken Books and in any other endeavours you are pursuing?
The communication skills you build through reading and writing papers and engaging in class discussions are just about priceless in any situation, whether it be professional, social, or academic. With the bookstore, I find myself using my research skills to track down bibliographical information on authors and publishers multiple times every day. I feel like I can do that behind-the-scenes work quickly and effectively because I spent so much time at the QEII, CNS, and MUNFLA learning what best to look for and how to go about it.
What would people be most surprised to learn about you?
I used to bootleg Ron Hynes shows. That's terrible, right? He would have killed me if I got caught (did you ever hear him do that song We're All That Into You? It's about downloading mp3s and burning CDs and enjoying music without giving money to the performer). I had a decent digital sound recorder that I would smuggle into places like the LSPU Hall, the Ship, and the Rose. I bought Ron's CDs, but the intensity in his voice and the careful plucking of the strings was lost on those studio recordings. Seeing him in small intimate settings with nothing but his vocals and guitar and masterful stage presence was really something. I saw him play the Rose one night for $10 and there were only seven of us. Half-way through the second set he stopped and asked "are there any requests?" He hardly ever did that, but that night he took requests for about a dozen songs. It was magical, it was full of humility, and I got a recording of it.
In a perfect world, what initiative (building, service, cultural offering, etc.) would you add to Newfoundland and Labrador to make it a better place?
I would develop a province-wide network of publicly-funded saunas to help us get through the long, dark, slushy winters. I've been to Finland lately, and they've got it all figured out.
What advice would you give a student who is unsure of what to study?
Don't be afraid to drop a course. The anger and worry and frustration is not worth it. If a course doesn't feel like it's for you, get out of it. The earlier, the better, too, since you can get your money back and sign up for something else.
What's your favourite place to visit?
The little log cabin at the head of West Pond.
What are you reading and listening to these days?
I'm reading Steinbeck's Sweet Thursday at home and Patrick Modiano's Missing Person at the bookshop. My youngest brother, Christian, just launched his second album, We Were. It's awesome and it's in my car CD player right now.
What are you most looking forward to within the next year?
Dwight Ball stepping down as premier, triggering a provincial election before the end of the Liberals' four-year mandate. Then we can set about making this province a more fair and just place.