Michelle Show
Michelle Snow worked with the offices of Student Recruitment, Marketing and Communications and Student Affairs and Services at Memorial University from 2000 to 2009. She is currently the Director in the Office of Public Engagement with the Government of Newfoundland and Labrador and the CEO of MHS Presentations, an etiquette coaching and event management service. She is a also passionate volunteer who has supported numerous groups and causes by donating her time and expertise. Michelle holds a Masters Certificate in Project Management from York University and a Bachelor of Arts (economics and business, '96) and certificates in Public Administration ('96) and Newfoundland Studies ('04) from Memorial University of Newfoundland. She was born and raised in Clarke's Beach, Conception Bay and now resides in scenic Torbay with her partner, Nelson, and their dog, Castor.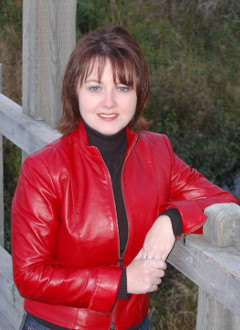 How did you get started at Memorial?
I arrived at MUN as a first year student in 1991, having never set foot on campus before! After graduating in 1996 and spending a few years working off campus, I came back in fall 2000 as an employee with the Office of Student Recruitment
Can you give me the details on the degrees you've received (and when) from Memorial?
I completed a BA in 1996 with a major in economics and business. Since then I have also completed two certificate programs (NL Studies and Public Administration) on a part-time basis.
What memories stand out from your time as a student at Memorial?
I lived off campus as an undergrad so I didn't identify with "campus life" like many others who lived in residence at the time. Of course Thursday Night at the "old" Breezeway and concerts in the TSC were great memories. But perhaps the time that stands out the most was my first student job as a student assistant in the Dean of Student Affairs Office the summer before my final year. I had zero work experience up to that point and that job, and the people in that office taught me so many practical skills about professionalism, customer service and a positive work environment that I still use today. They really gave me a wonderful start to my career.
You've been an event organizer and professional public speaker for years – how did your arts degree prepare you for those dual occupations?
The saying about an Arts degree equipping you with transferable skills that can carry you through any number of career changes is so true for me! I could never have imagined when I was studying economics the variety of career experiences that lay ahead. More important than the specific subject matter knowledge I gained were the critical thinking skills, the value of inquiry and questioning and the ability to express ideas and opinions in words, either spoken or written. And of course the skill of managing time and organizing priorities that every student needs really came in handy for someone who manages multiple events and projects.
Can you talk a bit about your current day job as Director with the Government of NL and what that entails?
I need to feel that there is an element of service or contribution to the work that I do. Working in the public service always held that appeal for me. I'm very lucky to work with an awesome team of talented and dedicated professionals and together we work to design and deliver innovative public engagement activities that help better connect government and citizens and allow the public to have a greater role in informing the policy and decision making processes of government. I get to work on some very exciting projects in the areas of health, tourism or wildlife. I learn something new on each project so I'm never bored!
What stands out for you over your career thus far?
The variety of experiences that I have had. I could never have predicted where my career would take me. I've travelled all over this province, country and beyond, met and worked with amazing leaders and people who inspire me with the impact they have made. I've hosted my own TV show, represented our province at national events and discussion tables, and was a contributing author to an international standard for event management. But perhaps most important is the network of friends and colleagues that I've had the privilege to work alongside, learn from and maintain a connection with to this day.
What advice would you give a student starting out who is unsure of what to study?
During my time with student recruitment I would always tell students who were undecided two things: 1) choose an area/subject to study that you enjoy and are curious about; and 2) don't feel like you are making a decision that will lock you in for the rest of your professional life. Your career is a road with many turns and twists and we never know what opportunity is around the next bend. I could never have mapped out the career path that I have had so far when I was an undergrad. Sometimes being open to the unexpected opportunity can bring the best experiences. It certainly has for me.
Where's your favourite place to travel?
After this winter, anywhere warm!
What's the most recent book you read that you couldn't put down?
I aspire to be well read, but in reality I'm more successful as a book buyer than reader. And I confess to starting more that I finish. I'm currently reading Lean In the autobiography of Sheryl Sandberg about women in leadership roles. A really interesting perspective and a good conversation starter about how women in leadership roles are perceived and how we perceive ourselves.
What would people be most surprised to learn about you?
I used to be a co-owner of a former provincial park back in the late 1990s. It was one of the first jobs I had as a recent grad.
What's next on the horizon?
Like most of the changes over my career, I never know until it happens! But I am really excited to see what it might offer!