Doug Letto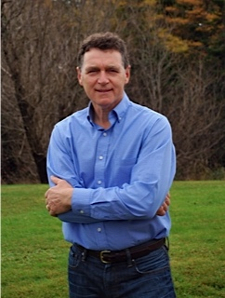 Doug Letto is the Faculty of Arts Alumnus of the Month. He is an accomplished communicator and writer with 30+ years of journalism experience. Doug recently retired from the CBC where he held several key positions, both on-air and behind-the-scenes. He has recently launched his on consulting firm and can be contacted at www.douglettoconsulting.com.
How did you get started at Memorial?
I came to Memorial in September 1975 from L'anse au Clair in the Labrador Straits, with plans to become a phys ed teacher. But other things caught my attention - Newfoundland history courses, political science, and MUN Radio and the Muse! So, I veered away from teaching toward media.
Can you give me the details on the degrees you've received (and when) from Memorial?
I have a BA (major English, minor History 1979); a B.Ed. (1982), and an MA )(political science 1995).
What memories stand out from your time as a student at Memorial?
The wonderful friendships I made with people from all over the province. When I hear a place name, or see it in print - I visualize faces from there. It's an incredible way to discover your province and the people who live and work here.
You were a professional journalist with the CBC for years – how did your arts degree prepare you for that occupation?
The arts degree uncovered my interest in history and politics. I say uncovered, because I really didn't consciously gravitate toward those areas of study. And through various courses in those two areas, I came in touch with absolutely terrific teachers. Jim Hiller and Joe Cherwinski in history. Hugh Whelan, Marc Graesser, Steve Wolinetz, and Dave Close in political science.
I believe what I learned from these academics showed up in my reporting on politics and provincial affairs. I always wanted to make sure people understood the background to current events. It's useful to remind people that today is not the beginning of time! That the backstory is important in understanding where we are now. And perhaps, in getting a sense where we might be headed.
What stands out for you over your career as a journalist?
Being able to travel the province and talk to people in their communities about their issues. I reported on fisheries for several years, including before and during the moratorium. It was so apparent that we were in for an economic and social shock. And that event shook up the culture of the place as well.
The second thing is the economic and fiscal transformation of what has taken place since then. Oil revenues now account for more than twice what the province collects in income tax, and more than income and sales tax combined! The historian in me recalls the hard-nosed bargaining Brian Peckford and his energy minister Bill Marshall undertook with Ottawa and the oil companies in the 1970's and early 1980's. And the Atlantic Accord that John Crosbie, Brian Mulroney, and Brian Peckford delivered. It paved the way for the province to receive oil royalties as if the oil were on land, and it provided for 12 years of grants that prevented large reductions in equalization payments.
You retired from the CBC this year and have recreated yourself by starting your own business – can you tell me a bit about it? And how do you feel about becoming an entrepreneur at this time of your life?
It's exciting to do something new and start every day in search of people who might want to purchase my services. I've found it's a steep learning curve, but I have had my first clients!
My business is communications consulting. I work with people to help them become better communicators. Whether it's a speech to a group, or a business pitch, the fundamentals are the same. Clear and uncomplicated language will have you connecting with your audience. That's good for your business and the bottom line!
What advice would you give a student starting out who is unsure of what to study?
If its arts, do the required courses for a degree, but also do some grazing. By that, I mean do some courses that interest you! You never know where it will lead. If you're thinking of the sciences or engineering, follow the same plan.
People are job-focused, and an education costs money. But also know that a university is a place to broaden your mind. So don't shy away from taking courses that speak to your heart!
Where's your favourite place to travel?
Places that wear their history on their sleeve! Boston Savannah, London, St. John's….and almost anywhere else in this province! There's something really special about walking streets where people have walked and worked for centuries. Sit on a bench and imagine what life used to be like. And then realize these are still vibrant and dynamic places with so many stories to tell.
What would people be most surprised to learn about you?
That I have a guitar. I like all kinds of music, including country. I like to pick berries. And I don't get down when it's foggy!