Alison Pick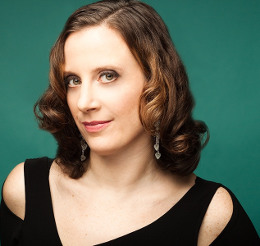 Alison Pick's bestselling novel Far to Go was nominated for the Man Booker Prize and won the Canadian Jewish Book Award. It was a Top 10 Book of 2010 at NOW magazine and the Toronto Star, and was published to international acclaim. Alison was the winner of the 2002 Bronwen Wallace Award for most promising writer under 35 in Canada. Currently on faculty at the Humber School for Writers and the Banff Centre for the Arts, Alison lives and works in Toronto.
Born in Toronto in 1975, Alison grew up in Kitchener, Ontario and in Quebec's Eastern Townships. She has a BA in Psychology from the University of Guelph and an M Phil from Memorial University of Newfoundland and Labrador. Currently on faculty in the Humber School for Writers' Creative Writing by Correspondence program, Alison Pick has recently published a memoir with Doubleday Canada entitled Between Gods.
How and why did you decide to attend Memorial for graduate work?
I came out to St John's to house sit in the summer of 2001 and fell in love with the place and decided to buy a house. I wrote the last part of my novel The Sweet Edge there, and began work on my poetry collection The Dream World. When I heard about the M Phil program, which allows students the option of writing a creative thesis in lieu of an explicitly academic one, I thought it would be a great way to complete the collection.
Do any particular memories stand out from your time here as a graduate student?
I was in my early thirties when I attended MUN—a middle aged lady, really—and I was in a class of young men who were just out of their undergrad degrees. It was like a window into a totally different world. Despite how little we had in common, I had a great time getting to know them. It's funny to think of them as philosophy professors now, in universities spread across the country…
What drew you to writing initially?
I wasn't a child who wanted to be a writer. I loved writing, but it did not occur to me that it was something people actually did as a profession. Then, in the last year of my undergraduate degree at Guelph, I took an elective in creative writing. It was just supposed to be for fun, but I fell immediately and madly in love with it, and knew with complete certainty that writing was what I wanted to do with the rest of my life.
You've published novels, poetry and now a memoir. How does your approach differ based on the genre you're working in?
Poetry—still my first love—is a genre unto itself. But writing a memoir, I was surprised to discover, is not so different from writing a novel. Both require the same basic elements: a setting, characters, tension, a narrative trajectory. I think there is an idea that memoirs tell The Truth, and that all a writer has to do in order to write one is transcribe, in beautiful language, "what actually happened." In fact, as a memoirist you are making curatorial decisions very similar to the ones a novelist makes: where to begin your story, where to end, what to include, what to leave out.
You now teach creative writing yourself at the Humber School for Writers. How do you approach the teaching of creative writing? Are there tried and true rules or are they different for each writer?
I do teach at the Humber School, yes, and this fall I am also teaching in the Writing With Style Program at the Banff Centre for the Arts. I am of the (generally unpopular) opinion that you can't actually teach someone to be a writer—they either are one or they aren't. That said, when someone has that seed in them there is a whole lot you can do to nurture it and help it grow. Although every student is different, I do find the same issues come up again and again: showing versus telling, setting the scene properly, writing good dialogue.
Who have been your best teachers of writing? And what was the greatest lesson you've learnt to date?
I had some wonderful teachers when I was just staring out. As a student at the Banff Centre myself, I worked with Anne Fleming, and I still remember some of the exercises she had us do around creating compelling characters. I use those exercises to this day.
My greatest lesson has probably been how to become my own best editor. I have learned this largely from my actual editor, Lynn Henry, who I've worked with on four of my five books. She is so astute and incisive. When I'm not sure what is wrong with a sentence, or a paragraph, or a chapter, I ask myself what Lynn would say. Very often the answer then comes to me.
Your second novel Far to Go made the Booker longlist. How did this international recognition change your life and your work?
It changed my writing life in the sense that it allowed me to write more—to write my next book—which is what I wanted most. The financial reality for a writer is always uncertain. The Booker nomination meant that Far to Go sold in more countries, sold movie rights, etc, and all of those things, although not financially significant in and of themselves, do add up.
In terms of how it changed my life in general, it didn't. I am still the same old person with the same old flaws of which I'm acutely aware. Disappointing, I know, believe me.
You discovered your Jewish background when you were a teenager but it took several years before you were able to reclaim your Jewish identity (Pick ended up officially converting to Judaism). This is the subject of your new book Between Gods. Why was it so critical for you to accept your past in order to move on with the future?
I find it hard to articulate the reasons I was so drawn to Judaism, and to exploring my ancestor's lost faith—I only know that it felt immediately and viscerally compelling the way nothing else had in my life before. Perhaps because Judaism and the Holocaust history in my family had been kept a secret there was something especially interesting about it. Secrets, especially intergenerational ones, have a way of festering. My grandparents thought they were protecting their children and grandchildren by keeping them from the truth, but the opposite was true. I just knew at a gut level that I needed to unearth that secret before I could move on with the rest of my life.
Did a concern over money or future job opportunities ever conflict with your interest in writing as a career?
I was so lucky in this regard—looking back, I don't think I realized just how lucky I was. I started writing straight out of my undergrad. I told myself I'd take six months and see what happened. I got a few small Ontario Arts Council grants, and was able to take another six months. Then I sold my first poetry collection. At that point I got what then seemed like a massive grant from the Canada Council for the Arts. I was able to keep going. Things have progressed in this same way for almost 15 years now. I do some teaching, some editing, and sit on literary juries, but for the most part I am incredibly privileged to be able to write full time.
What would people be most surprised to learn about you?
I hate fish. Anything remotely fishy—I can't even handle seaweed. I made for a terrible dinner guest when I was living in St. John's.
What are you reading these days?
I'm heading out to the Banff Centre to teach next week, so I've been reading my student's writing samples, along with some books on craft I will suggest they check out: Still Writing by Dani Shapiro, The Art of Fiction by John Gardner, Living by Fiction by Annie Dillard, and A Passion for Narrative by Jack Hodgins. I can't wait to read the new Marilynne Robinson novel Lila—she is one of my writing heroes. I'm also looking forward to new books by Newfoundland writers Michael and Kathleen Winter. It will be fun to be on tour with them this fall.