Gabriel Olayiwola Ologbonde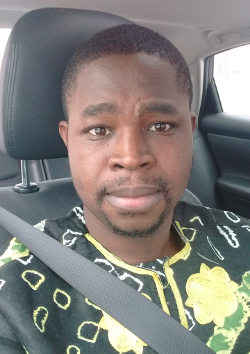 Gabriel Olayiwola Ologbonde is a first year MA student and graduate assistant in the department of Classics, Memorial University of Newfoundland. He is from Ondo state in Nigeria and completed his undergraduate degree in classics at the University of Ibadan, Nigeria.
How and why did you decide to attend Memorial for your graduate degree?
During my undergraduate studies, I always had the intention of pursuing my master's degree outside of Nigeria. After gaining my BA in classics, I started searching for schools that offer classics as a course. Fortunately, I found Memorial during my search. However, my decision to study classics at Memorial was mainly due to the outlook of the program and the diversity of its faculty members.
What drew you to explore classics?
Fate! I never knew anything about classics until I gained admission to study it at the undergraduate level. I had a dream to study law when I completed high school. As luck would have it, I did not gain admission into law but was offered classics instead. I decided to take up the course and fell in love with it along the way. My decision to continue with the course for my master's degree is just an expression of my love for the subject.
Can you tell us a bit about your current research?
I have an interest in the history of the Roman republic, specifically its military and political history. Hence, my current research focuses on how military professionalization serves as a means of gaining political power in the Roman republic.
Why do you think it is important to study humanities and social sciences?
The study of humanities, with its vast range of subjects, provides one with different skills to succeed in any chosen career. Through the various programs, one could gain effective communication, analytical, and research skills. These, I believe, are essential in any organization.
A supervisor can be key to the success of any grad student. What does your supervisor Milo Nikolic bring to his/her role as your advisor and mentor?
Dr. Milo (Nikolic) is not only an excellent supervisor, but he is also an amazing person. I have gained a lot of confidence working with him.
Have you attended any conferences/delivered any papers this year? Can you give details?
I have attended a couple of conferences, but I am yet to deliver any paper. However, I would love to deliver one in the near future.
Are you involved in any organizations on-campus or off? If so, can you explain and detail such involvement?
I am currently working as a teaching assistant for Dr. Brad (Levett), and also as a research assistant for Dr. Milo (Nikolic) and Dr. Kathyryn (Simonsen).
What do you like most about being a graduate student at Memorial?
I like the university environment. It gives one the opportunity to mix and meet with scholars from the different parts of the world.
What do you hope to do after completing your graduate degree?
I hope to further my studies in classics by taking a Ph.D. program.