Positive Footprint
Apr 17th, 2015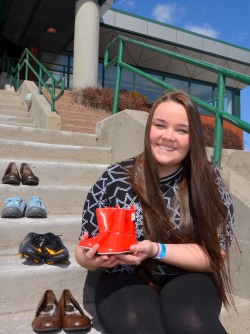 Positive Footprint
When arts student Bethany Downer became inspired to start a non-profit organization while attending the 2014 Impact Youth for Sustainability conference in Guelph, Ont., she couldn't have anticipated the impact her decision would have.
Ms. Downer, a 21-year-old geography student at Memorial, is president of One Step Shoe Recycling, an organization that began with a goal of collecting 100 pairs of gently used shoes for people in need.
"I consider shoes a basic need, and I was learning the stats, how great the demand was, and how many unused shoes there are out there," she said.
To date, she has collected 13,000 pairs of shoes and distributed them to five different provinces and 15 countries.
One Step Shoe Recycling began collecting shoes on Sept. 1, 2014, in St. John's and 30 other locations throughout Newfoundland and Labrador. By November, the organization was shipping shoes to the mainland. Ms. Downer recruited the Multi-Materials Stewardship Board and the Ontario-based business Running Free Canada, among other partners, to assist financially with the distribution.
"In three months we had collected 5,000 pairs of shoes, and re-directed 9,000 pounds of waste from landfills," said Ms. Downer, who counts and weighs each and every pair of shoes that comes through the makeshift warehouse in the Downer residence.
The remarkable response to the shoe drive and the rapid growth of the organization encouraged Ms. Downer to enlist the help of friends and family. By the time December rolled around, the joke in her household was that there was a shoe tree in place of a Christmas tree in the living room.
"Our partnerships grew fast, too," said Ms. Downer, who has made connections with Love Volunteers, Rotary International and even the National Basketball Association (NBA). "We are hoping to be involved in the All-Star Week 2016 in Toronto to collect basketball shoes from the NBA teams."
Ms. Downer has prioritized the need for shoes to be distributed first to homeless shelters, then to low-income families through support networks like community centres and then to long-term hospital patients and low-income seniors.
"Holy Heart of Mary High School has a huge dress drive every year, and now, we will be able to provide gently used shoes for proms, as well."
Today, there is a five-member board of directors and 100 benevolent volunteers that were recruited through the Student Volunteer Bureau at Memorial. Ms. Downer is currently working to achieve charity status for One Step.
For more information, please visit here.