How climate change became controversial
Sep 23rd, 2015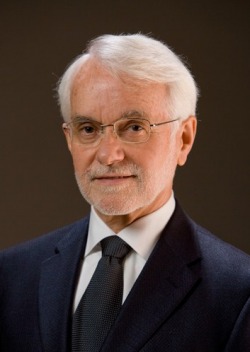 How climate change became controversial
Long-time climate watcher and a founder of environmental sociology, sociologist Dr. Riley E. Dunlap will give the 2015 Henrietta Harvey Lecture at Memorial University on Thursday Oct. 1.
An internationally renowned academic, whose research on the climate skeptic movement is referenced is referenced in Naomi Klein`s most recent bestseller, This Changes Everything, Dr. Dunlap looks at the social dimensions of climate change and argues that an improved understanding of the complex relationship between climate change and society is essential for modifying ecologically harmful human behaviours and institutional practices, in order to create just and effective environmental policies and develop a more sustainable future.
In his lecture Dr. Dunlap will address how climate change became controversial since being recognized as a major problem in the early 1990s. According to Dr. Dunlap, the basic findings of climate science are constantly challenged by a growing set of interconnected actors who portray climate change as uncertain, even a hoax, leading significant segments of the public and numerous policy-makers to dismiss its importance—and thus the need to take action to reduce carbon emissions. He will outline the key actors in what has been termed the "denial counter-movement," the economic and ideological interests motivating them, and the primary strategies and tactics they employ. Dr. Dunlap will conclude with a brief assessment of the wide-ranging impacts of climate change denial, including the obstruction of USA and international policy-making, will be given.
"We invited Riley as a Henrietta Harvey speaker because he is a key figure in the environmental social sciences, whose research on environmental values spans 35 years and helped to define the field of environmenal sociology," said Dr. Mark Stoddard of the Department of Sociology. "Just as importantly, his recent research on public attitudes towards climate change and climate skeptic movements has been integral to the development of a sociology of climate change. I hope his talk will demonstrate just how important rigorous social science research is for understanding social and political responses to climate change, which is the central environmental problem of the 21st century."
The lecture takes place in room A 1043 of the arts building and starts at 7 p.m. All are welcome and free parking is available in lot 15B..

Henrietta Harvey was a Nova Scotian who came to Newfoundland in 1905 to visit her aunt, Lady Whiteway, the wife of Newfoundland's prime minister. A year later she settled in St. John's as the wife of St. John's businessman John Harvey. When she died in 1964, her will directed a substantial portion of her estate to Memorial University. The Henrietta Harvey lectureship is possible in any year where there are funds left over from the funding of the Henrietta Harvey research chair, the primary purpose of the endowment fund.