Degree decisions? Arts has a map for that
Oct 19th, 2015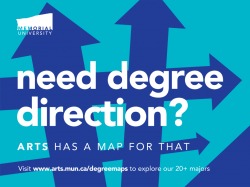 Degree decisions? Arts has a map for that
By anyone's standards, fulfilling the requirements for an undergraduate degree program can be complicated. Figuring out what classes to take and when can be daunting. Add a variety of program offerings and the ever-increasing demands on students for extracurricular involvement and career paths, and the road to graduation can get even more bumpy.
As part of ongoing efforts to enhance student experience, the Faculty of Arts is proud to launch a series of degree maps, designed to help undergraduate arts students make the right choices throughout their university careers.
Twenty-two maps (one for each major program) are available, each with a customizable "My Map" so students can visualize their own goals and a "My Tracker" to keep individual records of academic progress. The degree map is best viewed on a desktop or tablet computer but there is also the option to download a printable version of any map.
Each map is divided into six sections over four years of study including: studies, study tips, career, involvement, go abroad and well being.
"We hope students will use the degree map as a framework to plan their lives at Memorial and prepare for the life they hope to have after graduating." said Denise Hooper, Faculty of Arts Senior Academic Advisor and the chair of the degree mapping committee. "It's been quite an intensive process and a huge amount of work but we are thrilled with the resource we've developed and believe it will be a huge benefit to arts students."
Designed as a guide to planning a four-year program, each degree map was developed in consultation with the Faculty of Arts 16 departments and includes program-specific information for each major. For example, the English degree map suggests that students might wish to volunteer for the SPARKS Literary Festival; the archaeology map points out opportunities through the Newfoundland and Labrador Archaeological Society.
"I think this is a wonderful resource for arts students. I like its guidance for both academic and non-academic issues and how it enables students to plan their time at Memorial wisely," said Dr. Lynne Phillips. "As a member of the university enrolment committee (EPOC), I am hoping that our degree map will be the resource of the future for all students."
Each map features the story of a Faculty of Arts alumnus so students can discover first hand how degrees in arts lead to fulfilling and rewarding careers. Among those profiled are journalists, lawyers, communication professionals, academics, government workers, educators, professionals working for non-profits, and entrepreneurs.
"This is a work in progress and we hope to add new features over time, including videos," said Stephanie Mauger, a third year political science student who worked closely on the project over the summer as part of her co-op experience. "We also are actively encouraging feedback in order to make tweaks based on student needs and suggestions so please let us know how things can be improved!"
The degree maps can be found at www.arts.mun.ca/degreemaps.