Creative writing class results in Racket
Dec 7th, 2015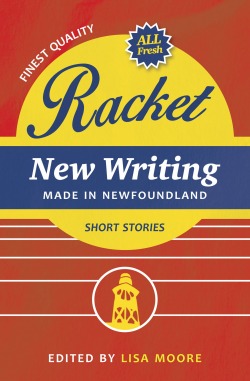 Creative writing class results in Racket
Eleven writers from a Memorial University creative writing class got more than they bargained for when they signed up for a 2012 class taught by acclaimed novelist and short story writer Lisa Moore.
The group, who call themselves The Port Authority, have since co-authored an anthology of stories published by local publisher Breakwater Books that was released earlier this fall.
According to contributor Morgan Murray, the group continued to meet with Ms. Moore every Thursday in the seminar room of the English department after the course concluded in order to share and critique each other's work.
"The transformation from the beginning of the spring semester in 2012 to now has been incredible. There was a lot of raw talent to begin with, but now there are a group of really skilled writers who have been winning all the awards, and will be publishing all the books for a long time to come," said Mr. Murray, a Faculty of Arts alumnus (MPhil, '11 ) who currently works as coordinator, strategic external relations in Memorial's Office of Public Engagement.
Mr. Murray acknowledges he was a great admirer of Ms. Moore prior to taking her class and credits the assistant professor of creative writing with creating "an incredibly welcoming and safe place."
"Lisa was incredibly kind, on top of incredibly brilliant, and everyone followed her lead. And we'd talk about writing each week and the mysteries of good fiction began to reveal themselves. My writing got better and better – all of ours did."
Ms. Moore approached Breakwater editor James Langer with the idea of doing an anthology earlier this year.
"The work was just amazing and I recognized that these students were going to be publishing all sorts of books in the future. Racket is a fantastic artefact of the work going on here at Memorial and all of these new voices – we've lit the fuse of what will be no doubt be a explosion of literary talent," said Ms. Moore. As a young writer Ms. Moore's work (along with other members of the Burning Rock Collective, a creative writing group that grew from a creative writing course taught by Dr. Larry Matthews) was anthologized in a volume entitled Extremities (1994), so she says there was a tradition to draw on.
Contributors to Racket include Sharon Bala (who will be reading at the 2016 SPARKS Literary Festival on January 31), Melissa Barbeau, Jamie Fitzpatrick, Carrie Ivardi, Matthew Lewis, Iain McCurdy, Jenina MacGillivray, Melanie Oates, Gary Newhook, Susan Sinnott and Mr. Murray.
Contributors Mr. Murray, Mr. Fitzpatrick and editor Ms. Moore will read from and discuss Racket at Breakwater's inaugural In-House Short Story Park on Friday, Dec. 11 at 1 Stamps Lane, St. John's from 5 to 7 p.m. Racket can be purchased at this event for 20 per cent off the retail price. It is also available at bookstores across Newfoundland and Labrador.