Arts perspectives on ISIS
Apr 24th, 2015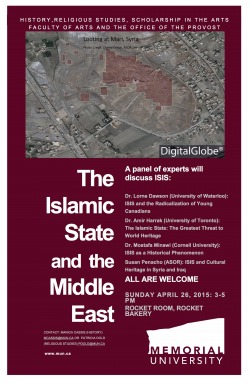 Arts perspectives on ISIS
Barely a day goes by when mention of ISIS doesn't make our news feeds. But what are the ramifications of the current situation unfolding in the Middle East and how did this dangerous situation develop in the first place?
Can the lenses of history, archaeology, and religious studies offer alternative perspectives on the violence of ISIS? How much has been destroyed by the Islamic State and who is vulnerable? How can a group like ISIS successfully radicalize Canadians? Can scholarship show us more of the big picture than we get through conventional news media?
On Sunday April 26, such questions will be answered at The Islamic State and the Middle East, an event co-sponsored by the Department of Religious Studies, the Department of History and the VP Academic's Fund for Scholarship in the Arts. The public event will feature a panel of experts that will help us understand ISIS and its impact on the world.
The discussion features Dr. Lorne Dawson (University of Waterloo) on radicalization; Dr. Amir Harrak (University of Toronto) on ISIS and its threat to world heritage; Dr. Mostafa Minawi (Cornell University) on ISIS in historical context and Dr. Susan Penacho (The American Schools of Oriental Research) on ISIS and the cultural heritage of Iraq and Syria.
"The situation currently unfolding in the Middle East under the so-called caliphate of the Islamic State (ISIS) has ramifications far beyond those reported in the western media. However, it also has its origins in a long-standing set of problems that go back to colonialism in the Middle East," said Dr. Marica Cassis, professor of history who co-organized the event with religious studies professor Dr. Patricia Dold. "We wanted to invite a panel of scholars to help contextualize the current situation and provide further insight into the serious - and seriously underreported problems – in the Middle East. The effect ISIS is having on minority communities (like Christians and Yazidis) and cultural heritage in Syria and Iraq make it essential that we create opportunities to learn from scholars' research."
The public event will be held at The Rocket Room, 272 Water Street from 3 to 5 p.m. It will be followed by a day-long symposium on Monday September 27 on the St. John's campus with a full hour dedicated to each of the visiting academics.