Arts alumna Alan Doyle wows the crowd at Affinity Dinner
Dec 12th, 2014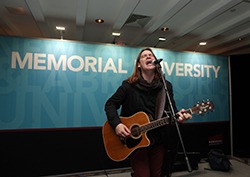 Arts alumna Alan Doyle wows the crowd at Affinity Dinner
The 14th annual Ottawa Affinity Dinner was held on Nov. 20 at the Fairmont Chateau Laurier in the nation's capital. More than 300 alumni and friends gathered at the event to celebrate all things Memorial University and Newfoundland and Labrador.
Three popular and very accomplished alumni set the stage in Ottawa this year. Noted political commentator Tim Powers was the evening's master of ceremonies and Barry Canning, popular Newfoundland and Labrador musician, provided the entertainment for the post-event reception. Great Big Sea front man Alan Doyle delivered the evening's keynote address.
Known primarily as a musician, actor and producer, Mr. Doyle recently added the title of author to his resumé. His memoir,Where I belong, was released in October 2014 and it is already a bestseller. In his address he drew on themes from his book and talked about some of the valuable lessons learned in his own personal and professional experience. Specific to Memorial University, his motivation and message for the group in Ottawa was clear.
"The most important message I'd like to get across is that Memorial is a key part of the future of Newfoundland and Labrador," he said. "More than just an educational facility, Memorial is producing the people who'll fuel the economy going forward."
Hailing from Petty Harbour, N.L., Mr. Doyle formed Great Big Sea in 1993 with Sean McCann, Bob Hallett, and Darrell Power. Their nine albums, double-disc hits retrospective and two DVD releases have been declared gold or platinum and have sold a combined 1.2 million copies in Canada. As a solo artist, Mr. Doyle is set to release his second album this coming January. So Let's Go is a much-anticipated followup to his successful debut album, Boy on Bridge.
He credits Memorial University for playing a foundational role in the forming of Great Big Sea.
"Memorial was the place where all four founding members of Great Big Sea studied and graduated with arts degrees," said Mr. Doyle. "I know I speak for all of us when I say the reading and consideration of some of the world's best literature proved an incredible foundation for songwriting. It was also the gathering place for likeminded people from all over the province and the world. We likely would never have met if not for Memorial University."
In 1999, along with his bandmates, Mr. Doyle was named Memorial University's Alumnus of the Year. When you take him back to his days as a student at Memorial, he reflects on favourite memories that were a sign of things to come.
"My favourite thing to do at Memorial was sit on the second floor of the TSC and watch the guys set up for the evening's concert," he said. "I knew every piece of equipment they had there. Every speaker, every light. I got excited when I noticed they got a new monitor desk and nodded in approval when I saw them unwrapping moving lights for the Martin boxes. It was a perfect view for the biggest band wannabe I ever knew…me."