A Conversation with Edward Riche
Sep 12th, 2014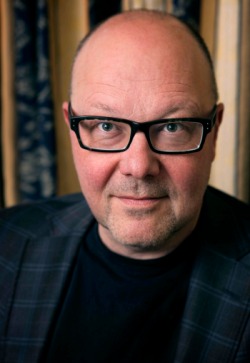 A Conversation with Edward Riche
St. John's writer Edward Riche has been named the 2014 writer-in-residence in the Department of English Language and Literature. He writes for radio, television, film, theatre and has published three novels. He has received the Thomas Head Raddall Award for his 2004 novel Nine Planets.
You studied chemistry initially at Memorial before transferring to Concordia for film studies. When and how did you discover writing as a career?
I had a summer job as a chemist in Finland and applied to Concordia Film School on a whim. I thought I liked movies and might want to make them, only learning later that I really hadn't seen enough to make that determination. Finally seeing the Godard and Fellini, the experimentalists of the 1960s and 1970s, the New German Cinema, at that time of my life, consigned me to art.
What are your plans for the next few months?
I'm going to offer editorial guidance on screenplays and novel manuscripts and, with Lisa Moore, help a group of students produce some radio plays.
Who have been your mentors as a writer?
I've benefited greatly from the wisdom of a video artist in Toronto name of Michael Balser and the English theatrical giant Ken Campbell. Both are gone now. The director Charlie Tomlinson has been a sage critic and guide over the years, usefully impossible to impress.
What's the best piece of advice anyone ever gave you?
Andy Jones told me to "fail big", to have no minor failures only full blown creative catastrophes.
You've been called one of Canada's funniest writers. What do you personally find funny?
Evelyn Waugh's comic writing sets the standard in prose. CODCO were brilliant, as smart and funny as any comedy in the English language. Thurber's stories and those in Woody Allen's "Side Effects" are unequalled works of short comic fiction.
You've written novels, for television, and for stage and screen. Do you have a preference and to what do you attribute that versatility?
I've had to work into different mediums to make a living. I was lucky enough to be gigging during the heyday of Canadian television, when there were shows like "Slings and Arrows", "DiVinci's Inquest", "Made in Canada", being produced. The quantity and quality of Canadian television declined in the last decade. (The clumsy, expository dialogue of the "procedural" was a contagion.) There's now talk of a return to more smartly-scripted "Premium Cable" fare but I haven't yet seen evidence the notoriously timid Canadian broadcasters will take the necessary creative risks.
My favorite medium is radio. Unfortunately CBC Radio no longer produces scripted material so it's not something that can be practiced professionally in Canada.
You're very active on Twitter – what do you like about it?
It is, or was, a fascinating new medium. The enforced concision let it sometimes mimic witty conversation. But recent changes are making it as tedious as Facebook. There's also the fundamental problem of the users being the content, essentially unpaid writers for Twitter. Once they begin monetizing it in any real way, once the "sponsored" content begins to dominate I will cease using it.
What are you working on right now?
I am finishing a novel and a play. I've been commissioned to write two feature films. I am developing television projects with Sue Kent, Nik Sexton and Steve Cochrane that are probably too funny and challenging for the Canadian industry.
Edward Riche will read from his work on Wednesday September 24, 7 p.m. at the Suncor Energy Hall. All are welcome and parking is available in lot 15B.