A conversation with arts grad Mark O'Brien
May 20th, 2015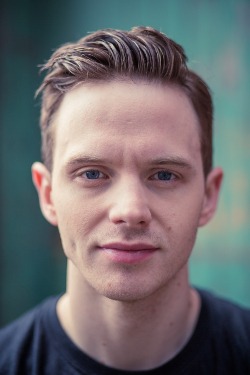 A conversation with arts grad Mark O'Brien
Mark O'Brien, BA'10, is burning up the screen. Since wrapping up the hit TV showRepublic of Doyle this past fall, the 2014 recipient of Memorial's Alumni Horizon Award is juggling writing, acting and directing duties on multiple projects. He has a starring role in the film End of Days Inc., which recently screened at the USA Film Festival in Dallas, Texas and in February he was cast as a new recurring character in the AMC drama Halt and Catch Fire. He spoke with contributor David Penney about life after Des Courtney and what it means to be honoured by Memorial University.
DP: How did you get started as an actor?
MO: Well, I started by doing as much theatre as possible. I was getting to know people in the St. John's theatre community and really stretching my legs as much as I could when I got a gig hosting a show called Kids' CBC. At that same time I got a part in the Second World War mini-series on CBC, Above and Beyond. That was huge for me. That's where I wound up meeting a bunch of people I'd end up working with later on down the line. Allan Hawco, Mark Critch, Steve Cochrane, Pete Soucy, I met all those guys while I was filming that mini-series. It was then I got an agent and things kind of progressed from there.
DP: What role did Memorial play in your career?
MO: Right out of high school, I was focused on working at becoming an actor, but I also knew that I wanted to get a degree. I wound up doing English at Memorial, mainly because it's all about the world of story and that's where my passion was. I also did the diploma program in performance media and communications with Drs. Denise Lynde and then Jamie Skidmore — and I loved it. There was a lot of terminology, and other things that I learned in that program that were incredibly helpful to me as a new actor. I had a really wonderful time at Memorial and I think that's why I've been so involved with the university ever since.
DP: Was it hard to say goodbye to Des?
MO: Oh my god, yes. I'm such a proud Newfoundlander and that show was such a blessing, not just for my career but for my personal life too. I had moved to Toronto so I got to come home and be close to my family and all my old buddies. I met my wife doing that show. So everything about it informed who I am in a way. And the character was hard to say goodbye to as well. One of the things I miss the most are the scenes we did in the office — with Seán McGinley, Linda Boyd and Allan. We had so much fun and were so comfortable with each other. The whole cast had a ball – it was an amazing experience.
DP: What would you tell a student who is interested in acting or filmmaking?
MO: When you look at someone who is at the pinnacle of their career, doing something that you love and want to pursue, it's important to recognize that they had to start somewhere. Very often that's with no more experience or potential than anyone else. The difference is passion and the drive to work for what you want. The only person who can create that reality for you is you.
DP: If you could play any role, past or present, what would it be and why?
MO: I'm not sure exactly who, but I would love to take on a person of huge public profile and historical significance. I think that's so scary because everyone would bring some knowledge or expectation for your interpretation of the character. There are lots of challenges as an actor but taking on a real person, of monumental status, I'd love to see if I could do it.
DP: How did it feel when you heard that you'd received the Alumni Horizon Award for achievement under the age of 35?
MO: I thought they made a mistake. [Laughs]. Honestly, I was blown away and really proud. Anytime something like that happens in your life it's such an honour. What's really nice is that it kind of validates the work you're doing. I'm very critical of my own work and in this business you face a lot of criticism and rejection, so it's very affirming. And it's really cool that it came from the university that was and still is an important part of my life. Especially when I think back to the time I started as a student at Memorial — having no idea how I was going to do any of this or what direction I'd take. It makes me feel very nostalgic and thankful.