Rebecca Rose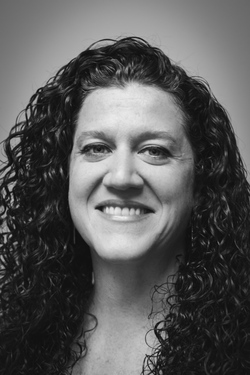 Rebecca Rose was born and raised in St. John's and is the President/Publisher of Breakwater Books, Newfoundland's oldest publishing house. Having grown up inside the publishing industry, she purchased Jesperson Press in 2002 and purchased Breakwater in 2009. Under her guidance, Breakwater has gradually rebranded to focus almost exclusively on the literary trade market. In May 2017, Breakwater acquired Creative Book Publishing to become the island's foremost literary publisher. Rebecca has served as the President of the Atlantic Publishers Marketing Association, a board member of the Association of Canadian Publishers, a board member of LitDistCo (a distribution company for Canadian literary presses), and is currently a board member of the Literary Press Group of Canada.
How and why did you decide to attend Memorial for your degree?
I'd always intended to go to university immediately after high school, but I was determined to stay in the province. I wasn't entirely sure what I would study, but I always knew I would go to MUN.
What drew you to do a degree in psychology?
It took me a while to figure out what I wanted to do at Memorial. My original goal was to do a Bachelor of Science with a major in biology because I was really good at biology in high school. But after a few semesters, I wasn't as engaged as I thought I'd be and found it too technical. I had always been interested in psychology and introductory courses at Memorial were my first opportunity to study it because it wasn't offered in the high-school curriculum of my time. I had also grown up in a family with extended members living with various mental illnesses, so I think I wanted a better understanding of our lived experiences as well. Once I took a few psychology and sociology courses I was hooked and pursued it from there.
Do any particular memories stand out from your time here as a student?
Being exposed to women's (now gender) studies courses for the first time is a positive memory for me. I don't recall any particular focus on women's issues from my high-school education, so those courses really captured my attention and undoubtedly helped shape me as a feminist. I remember studying local books like They Let Down Baskets and Their Lives and Times, which ironically enough, I'm now responsible for in my role as publisher at Breakwater.
If you could do any course over again, what would it be?
Any sociology course. I really enjoyed all of them, and the content spoke to me. And animal behavior (I think that's what it was called) because I'm an animal lover so that really sparked my interest – and helped me get over a fear of rats!
You are currently the president of Breakwater Books -
Can you explain your career trajectory/path?
I'd always worked for Breakwater during high school and university, but I never worked on the assumption that I wanted to devote my life to publishing. If anything, I bucked that idea because I saw firsthand how challenging it was to run a publishing company, and I also struggled with the idiosyncrasies of it being a family business. But once I was able to mentally separate the family dynamic from the business itself, I was able to focus on the elements that I really liked and was passionate about. I grew up with a deep appreciation of Newfoundland literature, and was lucky to be socialized with some of our most well-known and influential writers and artists, so having the opportunity to actively promote them and their work came naturally to me. And ultimately that's the part of my job I love the most – showing the world that the writers of Newfoundland and Labrador are amongst the best, and ensuring that their work is included in discussions of Can Lit and literature in general. I get to be an ambassador for our province's writers and consider myself lucky to be able to do so.
What's your elevator pitch to encourage people to purchase locally authored and published books?
Reading a book by a local writer offers so much more to readers from the province because we can see ourselves in the publication. We know the settings they're using and can visualize and relate to our experiences of those settings. We understand the unique lived experiences they or their characters are relaying because of our shared historical, social and cultural experiences. And buying a locally published book, like all buy local campaigns, has a direct positive impact on Newfoundlanders and Labradorians working in the province's writing and publishing industry – the writer, the editor, the designer, the publicist, the printer, the local distributor, the bookshop owner, even the province's libraries and schools. Studies from our industry show that book buyers and institutions (like libraries and schools) want to buy and support more local authors and locally published books, but it's an awareness issue that's keeping them from doing so, they get inundated with the international best-sellers and award-winners like everyone else. We're working on that as an industry and really trying to increase the visibility of local authors and the brand recognition of local publishers.
In your opinion, what is the one thing St. John's as a city or Newfoundland and Labrador as a province can do to make this a better place to live for all?
I think both the city and the province need to invest more seriously in the arts and cultural industries. I think the arts and cultural sectors in the province aren't taken seriously enough, and the economic contribution that they provide aren't adequately recognized or rewarded. We talk a big game in this province about our cultural heritage and cultural tourism, and how important the contributions of our artists are to the fabric of the province, but when it comes to investing in the industries that sustain these artists and their contributions we're not putting our money where our mouth is.
I think a more serious treatment of these sectors by both municipal and provincial governments could really elevate St. John's to the world-class destination it claims to be. We could improve the visitor experience, and the increased tourism numbers we're always trying to achieve, but more importantly, we can help ensure that young artists and young professionals wanting to work in the arts and culture sectors, don't have to leave the province to do so and can continue to make contributions to the province through these industries – which in turn are the industries that are drawing tourists here in the first place.
Compared to other cities like Dublin and Montreal that have great hotbeds of artistic talent like we have here in this province, I don't think we're measuring up insofar as strategically investing in and bolstering a civic pride for our artists. We tend to honor our sports heroes and business people in that way, but we should be doing the same for our artists. It's about creating, sustaining and growing opportunities for our artists and art professionals to stay in the province and continue to enrich our culture, and that's of equal benefit to tourists and residents alike. I'd also say that a diverse arts and culture sector would better welcome newcomers to the province, and make it a place they can see calling home.
How did your arts/HSS degree prepare you for your life and career?
It's funny because I always joked that I did a psychology degree and unfortunately publishing didn't have anything to do with that. But over time I've come to appreciate the skills and insight from having done an arts degree that are relevant in any job, particularly in the arts, because you have to work with so many different people from all walks of life. In publishing, you get to work with people from all artistic disciplines and explore a wide variety of subjects and topics from countless backgrounds, many of which are somehow incorporated into or at least introduced in the curriculum for an arts degree. Some of my courses in psychology and sociology also equipped me with the tools to be able to work with all kinds of artistic personalities and better manage a team in a workplace environment.
Where do you see yourself in five years?
Doing the same things I'm doing now, but hopefully on a larger scale. Right now I'm really focused on growing Breakwater's reach into foreign markets and subsidiary markets (i.e. film, merchandising, digital). We're publishing more writers each year and have increased sales to our local and national markets in recent years. Now we're focused on expanding the reach of our writers' work across North America and around the world. We achieved new success on an export trip I took to Japan earlier this year, and have secured representation with 12 international sub-agencies that promote our titles to over 20 foreign countries. We've got a strategy in place that's well underway, but like all business owners, I suppose, I'm cautiously optimistic.
What do you say to those who question the value of an arts degree?
I think an arts degree can set someone up for even more career possibilities than a science degree. It offers a good foundation for hundreds of potential career choices and that was certainly (thankfully) my experience. Look for example at the authors Breakwater publishes, almost all of them at minimum have a BA, many from Memorial, so I think it's safe to say there's a strong correlation between having an arts degree and eventually getting published. I think it's safe to say that the movies we love, the TV we binge watch, the books we pour through, the plays we see on stage, the art we hang on our walls, etc., are all likely created by people with arts degrees.
What advice would you give a student who is unsure of what to study?
Take your time and enjoy the university experience. Try to avoid the pressures and expectations everyone has that you should know what you want to do for the rest of your life right out of high school. It took me years to figure out exactly what degree to hone in on, and I also took breaks to travel and work overseas, which gave me an education in real-world experiences. Highly recommended!
What's your favourite place to visit?
Art galleries – any kind in any city. Every time I visit a new city I have to go see their art galleries. And libraries. Libraries are popular tourist attractions and vital community hubs in almost every city I've ever visited, and I wish that were the case here at home. While our government thankfully overturned the idea of closing half of the province's libraries, imagine if they had the foresight to invest in a world-class, state-of-the-art facility like the Halifax Central Library and the Calgary Public Library. For a city with such a strong literary history, writers that have achieved international acclaim, and a culture so deep-rooted in story-telling, I think we would be an obvious choice to have a library like that. I would love to see that happen here.
What are you reading and listening to these days?
All Breakwater titles of course! I recently finished reading the final proofs of our upcoming Fall releases, including new novels by Leslie Vryenhoek (We All Will Be Received) and Trudy Morgan-Cole (A Roll of the Bones), military non-fiction by James Candow (The Invisibles) and a literary non-fiction by Gemma Hickey (Almost Feral).
I'm also loving some new books we have coming out next year, in particular the second novel by Bridget Canning (Some People's Children) whose first book, The Greatest Hits of Wanda Jaynes, was a great contemporary debut that achieved serious award accolades and is now being adapted to film. And a debut novel by Morgan Murray (Dirty Birds) coming next spring, which is absurd, and clever, and hilarious and I can't wait for people to read it and react to it. In terms of music, I was recently introduced to LP and have downloaded all of their albums and have been listening to them on repeat. And The Sherry Ryan Band, who tore the house down during a live performance at last summer's Ochre Fest and I can't get enough of her music.
What are you most looking forward to within the next year?
I'm really looking forward to achieving new business in Germany in the coming year. We've been successful selling translation rights to Germany in the past, and it's a huge part of the international book market, so getting an author's work translated and distributed there can be a game changer. Right now I'm part of an informal network with two other local woman-owned publishing houses who have come together to improve our visibility and market penetration efforts in Germany.
Next year, for the first time in history, Canada will be the Guest of Honour at the Frankfurt Book Fair, which is the biggest book fair in the world. There are a lot of activities and opportunities surrounding this initiative to aide in getting more Canadian authors translated into German. And we've already had some success because we've sold translation rights to Kevin Major's most recent novel, Land Beyond the Sea, which will be published in Germany in 2020. Working with the other two publishers, I'm hoping to get additional translation deals for our authors and for the authors published by my peers. The idea of getting any Newfoundland author translated into the German market right now, whether published by my firm or not, is really exciting to me, and I'm hopeful that by working together we'll be able to achieve that.