Dave Keating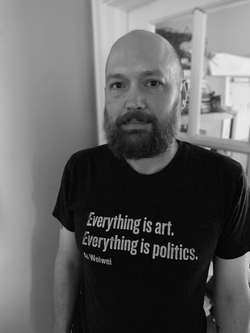 David Keating graduated from Grenfell's Fine Arts program in 1996. In 2014, he finished a BA in religious studies and in 2016 he received an MA in religious studies. David has worked in advertising for almost 20 years including as creative director of his own agency, Upstream Marketing. His newest business is NewfoundlandLand and the Newfoundland Fairy Rescue. Alongside work and school, David has continued to work in the arts – in film, theatre and creative writing. His play, 'The Deputy Minister's Executive Assistant' won the Arts and Letters Award for Best Dramatic Script in 2016.
@NewfoundlandLand #NewfoundlandLand #FairyRescue
How and why did you decide to attend Memorial for your degree?
I completed my BFA at Grenfell in Theatre in 1996. From there, I worked in Newfoundland in theatre before I moved to Toronto and became a copywriter in advertising. Theatre opportunities here, like writing for Rising Tide's Revue, made me realize I'd rather be writing than acting. When I got a chance to travel to Japan, then go back and teach English, time I spent in Kyoto introduced me to Japanese Buddhism. I started taking one religious studies course at a time – first at U of T, then at Memorial when I moved back – and it took me about 10 years to finish my BA. I love school, and another semester would come and I'd find myself signing up for something else again and again.
What drew you to do two degrees in Religious Studies (BA and MA) in St. John's, as well as a BFA at Grenfell?
It certainly wasn't a path I laid out ahead of time - one interest or experience led to another and, after the BA, working on an MA part-time, then full-time, was the next step I wanted to take. Even while working full-time, the challenge of learning something new and of being a student again is something I always find fulfilling.
Do any particular memories stand out from your time here as a student?
Being the oldest student in the class. There's a certain awkwardness or self-consciousness you have to get over, and that fades. I was there for every class and always up-to-date on the material. Not so my classmates. Of course, when I started my first degree at age 18, I was the same way. Going back to school at an older age makes you approach things differently and you appreciate it more.
If you could do any course over again, what would it be?
Christian Mysticism with Michelle Rebidoux. I had taken quite a few courses in Buddhism and eastern religions by then, but having grown up Catholic, the mystical writings and experiences of saints were not something that you learned about. The tension of the saints with Church orthodoxy as outsiders and, then, how they become folded into Church teachings as exemplars of faith is fascinating.
You are the president of the Newfoundland Land Fairy Rescue and recently a travelling exhibit exploring Newfoundland folklore. How did this come about?
Aside from school and work, I've continued to work on projects in the arts. A film I made with a group of collaborators was called, 'Dark Night of the Ugly Stick'. We received ArtsNL grants, had lots of people volunteer their talents to it, and it eventually showed at Eastern Edge Gallery as part of their regular season. But then the show closes. It toured to Alberta, but you create this thing and you think, "More people should see this". So it sat in my basement for 10 years. I now have an eight-year-old and a five-year-old. Thinking about our local traditions, I don't want to kids to grow up here thinking interesting things are 'somewhere else'. I grew up in Marystown and encouraging kids in rural parts of the province to use their imaginations, to see wonder around them, matters. If there's going to be a future in small towns, it'll be up to them.
Can you explain your career trajectory/path?
Writing, collaboration, creativity, and an interest to learn new things and try new things – I think that's been the path. You don't know where one step will lead you, but going into something unknown, if you feel like you're moving forward, that works.
What's your elevator pitch to encourage people to care about local traditions?
We're here on this island. Embrace it. I love getting out of St. John's and seeing new places I haven't seen. There's not one 'bay'. Every place has its own flavor and people are different from community to the next – even 10 minutes down the road. Hearing different people's take on things – stories – will always surprise you.
In your opinion, what is the one thing St. John's as a city or Newfoundland and Labrador as a province can do to make this a better place to live for all?
So much of the conversation in this province is about the problems or issues facing us right now – debt, healthcare, you name it. We should be spending more time talking about the kids in this province and investing in the kind of education they'll need for the future and what the world will look like in 20 years. We need to stop telling young people that 'There's nothing here." They're here, for the moment. If they want to stay, they ought to be equipped to create their own meaningful work.
How did your arts/HSS degree prepare you for your life and career?
The willingness to admit you don't know something and that someone might know more that you is humbling. It's a good perspective to keep and a humanities/fine arts education teaches you that. At the same time, you learn to think critically and evaluate what you're learning. The two go hand-in-hand.
Where do you see yourself in five years?
In Newfoundland. The rest is a question mark.
What do you say to those who question the value of an arts degree?
I'd say the question is about value. If not the arts, what do you value? If there's not room in our society for an arts perspective, what you we have? Technocrats and business? 'Humanities' means keeping the human part of who we are. The ability to empathize with other, imagine other possibilities and know our history and where we've come from aren't nice little add-ons. Where are we without those things?
What advice would you give a student who is unsure of what to study?
Try a bit of everything and see what interests you. And don't worry if your interests change down the road.
What's your favourite place to visit?
Somewhere new, on the island. Somewhere quiet.
What are you reading and listening to these days?
Old country music. Songs about the road.
What are you most looking forward to within the next year?
I can barely think past next week.