Katie Baggs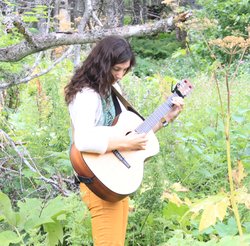 Katie Baggs is co-owner of Little Nest Children's Community, an alternative preschool with a focus on nature education and creative play. Katie is also known for her work as as a singer-songwriter, and is Mama to Levon (age 3) and Annika (4 months).
Facebook @littlenestcc
Instagram @littlenestcc
How and why did you decide to attend Memorial for your degree?
I grew up in St. John's and I love living here, so it was an easy choice for me to attend Memorial. It helped that the tuition was manageable and I could stay with my family.
What drew you to do a degree in anthropology?
I have a BA with a major in Social/Cultural Anthropology and a minor in English Literature. I also have a B.Ed. I definitely did not take a direct route from start to finish. When I started at Memorial my plan was to become a Kindergarten teacher. As I began to learn more about myself as a student, and with encouragement from some of my course instructors, I decided I should explore some other areas of interest. I chose some electives including North American Aboriginal literature and intro to cultural anthropology. These courses influenced me in a big way. I was drawn to anthropology because it includes pretty much everything I love to learn about: art, history, politics, religion, context, perspective, and other big questions about being human.
Do any particular memories stand out from your time here as an undergraduate/graduate student?
I met many of my best friends during my arts degree. I have amazing memories of playing music together, and having great conversations and arguments at house parties with these friends. A few of us formed a band (dead language) and started playing shows together in 2007. That is when I started seriously writing songs and playing music a lot.
If you could do any course over again, what would it be?
It is difficult to choose one. The top two are engaged anthropology with Robin Whitaker and creative writing (poetry) with Mary Dalton.
How did you go from graduating with a BA to becoming an entrepreneur and launching Little Nest Children's Community (and being a sought-after musician besides)?
In my last year of my BA I decided that I still wanted to become a teacher. I returned to Memorial after graduating to do a B.Ed (fast-track primary-elementary program). I spent a year after that teaching a Kindergarten/Grade 1 class in rural British Columbia. Although I only stayed for one year, my time in the community of Kitkatla was transformative for me. I feel incredibly lucky to have had that experience and I hope to return there again someday. My first solo album is all about that year of leaving home, falling in love with a new place, and making my way home again.
When I returned to St. John's I played a lot of music, solo and with a couple of different bands. I also spent years working as a substitute and replacement teacher. I enjoyed the work and learned a lot, but did not always feel entirely at home in the traditional classroom. I dreamed of creating an alternative school for young children.
Becoming a mother in 2015 strengthened my feelings about the need for alternative education options. I decided to become a family child care provider. My goal was to learn as much as I could about the licensing process and about alternative education for young children, so that I would be prepared to open a school or centre at some point. When my business partner, Krista Phelan, and I met, we discovered that we share a common vision. We decided to combine our knowledge and resources to get Little Nest Children's Community off the ground.
Your school is about strengthening childrens' relationship to nature – why is this so important/critical?
The opportunity to explore nature and develop a sense of oneself within the natural world is something that should be available to everyone. There is a significant and growing body of research demonstrating the importance of outdoor play for healthy development in children, including improved social skills, self regulation, mental and physical health, academic outcomes and creativity. The way kids naturally play when given the freedom to do so - digging, climbing, running, collecting, exploring and playing make-believe - is as important as it is fun and wonderful.
What was your biggest challenge in getting your business up and running?
The biggest challenge has probably been learning to manage a lot of tasks at once. There are so many different aspects involved with starting up a child-care business so the weeks leading up to and following our opening day were extremely busy. Little Nest co-owner Krista and I both have young children so we have always fit our meetings in around our other responsibilities, and it has definitely been overwhelming at times. I'm very grateful to our family and friends who helped out with every aspect of the process.
What's a typical day like for you?
I have spent much of the last four months at home with my infant daughter. She was born on January 24, and Little Nest opened on February 14 - it was a busy winter! Co-owner/teacher Krista Phelan and Early Childhood Educator Thea Cammie have been running the program and I've been on the sidelines quite a lot. At the moment I do paperwork/emailing that can be done from home, and I bring baby Annika with me to Little Nest some days where I help with lunch preparation and cleanup. The children have loved watching the baby grow - they've known her since she was just 3 weeks old. In mid-June my partner will be taking over daytime parenting duties and I will be at Little Nest full time.
How did your arts/HSS degree prepare you for life as an entrepreneur?
A huge amount of research and writing went into the preparation of our business plan, as well as the communication with different agencies to get our centre licensed and open. Research and writing continue to be a big part of the job and it helps to enjoy/feel confident about these skills.
Secondly, getting an arts degree (perhaps especially in anthropology) involves broadening your perspective and learning that that the way things are now, here, is not the way things need to be. It also involves learning how to take an idea and turn it into something substantial. This knowledge comes with a sense of responsibility and possibility, both of which come in handy when starting a new business.
What in your opinion is something the province of NL can do right now to improve the situation for young entrepreneurs?
Any government incentive that would help lessen the pressure on small businesses in their early months/first year would be a smart investment. It takes a huge amount of dedication and hard work to get a small business off the ground, and owners who want to contribute something unique or important to the community should be supported.
The province of NL must also continue to improve access for all children to high quality child care/ early education programs!
Where do you see yourself in five years?
In five years, my children will be 5 and 8 years old, so I imagine I will be having fun and learning a lot from them! I look forward to working and learning alongside a the preschoolers at Little Nest. I also hope that I will be writing and recording songs or making some other kind of art.
What do you say to those who question the value of an arts degree?
I would say that an arts degree is not a straight line to a career. But I would also say that I use skills I gained during my arts degree every day, and that it helped shape me as a person rather than simply training me for a profession.
What would people be most surprised to learn about you?
I have a crazy sweet tooth!
What advice would you give a student who is unsure of what to study?
I would say not to get distracted by what seems important to other people, but to figure out what is really interesting to you. Also, read and listen to everything with an open mind, and ask a lot of different people about their experiences.
What's your favourite place to visit?
I've got two: my family's cabin in Old Perlican and British Columbia where I have wonderful memories and some amazing friends!
What are you reading and listening to these days?
I can't stop listening to the Weather Station. So beautiful.
Right now I am reading Last Child in the Woods by Richard Louv and The Ministry of Utmost Happiness by Arundhati Roy.
What are you most looking forward to within the next year?
As usual, I can't narrow it down. I am looking forward to all of it!