Brandon Copeland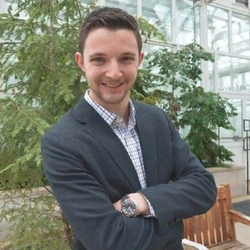 With an entrepreneurial spirit, and a keen interest in the inner workings of businesses, Brandon Copeland has built his career around the idea of building partnerships to build better places. Brandon's passion is urban life, and he believes firmly that an innovative business community and proper physical space can change the fabric of cities.
In 2017, Brandon launched Urban East, a company that represents his dream to contribute to the creation of better businesses and spaces. Working with real estate developers and entrepreneurs, Brandon presents a new way of looking at real estate development and occupation, providing insight and consultation on a variety of topics through the lens of community impact and urban stimulation.
Brandon graduated in 2012 with a Bachelor of Arts (political science) and a Bachelor of Business Administration. Prior to building Urban East, his two degrees allowed him to experience work in management consulting, oil and gas, and property management and development.
How and why did you decide to attend Memorial for your degree?
I grew up in Wolfville, Nova Scotia, so Acadia University was always right around the corner. Despite that, I knew I wanted to live elsewhere and explore a new place. Memorial was on my radar because two of my closest friends were attending the university. The school had the added benefit of incredibly affordable tuition – it was cheaper for me to live in residence, be on a meal plan, and fly home twice a year than it was for me to live with my parents and attend Acadia at that time. To make the deal even sweeter, I entered (and won) the inaugural Rant Like Rick scholarship competition, so my first year of studies was paid for. At that point, attending Memorial was the option that made the most sense.
Do any particular memories stand out from your time here as student?'
The two years I spent in residence will always be some of the best memories of my life. I can't recommend residence enough for new students. You are forced to learn to be independent, but you have a chance to do it with a bunch of other young people learning the same lessons. My closest friends are still the people I went through residence with. Residence life was an amazing chance to transition from kid to young adult.
What drew you to study political science?
An interest in how the world worked, I think. I've always wanted to do something impactful, and I felt that understanding politics would be beneficial in that pursuit. I only began paying attention to politics in the later years of high school, but I became deeply interested in different political views, and wanted to know more about how decisions that impact people's lives are made.
How did you go from a degree in political science to becoming a real estate developer?
When I began with political science, I had it in my mind that I wanted to pursue a career in academia. It was only when I acknowledged that I really didn't enjoy research that I was forced to rethink my plan. I realized that a very practical use of my political science background would be working in heavily regulated industries. I worked a summer in oil and gas, but my love of travelling and exploring places drew me to cities. I developed a fascination with urban planning and development, and it just so happens that real estate is hugely regulated on a municipal level. I decided in my third year that I wanted to work to build better places – and my understanding of politics could very much help me with that.
What's the best piece of advice you ever received?
"If you are the smartest person in a room, you're in the wrong room." Pretty basic, and I'm sure many have heard it, but its so true. The people you surround yourself with are important. They should challenge you to get better. They are your network. They will make connections for you. I like to think I'm not afraid of not knowing something, and I'm also happy to have my world-view challenged. Those are the best conversations.
You have highlighted a quote from urbanist Jane Jacobs on your website "Designing a dream city is easy; rebuilding a living one takes imagination." – How does this relate to the mission of Urban East?
My entire goal with Urban East is to partner in the development of complete neighbourhoods. It always seems easier to start with a clean slate, but the reality is that the things that make cities great – people and culture and businesses – don't exist if you start from nothing. Working with the building blocks that are already present is harder of course, since there will be so many more moving parts and often there was no planning when things began, but it's how you create truly great places.
What's the best thing St. John's has going for it from a real estate/housing/development perspective?
In my humble opinion it's the dynamic in our market between downtown and suburban living. If you look at the vast majority of cities, there is a premium on the price of downtown properties. The further you move away from the city, the cheaper real estate becomes. This isn't the case in St. John's, and I think it presents an opportunity. Trends in urbanism, and how people live, are showing that young people are rushing back to urban cores. Yet, in St. John's, some of our most affordable real estate is downtown. I think that this is going to change soon, and people who are investing now will do well. In my experience, St. John's will follow North American trends, it just happens here later. So you kind of have a crystal ball in regards to what will happen here – you don't need to predict, you just need to observe. I think that downtown is seeing a lot of young people buying and renovating, and that is going to cause the whole area to increase in value. I think we are seeing the revitalization of our urban core, and I think that is a great opportunity for residential and commercial investment.
In a perfect world, what initiative (building, service, cultural offering, etc.) would you add to Newfoundland and Labrador (or St. John's) to make it a better place?
I spent a lot of last year working on a feasibility study for the development of an arts and innovation hub in the core of our city. Sort of like the Centre for Social Innovation in Toronto. We started off thinking we needed to develop a tech hub, but talking with people it quickly became apparent that affordable, flexible, community-driven real estate for self-starters really doesn't exist here in the way that people envision – and those people are more than just tech entrepreneurs. The opportunity for entrepreneurs and artists to collide in a natural way could be amazing. I think that there are creative people here – both in arts and in business – and the more resources we can invest in supporting them, the better.
We already have some great support for people who are looking to start businesses. Memorial in particular has been doing great work, between the Genesis Centre and the MCE. The arts community doesn't seem to have as strong support, and even what we do have for business is quite disconnected. So I think a true meeting place for community and creatives could be massive. I very much believe in that project.
What's a typical day like for you at Urban East?
I wish I had a typical day. The only consistent thing about my day is waking up in the morning and having a shower.
Since I started a year ago I've worked from home, coffee shops, coworking spaces, clients' houses, and vacant buildings. I'm only just now painting the walls in my first "office". I do most of my work downtown so I walk when I can. I try to read the news first thing, and then launch into whatever project my attention is on at the time. It's not unusual to have a mid-morning coffee with a client or a prospective client. Or a mid-afternoon pint. Or both, sometimes. I have to stagger projects, so I need to be looking for the next one while I am working on the current one.
Work is always varying. I mentioned last year I worked a lot on the business case for the arts and innovation hub feasibility study. I've spent lots of time this year working on real estate portfolio refinancing with a client in mine in investment banking. Right now I'm pursuing a cohousing initiative with a great client, and I'm simultaneously helping her develop her business plan and her project plan for her first project. Renewable energy has been on my mind a lot lately.
The only thing I can really count on is being tired when I'm done my day.
You were recently won a national competition with IceGrid which involved replacing diesel generating plants in small northern communities with wind-powered microgrids. How do you see that project playing out over the next few years?
The contest was a pitch competition, and the pitch originated during discussions with two friends – Dave Lane and Brett Favaro. Unlike many of the teams that pitched, we weren't an established entity or a university group, we were just three guys with an idea. The win was thrilling. Now, we want to take the pitch further, but unlike the teams that were established businesses, we don't have any of the organizational infrastructure in place to begin work. So that is our first step. We believe we have the understanding required to help communities tap into federal and provincial funding to pursue these projects. We also believe that the possibility exists for industrial use as well. Over the next few years, we hope to partner with several communities and pilot battery-backed renewables to help us establish the processes necessary to deploy these solutions on a more wide-spread scale. There are over 250 communities in Canada that are not connected to the national energy grid, and it is critical that these communities invest in sustainable infrastructure. The fact that these systems are massively cheaper over the course of their lifetime makes for an easy selling point. Right now we just need to prove it.
In what ways has studying humanities/social sciences affected your world view? What do you say to those who question the value of an arts degree?
I think it helped me to realize the importance of taking time to understand why someone feels the way they do, even when I whole-heartedly disagree with them. You can't just read a conclusion to understand the entire research paper – you need to take a look at the background, the data, and the methodology, especially if you want to contest the findings. Every business and every career is about relationships, and some of those relationships will be in direct opposition. You get far more accomplished if you can rationalize why someone is approaching something from a different angle than you. It's easier to challenge them, or to find common ground.
In terms of the value of an arts degree, I don't think there is a better degree to prepare you for communicating ideas. It's very surprising to me, in business, to see how much people struggle with communicating. I'm a stronger speaker, writer, and debater because of my arts degree. For people looking for work in the private sector, I believe that an arts degree can multiply the effectiveness of your other skills.
That said, it is important to know what you are going to do with your degree. There is no longer a straight line between what you study and what job you will have, things are increasingly interdisciplinary. So you need to be prepared to that, and understand how your arts degree will improve the value of your work. An accountant, or a marketer, or a software developer will all be better at their jobs if they have the skills provided by an arts degree, however they still need to know how to account, market, and develop. Students need to be prepared, and know how they will put the skills they are gaining to use.
What advice would you give a student who is unsure of what to study?
Do an inventory of things you enjoy, or ideas that intrigue you. I believe that to be successful, you need to like the work you do. If you are passionate about a topic that the university teaches, study it. However, if you are passionate about something that isn't a traditional university topic, then study things that would allow you to monetize your passion. People are getting rich eating, travelling, and playing video games; with the internet you truly can monetize anything, you just need to have the toolkit to know how to do it, and the innovativeness to envision what it might look like.
What's your favourite place to visit?
My family is from the South Shore of Nova Scotia, in Lunenburg County. I love travelling home and visiting them, as well as our house on the Lahave River. It's always an incredibly relaxing change of pace. I do some great thinking there.
What are you reading and listening to, looking at these days?
I like listening to podcasts in the car and at the gym. "How I Built This" and "Bigger Pockets" are two of my favourites. In terms of books, I just finished Getting Naked by Patrick Lencioni. The book is a business allegory about what he called the "naked service model" and it is well worth a read for anyone in professional services. In terms of "looking at" I must admit I'm spending a lot of downtime playing "Fortnite" with my buddies. One of my res friends moved to Edmonton, and having an easy game to hop on and play together is an exceptional way of keeping in touch. That's provided that soccer isn't on. Lots of World Cup has been watched over the past month. One of the benefits of working for yourself is you can shift your hours when necessary (and World Cup 100% counts as "necessary")!
What are you most looking forward to within the next year?
I'm excited to continue building Urban East. I'm also excited to pursue the opportunities presented by the IceGrid win. However, I'm getting married in July 2019, and that is definitely the biggest and most exciting thing on my 12-month agenda!