Jennifer Dodge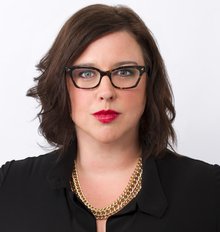 Jennifer Dodge is senior vice president, development for Nickelodeon Preschool. In this role, Dodge spearheads development of all original content for Nickelodeon Preschool's programming block and the Nick Jr. channel and also oversees the development of in-house talent, in tandem with discovering and nurturing new artists and writers. She is based out of the Nickelodeon offices in Burbank, Calif.
Prior to joining Nickelodeon, Dodge served as vice president and executive producer for Spin Master Entertainment, the company's film and television subsidiary. In this role since 2009, she was responsible for all content and strategy related to the entertainment division of Spin Master Ltd., including the creation, acquisition, development, financing, production and distribution of television series, feature films and web content based on currently owned and newly created intellectual properties.
Dodge was the driving force in greenlighting more than 200 episodes of animation, including Spin Master's foray into preschool with the hit PAW Patrol, which airs on Nickelodeon. Dodge is also the co-creator and executive producer of the preschool show Little Charmers, a co-production with Nelvana, for Treehouse in Canada and Nick Jr. worldwide. During her time at Spin Master, she also oversaw the launch of the Spin Master YouTube channel, Spindo.
Before joining Spin Master, Dodge served as VP Distribution and Sales Operations for Cookie Jar Entertainment (now part of DHX Media) and as director, production and development for Decode Entertainment (DHX Media).
Dodge graduated from Memorial University of Newfoundland, where she received a Bachelor of Arts degree in Linguistics and Psychology.
How and why did you decide to attend Memorial for your undergraduate degree?
Attending Memorial was a very natural choice for me. My family was living in St. John's at the time, and all three of my older brothers attended Memorial for their undergrad degrees, and one of them continued on to graduate from MUN's medical school program. In fact my brother Steven Dodge is back at Memorial now serving as Director of Human Resources. So I guess you can say that attending MUN was a family affair.
Do any particular memories stand out from your time here as an undergraduate student?
Besides the obvious memories of friends and the social aspect of going to university, it is a particular course that stands out for me the most. I think it was my second year that I took the sociology course, War & Aggression, taught at that time by Professor Elliot Leyton. I loved that course and the way that he instructed the class. It was fascinating, engaging and he welcomed so much debate and conversation into the lecture that you felt like you were really participating and not just passively taking notes.
What drew you to study linguistics?
I started out with the intention of doing a Bachelor of Science degree and was taking a couple of electives in linguistics my first few semesters and really enjoyed the courses. When I decided in second year at some point (during an Organic Chem class probably) that science wasn't right for me, I shifted my focus to linguistics and psychology. I think what I liked about it so much was that it married my love of the language arts with the science of language, which was really compelling to me. I also had great professors who were passionate and exciting lecturers. At that time, I thought I would move on to do a masters degree in speech pathology but took a year off after my degree and found myself in the TV business.
What's the best piece of advice you ever received?
I know it sounds cliché, but probably the best advice I've received over the years is to find or do something that you truly enjoy. I could have stayed on the path of a science degree but I wasn't enjoying the work. I think if you choose areas of study and work that you enjoy, then you can really throw 100 per cent of yourself into the work and your chances of success multiply.
How did you move into television production as a career?
Right after my last exams at Memorial I was offered a job, through some fellow Newfoundlandlers, doing food service on movie sets in Toronto. I packed up my few belongings in my little hatchback and headed off with a friend just a few weeks later, not really knowing what to expect. About nine months into that job I met a producer who set me up with a job 'answering phones' at a new company that was focused on children's television. I ended up working for that company for nine years and when I left was the director of development and production. It's the real life example of climbing the ladder. Still today in the TV business, most people start as assistants or receptionists and work their way up through the ranks. In our industry, paying your dues, is still considered a really important part of the path of your career.
How did your linguistics degree prepare you for a life as a television producer?
My entire career in television has been spent in the children's entertainment genre, where we take into account the developmental stages of our audience in everything that we do. I've been able to use a lot of what I learned in both my linguistics and psychology courses when thinking about what our audience can understand at the particular developmental stage we are producing for. Now that I am a network executive, working exclusively in preschool programming, I spend a lot of time talking with academic advisors in order to develop various types of curriculum for our programs. We have shows that have full science, math or literacy curriculums, so as you can imagine a degree in linguistics and psychology has be enormously helpful in that regard.
What has your biggest professional challenge been to date?
Almost eight years ago, I joined the toy company Spin Master in Toronto, with the goal of launching and building an entertainment division. I knew very little about the toy business and the company knew very little about the ins and outs of developing and producing television. Through a lot of communication, cooperation, debating and educating one another, we built an amazing team of entertainment and toy experts who went on to produce PAW Patrol for Nickelodeon, which has turned into the number one preschool property in the world. It was a huge undertaking that took me around the world and challenged everything I thought I knew about producing television and my own abilities.
What is a typical day like as a Nickelodeon executive?
A typical day as a Nick executive includes lots and lots of meetings. Usually, I have several meetings throughout the day with members of my team to review concepts, scripts, artwork and animation or live action footage. Those are the fun meetings where I get to be mostly creative. Other meetings are more about the logistics and business of making the shows where I'm meeting with our legal teams or production teams about contracts and budgets or with our executive team about our bigger programming strategies. In between all the meetings I try to catch up on emails and phone calls. Everyday is jam packed, super fun and we try to have a lot of laughs along the way. Making cartoons is supposed to be fun and I try to remember that even when I'm having a particularly busy or stressful day.
In what ways has studying humanities/social sciences affected your world view? What do you say to those who question the value of an arts degree?
I think studying the social sciences gives you a really broad base of knowledge about the larger world around you. Whether you're learning about the different societies that exist today, world history, literature or human psychology, you're broadening your understanding of the world and the different kinds of people that you're sharing the planet with. In today's global economy that kind of understanding is probably more valuable than it's ever been.
I'm always surprised when people question the value of an arts degree. I've been working in the entertainment business for almost 20 years and have encountered some of the most happy and successful people in the world, and almost all of them have some sort of degree in the arts. There are so many differing and interesting areas of the work force you can explore with an arts degree that might not be obvious to you as you're graduating high school.
What would people be most surprised to learn about you?
I was actually asked this very question during a team building exercise a few weeks ago and I shared that in high school I was a competitive cheerleader…which seemed to surprise everyone in the room, so I'll go with that answer.
What advice would you give a student who is unsure of what to study?
When you're choosing a degree it's hard not to think about how you can literally apply those skills to 'get a job' but I would encourage people to think about the areas of study that they are most interested in, or hopefully passionate about, and find your way from there. I never thought when I chose my degree that I would apply it the way that I have to my career. I also switched in my second year so it's okay to try something out and change your mind if it's not the right fit for you…I think that's true in life as well as academia.
What's your favorite place to visit?
At least once a year I go to Cannes in the south of France for the television festivals and I really look forward to it every time, but if you were to ask me my favorite city visited to date, then I would have to say it is Tokyo.
What are you reading and listening to, looking at these days?
I'm a science fiction, fantasy and super hero nerd, so right now I'm watching things like West World, Game of Thrones, Agents of Shield and my daughter and I watch Super Girl together. There are so many great TV shows now and I try to keep up with as many as possible, but it's hard. I won't tell you what I'm listening to because I have the musical tastes of a 14-year-old girl.
What are you most looking forward to within the next year?
Professionally I'm excited because we are launching some new shows on Nick Jr. that my team has worked really hard on and that we think are going to be big hits, so that's always exciting. Personally, I'm planning to keep on enjoying all of this California sunshine.