Duncan Major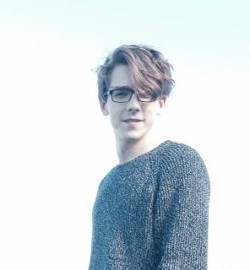 Based in St. John's, Duncan is an artist, designer, husband and dad. Following an early start in the working art world as printer's devil to Tara Bryan of walking bird press, Duncan founded his own imprint, Walpurgis Press, which produces cards, prints and books with an eye to the offbeat. In his role as an art director and designer at Perfect Day, Duncan received a Juno nomination in 2016 for his work on the Long Distance Runners' album Elements. As a linocut artist, Duncan has illustrated seven books, most recently, The Card Game (Running the Goat Books & Broadsides, 2015) and The Bears Come to Tea (walking bird press, 2015). In 2016 he wrote, directed and animated little big bang, a one minute linocut animation produced by the NFB. For more info visit duncanmajor.com.
How and why did you decide to attend Memorial for your undergraduate degree?
I spent my first year at King's College in Halifax. After that, I switched to MUN and went directly to Harlow for a semester, loved that, and kept on at Memorial.
Do any particular memories stand out from your time here as an undergraduate/graduate student?
Meeting my wife for the first time. Seeing the stone circle in Avebury during the English Landscape & Literature Program in Harlow. Sorting mail in the underbelly of the QEII.
What drew you to study English?
It happened naturally out of a love of books and reading. I thought about doing physical archaeology, and I thought for a while I was going to major in medieval studies, but English fit best.
What's the best piece of advice you ever received?
Does receiving advice from a book count? The saying "fake it til you make it" stuck with me after reading Steven Tyler's memoir in the backseat on the way back from seeing Aerosmith at Salmonfest. He says it on every page of the book, practically. If you have aspirations or goals, pretend you're already there, or more capable than you actually are, and don't worry about it. Pretending is ok.
You were recently a part of a 12-week paid apprenticeship in animation filmmaking sponsored by the NFB. How did that come about and how did you get first get interested in film?
A friend of mine encouraged me to apply to Hothouse. Because I have no background in film and animation other than as a viewer and advertising animator, I didn't think I'd be eligible at first. I'm very grateful to have been given the chance to make a film from the ground up with the talented people at the NFB.
Renting movies was one of the great joys of childhood. My friend and I would always try to watch the worst or most bizarre movies we could possibly find.
Do you have a favorite director, or someone who has inspired your own work?
I would say David Lynch. Blue Velvet had a big impact on me, and I love his way of looking at the world, and his love for the unconscious.
You're a designer, a letterpress printer and now a filmmaker - how did your humanities degree prepare you for your current working life?
In humanities you learn how to think critically. Designing a poster, or a logo, or storyboarding an animation, is like creating a visual essay. You have a thesis statement and then you work around that or discover it along the way. I discovered many creative influences during my degree as well.
What has your biggest professional challenge been to date?
Making Little Big Bang, my one-minute NFB Hothouse film.
In a perfect world, what initiative (building, service, cultural offering, etc.) would you add to St. John's to make it a better place?
A better structure by which independent businesses could flourish in the downtown core would be one of them.
In what ways has studying humanities/social sciences affected your world view? What do you say to those who question the value of an arts degree?
Studying the arts isn't about finding a job, but it happens to give you employable skills. Studying humanities/social sciences taught me to live life looking for questions instead of answers.
What advice would you give a student who is unsure of what to study?
Let your hobbies guide you, pursue what you like to do and don't be afraid to make the wrong choice.
What's your favorite place to visit?
These days it's Bowring Park. I love parks — I think it's incredibly important that anyone has a place in town they can visit for free that's got lots of trees and ponds and waterfalls.
What are you reading and listening to, looking at these days?
Watching: The Godfather, Mad Men, The Joy of Painting. Reading: Goodnight Moon repeatedly.
What are you most looking forward to within the next year?
Spending time with my wife, son, and friends, berrypicking, Christmas.