Charli Junker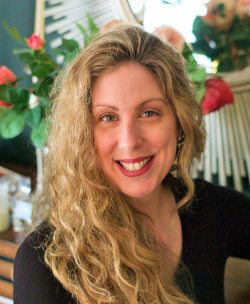 Designer, Charli Junker is the owner of Your Space Our Design, based in St. John's, Newfoundland and Labrador. Charli is a regular contributor to Home & Cabin magazine and has appeared on the television show Open House NL. Her work has also appeared in East Coast Living magazine. Charli has worked on over 150 projects, some of which include a Calgary based condo, where she made an average space spectacular in only one week. She has also taken a tired 1980's kitchen and turned into a glamorous masterpiece and worked on countless new home builds from the ground up; as well as numerous renovations and smaller projects.
How and why did you decide to attend Memorial for your undergraduate degree?
Having spent my early life in TO and moving to rural NFLD as a teenager, I craved city life again so I applied to Memorial, got accepted, found a modest apartment, packed up my stuff and hit the road in my Ford Tempo! It was an exciting time of life and new friends and experiences soon followed. I originally planned to be a social worker so that I could help the less fortunate -- specifically seniors. I've always loved seniors because they have so much knowledge to share. I hoped that getting a sociology degree with a minor in gender studies would give me an edge to get into social work. I quickly discovered how difficult it was to get into the faculty and eventually found my passion for interiors purely by chance.
Do any particular memories stand out from your time here as an undergraduate/graduate student?
During a class in the large lecture theatre in the Arts building, Elliot Layton shouted at a student because they were late and demanded that they turn around and leave. How dare they be late! This was my favorite class at the time and I really respected him as professor. He followed his dream and the passion showed in his lectures. To this day, I am always punctual as it is a matter of respect for the other party and because I associate being late with pure humiliation (giggle). Great life lesson!
What drew you to study sociology?
I liked the idea of different cultural and social behaviors and wanted to explore more of this. Lacking funds to travel, this was a great way to gain some insight of the world and its people. I also really enjoyed researching and reading but wasn't interested in an English degree. Sociology was a good fit for me.
What's the best piece of advice you ever received?
Follow your passion and the money will follow. This rings true for so many successful people, including myself. The world needs more passionate entrepreneurs and less corporate mentality. Having a love for interiors puts fire in my belly and makes me excited to take on the world every morning. It took years to grow my business with many set-backs and little profit, but once you become self-sufficient, it's extremely rewarding.
I have worked jobs where I punched the clock, impatiently waiting to take two 15-minute breaks and an hour lunch. It makes for a boring and unfulfilling existence. Passion is what makes the world fun and exciting!
How did you get first get interested in interior design?
As a child I would help my mother rearrange furniture and choose paint colors. I was always fascinated by how altering the configuration of a room, made the space feel so different, like reinventing the space. By chance, when I was 18 I applied for a job at a furniture and interior décor store. I was visiting TO for the summer and saw a help wanted sign in the window. When I moved back to NL that fall, I applied to the same store and got the job. Following my degree and still working my part-time job, a colleague mentioned how nice my home was and how I had a talent for interiors. She encouraged me start a business. That was 11 years ago and I am still going strong with the business. I eat, sleep and breathe interiors. I'm always surfing online interior sites, reading design magazines and watching design shows. It's my hobby as well as my business.
Do you have a favorite interior designer, or someone who has inspired your own aesthetic?
Candice Olsen for sure. Even when I was studying for my degree, I would watch her show and was fascinated at how she transformed spaces with so much ease. People often compare my work to hers and I have been told that I make the process simple. I think if you love what you do then it comes easy- or at least appears that way.
How did your arts degree prepare you for a life as an entrepreneur?
I have a column in Home and Cabin Magazine and I attribute my writing skills to the degree. Over a four-year period I must have written well over 50 articles and with each one you just get better. Eventually you learn to take a bunch of random ideas and organize them quickly and efficiently into something readable and interesting. I apply this in everyday work as well when sorting through design and decor info or deciding what to recommend to a client. It basically taught my brain to learn how to weed out important vs irrelevant info. I am much more resourceful than I would have otherwise been.
I also learned that deadlines are really important and I strengthened my sense of urgency. Working under pressure forces you to get things done timely and efficiently and weeds out the white noise.
I learned how to research and the importance of citing references. With design work, I'm always researching the latest trend or digging for info on historic styles. I always have a photographer to take professional pictures of my work. Once the photos are posted, whether on social media, my website etc, I always site my sources- where I purchased items, colleagues that were involved etc. It's always a team effort and people and businesses should be credited for their work and ideas.
What has your biggest professional challenge been to date?
Having to deal with very difficult people. It's challenging to separate the personal from the business side of things when you put your heart and soul into the craft. Some people just cannot be pleased and unfortunately this is a cost of doing business. I'm a perfectionist and I really and truly want all of my clients to be happy. It's always comforting knowing how many great clients there are. When you get a card in the mail or a gift to say thank you, it means so much to a business owner. Again, the good ones make up for the bad but it can be taxing for sure. Thankfully I have eight years of retail experience under my belt, so that certainly helps!
In a perfect world, what in your opinion is something the province/City of St. John's should be doing to encourage entrepreneurs like yourself?
More funding for small business start-ups for sure. The power of a business idea can be massive. Most entrepreneurs like myself, have a great idea and will do anything to ensure it happens. Execution can be difficult because of a lack of funds. Sometimes a small loan is all it takes.
In what ways has studying humanities/social sciences affected your world view? What do you say to those who question the value of an arts degree?
Doing a humanities degree has shown me how diverse the world actually is and how other cultures operate differently from the Western world. It's also broadened my practices in thinking about world issues. I did many courses related to topics of religion, war, gender etc. This opens up the mind to discussion and seeing the world from different perspectives.
An arts degree is so much more than it seems on the surface. It can open doors and offers a wealth of unrelated information. At one point I was working a part-time job as a sales rep for a national company while I was building my business. The degree gave me an edge on the competition, being young it's often difficult to gather professional experience. They hired me because I had the degree - to them it showed initiative as well as determination. It takes four years to obtain an arts degree which can sometimes seem like a lifetime as a student!
What would people be most surprised to learn about you?
When I tell people the origins of my family history, they are usually very surprised to learn that I am half German. My last name is pronounced "Yunker" and my father's side of the family endured many hardships and struggles during war times in Berlin. They eventually made it to Canada soon afterward and started a new life in Toronto. My 81-year-old uncle is alive and well and tells stories from that era. It's interesting to think that if it hadn't been for the war, I wouldn't be here, as with many people.
What advice would you give a student who is unsure of what to study?
Study something that interests you and worry about the fine details later. If you look at most creative and passionate people in the world, they have a diverse background in studies and experience and have tried many things. Don't be afraid to explore and learn. It will always be of benefit in the long run. Most people fall into their profession without even really knowing why or how. You don't have to have all the answers, just study what interests you.
What's your favorite place to visit?
Paris, without a doubt! I just returned from a 10-day trip and it was very eye opening. Parisians are authentic, stylish, lovely people. It's common practice to see a lady in a dress with high-heels riding a bicycle or a man sporting a suit with designer shoes on a motorcycle. They don't overthink life, they just live.
The people also have passion for their work, with thousands of boutiques and shops, they entice you into their stores with colorful window displays. They will literally come out onto the street to invite you in. The service is impeccable and the passion shows.
Paris has colorful old doors, timeworn marble floors mixed with modern furnishings and they treat color as a neutral. It all somehow seems to works so well. It's an incredibly interesting culture. People meet their friends for coffee instead of texting on a smart phone, they walk almost everywhere and each person sports an eye-catching scarf. By far the most interesting trip I have been on.
What are you reading and listening to, looking at these days?
I'm reading a biography on Lucille Ball. I find the lives of people from that era very interesting. I love the fashion and interiors from that period as well and learning about someone's struggles and victories is of interest. Lucille Ball has always been an inspiration to me. She was hilarious, witty and charming. She seemed to live life to the fullest.
I'm also really into the French interiors lately- go figure! On my recent trip, I visited lots of furniture and décor shops and got to see firsthand how this eclectic French vibe comes together. It's fascinating!
While in Paris, I went to see a Vivaldi concert in Sainte-Chapelle which was built in the 1200's for the King of France. I have never been into classical music but to actually see the amount of work and skill that goes into playing the violin is captivating. I want to further explore this genre for sure.
What are you most looking forward to within the next year?
I'm looking forward to expanding the business. I have a few ideas in mind. I would love to do more work abroad. The internet makes the world seem smaller so I'm working on ways to achieve this. I always have a million ideas running around in my brain. I recently entered an international kitchen and bath design contest with a colleague and looking forward to seeing the results!