Victoria Barbour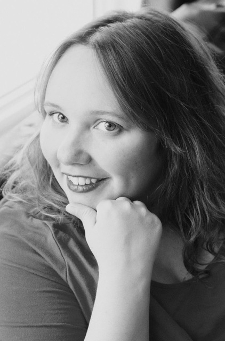 History graduate Victoria Barbour is a USA TODAY bestselling author. She lives on the island of Newfoundland on Canada's windswept east coast, and is fiercely proud of her home. She can imagine no better setting for her contemporary romance novels, and hopes that her readers will one day come to witness Newfoundland and Labrador's rustic beauty for themselves. When she's not hard at work creating her Heart's Ease contemporary romance series, or trying to convince people to visit her home, she's busy with her day-to-day life as a mother, wife, and marketing communications specialist.
She was born in St. John's, and raised above her family's fish and chips restaurant. She has traveled and lived in other parts of Canada, but chose to make her home where her heart has long resided. Victoria has a degree in history from Memorial University of Newfoundland, with a minor in Newfoundland Studies. The only thing that stands between her and a master's degree in history from Simon Fraser University in British Columbia is her thesis. She has a background in broadcast journalism, advertising, and marketing. She is a proud member of both the Romance Writers of America (RWA) and their affiliate chapter, Romance Writers of Atlantic Canada (RWAC), as well as a member of the Writers Alliance of Newfoundland and Labrador (WANL).
Victoria counts herself lucky to be surrounded by an incredibly supportive family, and thanks her husband daily for his unerring faith in her, and for being a wonderful father to their son.
How and why did you decide to attend Memorial for your degree?
I attended Memorial twice. Once in the early 90s, when I graduated from Brother Rice High School in St. John's. I didn't finish my degree then. Instead I went to study journalism at Ryerson in Toronto. In 2003 I wanted to focus on my writing career, specifically historical fiction based in Newfoundland. As I started that book I realized that I didn't know enough about our history to do the story justice. I came back to Memorial to study history and Newfoundland studies so that I could write better fiction. As for why Memorial, I think it's a given that if I'm going to study this place, that I should do it here. Plus, Memorial's history department has a stellar reputation and the faculty is second to none.
What drew you to do a degree in history?
Insatiable curiosity. And the desire to write better fiction. Although I didn't know it when I chose to major in history, this field makes you a critical thinker. My history degree has given me so much more than just a knowledge of how our society changes over time. It has made me a stronger writer, without doubt. But I've also learned to question norms, to really think about what we see and assume to be true, and to never assume something is "true."
Do any particular memories stand out from your time here as an undergraduate student?
My strongest memories are of my professors. I was taught by some of the brightest and kindest profs in the history department. They were so supportive of my academic career that I ended up losing track of the initial reason why I came back to university (to write better fiction) and helped me think about a career in academia. For a while I worked toward become a professor myself, but in the end, I chose fiction. I've lost touch with many of those wonderful mentors, but if they are reading this article, I'd like them to know that their faith in me, and their wonderful approach to teaching will never be forgotten.
What's the best piece of advice you ever received?
I don't know if this is the best advice, but for a while I wasn't writing anything. I was conflicted. I wasn't writing my master's thesis and I wasn't writing any fiction. My father said to me, "When you die, do you want to be remembered as Victoria Barbour the historian or Victoria Barbour the novelist?" Once I knew the answer to that question, I felt a huge weight lift off my shoulders. And I haven't looked back.
You left the corporate, 9 to 5 world a few years ago to follow your dream of being a full time writer. Can you tell us what your impetus for this change was?
For years I had tried to find the balance between working and writing. And working continued to win. Vacations and long weekends were spent trying to finish a novel. In 2012 I went on maternity leave and was blessed with a good baby. When he was nearly four months old I finished my first novel. I spent the rest of my maternity leave figuring out what to do with that book, and in the end I self-published. I had every intention of going back to work. However, a week before I was due to return, I went to the Romance Writers of America national convention. I was so inspired by the work ethic of many of the authors I met, not to mention to knowledge that with indie publishing there was a real possibility of making a living wage, that I decided to stay home and write full time. Two years later I have four novels, two novellas, half a dozen short stories and several anthologies published. It was the right choice for me without a doubt.
You have had considerable success as a self-published author and are now USA Today bestseller. Can you tell us a bit about how you have built such a strong brand for yourself?
I've just been true to what I believe. My brand is all about Newfoundland romance. I share images from here on my social media platforms, and I work very hard to convince readers that Newfoundland and Labrador is the most romantic place on earth. There are times I'll get an email or message from a reader who didn't know a thing about Newfoundland and now they want to plan a vacation here. I make sure my books are everything romance readers expect, with all the traditionally loved tropes, but bring it to a setting that's new to them.
Your books are all set in Newfoundland. How has your background in history and Newfoundland studies contributed to your writing?
It's impossible to overstate the importance of my education in these fields. It's helped me get a better understanding of this place, our people, and the social, economic and cultural events that inform who we are. When I create a character, they need to be real to me. There's so much back story that lives in my head that never makes it into the manuscript. But I can tell you if their grandparents voted for Joey Smallwood, or if they come from a resettled community. More importantly, my education is essential for the historical fiction pieces I'm working on. There's a delicate balance I have to strike between being authentic with the past, and creating a story that resonates with readers.
What's the appeal, in your opinion, of both writing and reading romance novels?
For me, the appeal is in the escape and in the security of a happily ever after. I love to read. Period. Non-fiction. Genre fiction. Poetry. Each book fulfills a need. And I turn to romance when I need happiness. I write romance because it's my natural inclination to focus on relationships. For the longest time I would have denied that what I was writing was a love story. Romance novels get a bad rap in the literary world. People think they are formulaic simply because in the end, the couple makes it. But what's wrong with that? What's wrong with studying the dynamic between a couple, the conflict that threatens to keep them apart, and the eventual change in character that makes a happily ever after possible?
In what ways has studying humanities and social sciences affected your world view?
It's made me think more, question more, and not just accept what the media or one influential person says. My education has taught me to think for myself, to base my opinions on what speaks to me based on what I've learned from others, and what I've come to believe within myself about right, wrong and the no-man's land of subjectivity. I think the first book that made me really think beyond what I'd come to accept was Benedict Anderson's Imagined Communities. I've become much more post-modern in my old age.
What do you say to those who question the value of an arts degree?
There are those who see value only in marketable commodities, and those tend to be the people that don't understand the marketability of the skills we develop with an arts degree. It's very easy to say "Oh, you have a history degree. All you can do is teach." That's a simplistic x +y approach. I prefer to think of an arts degree as x to the power of infinity. There's no limit on what you can do with an arts degree. Students come out with the ability to write, communicate, think, debate, research, and analyze. That's a powerful set of skills right there.
What's your favourite place to visit?
Anywhere I haven't been yet.
What would people be most surprised to learn about you?
I'm a bit of an open book, so finding something that would be surprising to everyone is difficult. But perhaps very few people know that I'm a huge gaming geek. I love to play Dungeons & Dragons. On the flip side, I'm also an outdoors girl. I love to shoot sporting clays at the St. John's Rod & Gun Club. Sadly, I don't have much time these days to devote to either.
What are you reading and listening to these days?
Most of my reading right now is centred around romance novels, either catching up with the latest bestsellers, or working with other authors to help critique their books. But I recently finished Leslie Vryenhoek's Ledger of the Open Hand. I adore her writing! As for music, I listen to whatever soundtrack is influencing my works in progress. Each book has it's own playlist that comes to life. Whitehorse's Achilles Desire is in a pretty good rotation on all my playlist's these days. At heart though, I'm a folk music girl, especially Newfoundland music.
What are you most looking forward to within the next year?
I try to make a yearly goal, but find it shifts as the months go on. Currently I have a few exciting projects in the works, including a print-only deal with Flanker Press for my contemporary romance series. I've also created a pen name and am dabbling in paranormal romance. And I'm hard at work on a regency romance series, which is my historical sweet spot. From a non-author lens, I'm looking forward to watching the everyday wonders of watching a baby transform into a little boy. My son blows my mind on an hourly basis.