Nicole Kieley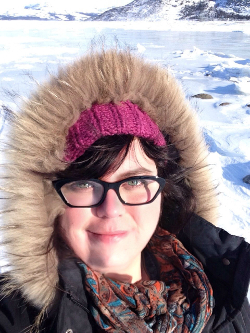 Leading within the not-for-profit sector for over a decade, Nicole Kieley has contributed towards the development, growth and success of key violence prevention organizations of the province of Newfoundland and Labrador. As an accomplished director, Nicole has been at the forefront of creating feminist based initiatives that are survivor-centred. In an environment in which not-for-profits are faced with additional operational challenges, Nicole is known for fostering sustainability, public engagement and growth within the organizations she serves. Her roles include former Executive Director for Women in Resource Development Corporation and present Executive Director for the NL Sexual Assault Crisis and Prevention Centre Inc. Nicole is also an avid artist and has contributed to the arts community for several years. In 2006 she founded Mamma K's, an initiative that combines local geography, theatre, gaming and art to create engaging and captivating challenges. Nicole lives contently at home with her snaggle dog Navi, her kitty Lilith, and her storytelling husband Kevin in a historic (but not haunted) house in St. John's.
How and why did you decide to attend Memorial for your degree?
Much of my appreciation for Memorial came from the experiences of my late mom, Diane Kieley. After the fishery moratorium, mom made the brave decision to pursue an entirely new career path from computer programming and into a helping field. Supported by my dad and while myself, brother and sister were in early grade school, mom began her degree in psychology at MUN. Mom's love and passion for her program and the support she received from faculty and colleagues was inspirational. She excelled in her program and went on to complete a masters in social psychology. Growing up, I was motivated by mom's love for knowledge and propensity to help others. My fondest memories were the overlap time between my initial years as a new student and mom's last few years as a post graduate. I remember many chats and lunches in her little grad office that was always stocked with snacks. She certainly was a great influence on my drive for wanting to make a positive change in the world. My own passion for social justice lead me to a major in the social/ cultural anthropology program within the Faculty Arts and a minor in women studies (now gender studies). The degree opened a new lens onto the social world and, specifically, onto feminism. It was through some inspiring women's studies courses that I was able to nurture my own passion for equality and justice. Honestly, I felt like a natural fit to pursue a masters in women's studies at Memorial.
What drew you to do a degree in gender studies?
My love for feminism and gender studies is rooted in my personal experiences and the local. I was very blessed to be supported by parents who nurtured my strong will and ability to be curious and to question just about everything. At the age of 16, I also had a life changing job opportunity with a local transition shelter as a respite worker. From that experience, I gained a new perspective on social barriers, women's resiliency, and was introduced to some amazing feminist mentors that I am still in contact with today. In reviewing my post graduate options, and in speaking with mentors and some inspiring faculty, I made the decision to pursue a masters of women's studies.
Since graduating from Memorial you have worked with several groups in the not-for-profit sector, including your current role as the Executive Director of the NL Sexual Assault Crisis and Prevention Centre. Why in your opinion is it so important for citizens to contribute to their community?
It is important to focus on what motivates us on a deeper level than what we feel is expected of us. Personally, I feel we all can contribute to our communities in our everyday actions, work (paid or unpaid), hobbies, and passions; we are all throwing our own pebbles in the water and making ripples. Rather than focusing on what a person should be doing, it's a good practice to reflect on what we are doing and its connection to others. Fostering genuine actions of change will far outweigh the impact of obligatory acts of charity.
Feminism is the basis for much of your work – what do you tell people who don't understand why feminism is as necessary now as it ever was? How does NL do generally on issues of equality, etc. compared to other provinces?
In much of my work experiences, I witness everyday examples of why feminism is needed in our province, country and worldwide. Violence against women remains the most prevalent form of violence in our province; one in two of our province's girls and young women over the age of 16 have experienced some form of physical and/or sexual violence. In addition to the prevalence of gender based violence, seniors, children, aboriginal, LGBTQ and disability communities are three to four times more likely to be at risk of violence compared to the overall population. While national trends have seen slight declines in reported sexual assaults, according to Statistics Canada, our province has experienced an increase in rates and are leading with the third highest rates per capita in all of Canada.
While it is clear that we are experiencing an epidemic of violence, I have also seen the transformative impact of feminist-based organizations and supports in the lives of women. Utilizing a feminist lens allows for meaningful prevention work to take place. Understanding the roots of violence, and its connection to equality, power and control, fosters innovative and holistic programs that are survivor centred and that involve all aspects of the community.
What in your opinion is something that NL can do right now to improve the situation for women?
Government commitments and investments are key, while underfunding or eliminating violence prevention will only ensure an increase in the economic, social and immeasurable costs of violence in communities. By strategically investing a small portion of the millions spent on post-intervention and the aftermath of violence would ensure the health, safety and lives of countless women, girls and vulnerable populations of our province.
What's the most difficult thing about your current job? The best thing?
I feel my answer above captures the most challenging and fulfilling aspects of my work. The costs of sexual violence are overwhelming and being under-resourced means people are not receiving supports. Being able to be a part of a person's healing, and witnessing the amazing resiliency and strength of survivors, however, is very rewarding.
What advice would you give a student starting out who is unsure of what to study? Would that advice be different for a female student as opposed to a male student?
To ground yourself in work you love and help that guide you to the bigger life picture. When faced with doubt, know that you are not alone and seek out friends and mentors that can openly talk about doubts and fears in a productive way. Finally, never lose sight of your own voice and the amazing impact it can have. I would give that advice to anyone, regardless of gender, identity, age, race, or culture.
Did a concern over money or future job opportunities ever conflict with your choice to do an arts degree?
It certainly did! Mentors in my life such as my mom as well as some amazing allies working in community helped me map out my own realistic career plan and really guided me to my decision to pursue an arts degree and MWS. It was also one of the reasons why I pursued the internship option of the MWS program.
What would people be most surprised to learn about you?
I'm a very creative person. I like to sketch, paint and give a try at any creative medium. I'm also a pretty epic RPG player. I usually will love any game that entails a damage dice roll.
What are you reading and listening to these days?
I've been a terribly neglectful reader these days, just ask any of my book club girlfriends, but I have been enjoying some great new music-Hey Rosetta's Second Sight and Ennis Sisters' Stages.
What are you most looking forward to in 2015?
2015 is a big year for me. I, along with three creative Memorial alumni, Kevin Noseworthy, Mark Denine and Mark Webber, are opening an escape room business called Escape Quest. In a nut shell, we will be offering a thrilling and real-life escape room experience catering to young adults, tourists, families and corporate teams. Located in the heart of downtown St. John's, guests will have a 45 minute timeframe to work together and gather clues, solve puzzles and find a way out. The detail, design and cleverness that goes into each room is exceptional, making for challenging and complex escapes. It's a brand new adventure for me and it has been such a blast working with the creative team around room concepts, design and local stories. We plan to open July 2015.