Gemma Hickey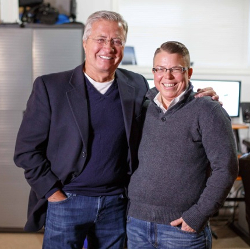 This St. John's native was born with a fire in her belly. A widely known activist and up-and-coming poet, Gemma is the advocate of many causes, but is best known for co-leading the movement that legalized same-sex marriage in Canada. She is the Founder of the Pathways Foundation, an emerging agency that offers support to survivors of clergy abuse and the Executive Director of For the Love of Learning, an arts-based charity that works to improve the lives of at-risk youth. A proud graduate of Memorial University, she is the recipient of many scholarships and awards, including a Queen's Diamond Jubilee Medal in 2013.
NOTE: The photo on this page of Gemma and Danny Williams at the Pathways Music Video shoot is courtesy of Nine Island Productions.
How and why did you decide to attend Memorial for your undergraduate degree?
I never want to leave. I love this province so much. Memorial is as good a university as any and recently, I was accepted to the Masters Program in the Department of Gender Studies.
What drew you to major in religious studies?
I picked up an interest in this area early in life. My father studied religion at university. There were always books lying around my house by famous theologians. My mother was a devout Catholic. I have a natural curiosity about being in the world. The confluence of faith and academia made me question everything. I wanted to find my own answers.
Do any particular memories stand out from your time here as an undergraduate student?
I have so many fond memories of Memorial, especially of professors, one in particular, Dr. David Bell. Though my relationship with him began as a student, I'm sure he'd admit that I've taught him a thing or two as well. During my last year as an undergraduate, David became very ill. He didn't go to the doctor right away (he's stubborn like that). Instead, he came in to teach. He was having trouble walking so I offered my arm and I ended up walking him to each class. I was trying so hard not to cry. I thought so highly of him. He was a giant in my eyes, not to mention a fifth degree black belt, so it was hard to see him reduced to that. I'm sure he picked that up. To lighten the mood he said to me, "Gem, it's pretty damn bad that I had to make myself sick to show off that I've converted the biggest dyke on campus." I responded, "Not so fast David, I'm still a Catholic!" Our friendship has continued to this very day.
What's the best piece of advice you ever received?
"Don't let your fear paralyze you." Father Paul Lundrigan
You've worked for a number of non-profit organizations (Love of Learning, etc.) – why were you drawn to that sector?
I feel a strong sense of social responsibility. Nothing motivates me like a cause and I like building from the ground up.
You have been a well-known human rights and LGBTQ activist for several years now. What advice would you have for people who want to get more involved in issues, but don't know where to start?
Look at your own life. That's the best place to start. We need to check in with ourselves to see what separates us from others. For me, it was privilege. And when we're in a position to help others, and by that I mean, empower others, we owe it to ourselves and to one another to do something. We have to give ourselves permission to let our light shine in the world. By doing so, we create the space for others to do the same.
In previous interviews you have called poetry an indulgence. What draws you to it and what inspires you about it specifically?
Poetry is a language all on its own. Not many speak it, or even understand it, but I live it. When I'm not reading poetry, I write it, but it's been challenging to find time lately to finish my manuscript. Newfoundland poets have influenced me the most because they write from a sense of place. Also, their use of rhythm and homegrown imagery speaks to me.
Can you talk a bit about the idea behind your new foundation, Pathways? And how did you get so many well-known Newfoundlanders (including Danny Williams) to appear in the video?
I'm a survivor of clergy sexual abuse. I started the foundation to help other people like me, who have experienced abuse within religious institutions. This is a deep wound in our province and many have been affected by it, both directly and indirectly. We've named the issues and contributing factors through the Hughes Inquiry and the Winter Commission, but there has been no focus on after care or prevention. It wasn't difficult for me to get people to make an appearance in the video because they believe in this cause and me.
What advice would you give a student starting out who is unsure of what to study?
Do your research. Find out what your passions are and whether or not they're employable. Get creative. Think about ways to incorporate your passions into your life's work. I'm lucky because I get to do that every day.
What would people be most surprised to learn about you?
The Sound of Music is my favorite movie of all time. I love pink and sometimes, at a party, I can be seen wearing a tiara.
What are you reading and listening to these days?
Aside from all the feminist theory for my courses, I'm rereading The Complete Poems and Plays of T.S. Elliot, Ocean by Sue Goyette and the selected poetry of Al Pittman. As I'm answering these questions, Chet Baker, Figgy Duff and U2 are playing in the background.
What are you most looking forward to in 2015?
I'm training hard to ensure I'm ready to complete a walk this summer from Port Aux Basques to the Mount Cashel Memorial in St. John's. It's called Hope Walk and the goal is to raise funds and awareness for Pathways. I'm planning to do it in 30 days – that works out to be roughly 30 kilometers per day! Information on the walk will be posted to www.pathways-foundation.com very soon. My sexual abuse has pushed me to my emotional limits so now I'm going to push my physical ones. I welcome the challenge!