Angela Antle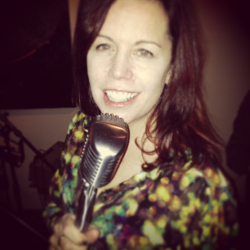 Angela Antle has been a CBC host and producer for over 20 years. She was one of the founding producers and a guest host for Canada's premier culture program "Q". Antle is also a multi-platform producer who has worked on documentaries and digital strategies. In 2012, a TV format Antle co-created won the MIPTV Pitch contest in Cannes; she also co-created and produced the W Network TV Series "Majumder Manor". Antle graduated from Memorial University with a BA (Honours), The University of Western Ontario with a Master of Arts and she studied visual arts at The Ontario College of Art and Design. Her artwork has been collected by The Rooms and The City of St. John's and it has toured Ireland, Australia and Canada. Angela Antle is the vice chair of the St. John's International Women's Film Festival - now in its 26th year.
How and why did you decide to attend Memorial for your degree?
I took a circuitous route to MUN. After high school in Grand Falls, I studied in Brazil for a year as a Rotary Exchange student. I lived in a small farming town and that experience influenced my life in many ways. That was followed by a year at Ottawa U and six months working in Paris. I really felt the pull to come home while I was in France so I came to St. John's to try MUN on for size. The small class sizes, the profs, the excellent library and the DIY downtown culture scene, kept me here.
What drew you to do a degree in political science?
I grew up in a working class, anti-Confederation family who loved to argue about politics over dinner, but I never considered studying politics until Brazil. While I was there, the country underwent a seismic shift from military rule to democracy. It was both an unsettling and a fascinating experience to live through. Once I took Dr. David Close's Latin American politics course, I knew I had found my university tribe.
Do any particular memories stand out from your time here as an undergraduate/graduate student?
I have lots of great memories of my time at MUN. I fell in love with film in Dr. Noreen Golfman's class. Jack Nicholson in "Five Easy Pieces blew open my perception of film. I have crisp memories of Elliot Leyton's powerful and extremely entertaining War and Aggression lectures and I loved learning about Newfoundland folk songs in Peter Narvaez's classes. On the flip side, I will never forget walking into the TSC the morning after the Montreal massacre struggling to comprehend how 14 women like me were gunned down for being university students.
What's the best piece of advice you ever received?
Don't ever drink tequila.
You're currently the host of CBC Radio's Weekend Arts Magazine but you are also a visual artist and TV producer. Why do you think it's important for people to expose themselves to art?
I have to confess that in many ways when I'm hosting the radio show, I'm figuring things out about myself live on the air. It's been like having a decade-long existential crisis (with good music). It's such a privilege to probe people's creative motivations and I think that's what the listeners relate to. But it's not a top-down show about art, it's a conversation and I may (and often do) say something ludicrous, but it doesn't matter because it's not about me – it's about the creators and in a macro sense it's about our evolving culture.
Can you tell us a bit about your role as vice chair of the St. John's International Women's Film Festival?
The dismal numbers of women in STEM and politics and the hyper-sexualization of young girls are all tied to how women and girls are portrayed on TV, in film and in games. When only six per cent of the directors are female, those sexist portrayals will continue and that's what we're working to change. Our SJIWFF motto is "Films by Women, For Everyone." We're working to increase creative opportunities and the equitable portrayal of women. The board members and festival staff are an incredible group of fiercely intelligent and sassy women. I love the summer evenings we spend arguing and laughing about films (over wine and India Gate take out) to create an amazing year long program and bang up screenings, workshops and events for the annual October festival. Last year we celebrated our 25th year and we established a Foundation called The Silver Fund through the Community Foundation of Newfoundland and Labrador to take us into the next 25 years. Check out the festival and come out this October and see some of those incredibly entertaining and inspiring films we've picked for you from all over the world.
What in your opinion is something that NL can do right now to improve the situation for artists in general?
Oh, I could say we need a vital new library like the one in Halifax and someone should hire architect Todd Saunders to design it. I could also bemoan the dearth of art space in St. John's and how we need a 400 seat, flexible venue to show independent films. But there's something else that everyone in NL can do. It's simple. Turn off Netflix and leave your houses. Go see a local film, band, play, concert, art show or reading. Do it twice or three times in one year and our culture will continue to flourish.
In what ways has studying humanities and social sciences affected your world view? What do you say to those who question the value of an arts degree?
I was on a panel recently and someone kept dismissively referring to "soft skills". I'm sure by that he meant critical thinking, storytelling and writing. As an arts graduate, I've learned the value of those so-called "soft" skills. Some people express those skills through Autocad, HTML, an editing program, an audio studio or a camera, some express them with a paintbrush, pen or musical instrument. They may be called "soft" but they're essential skills for entrepreneurs, politicians, engineers, scientists etc. and if some people think "soft" equals "easy"…they're dead wrong.
What's your favourite place to visit?
Anywhere…if the food and wine are good.
What would people be most surprised to learn about you?
Most nights, I'm in bed by 8 p.m. (does that surprise people?…probably not – I host a morning show). I'm a croquet shark and excellent plasterer (betcha didn't see that coming) and I harbor a secret fantasy of someday being a backup singer. I AM serious about the last one (as long as I can sing and be home in bed by 8 p.m.).
What are you reading and listening to these days?
I feel so privileged to be co-hosting the Writers at Woody Point Festival with Shelagh Rogers again this year. To prep for that, I'm reading Miriam Toews' books because we have an onstage interview at the Discovery Centre. I'm also reading Elizabeth Hay's new book in order to sound smart when I introduce her and I just found out I'm introducing Margaret Atwood. I really don't know how to prep for that besides having daily, fan girl, anxiety attacks.
What are you most looking forward to within the next year?
I'm looking forward to another great year with my funny and creative kids and husband. On the artistic front, I'm currently writing a documentary with an Irish filmmaker Richie O'Donnell, comparing the challenges faced by coastal communities in Newfoundland, Norway and Ireland. I'm hoping that will be seen on screens this year. As well, I'm developing an animated film about a nurse in World War Two and I'm working on other writing projects, you know, exercising those "soft" skills.