Sarah Power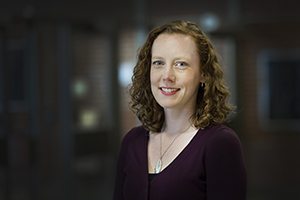 B.Eng. (Memorial), M.A.Sc. (Toronto), PhD (Toronto), P.Eng.
Contact Information
Ph: 709-864-2742
Em: sd.power[at]mun.ca
Office: CSF4126
Research Interests
Biomedical engineering, physiological signal processing, brain/neural-computer interfacing
Personal Profile
I completed a B.Eng. in Electrical Engineering from Memorial University in 2006. Having always had an interest in health, rehabilitation, and human physiology, I went on to complete an M.A.Sc. in Electrical and Computer Engineering (Biomedical Collaborative Program), followed by a Ph.D. in Biomedical Engineering, both from the University of Toronto. My graduate work was focused on investigating the potential of an optical imaging technology called near-infrared spectroscopy (NIRS) for use in an active brain-computer interface – a technology that provides a movement-free means of communication and environmental control for individuals with severe motor disabilities using consciously-generated neural activity. After my PhD, I worked as a postdoctoral fellow in the Autism Research Centre at Holland Bloorview Kids Rehabilitation Hospital in Toronto, contributing to the development of smart technologies to improve the quality of care of children with Autism Spectrum Disorders. In June 2015, I returned to Memorial University as an assistant professor, jointly-appointed to the Faculty of Engineering and Applied Science (Department of Electrical and Computer Engineering) and the Faculty of Medicine (Discipline of Internal Medicine).
Broadly, my research interests lie in the application of signal processing and pattern recognition techniques to medical, rehabilitation, and human factors problems. More specifically, I am interested in pursuing research into mental state monitoring and classification (e.g., mental workload, fatigue, affective state, task proficiency) using EEG and other physiological signals.