Get Involved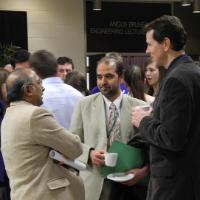 The Faculty of Engineering and Applied Science is a leader in engineering education, competitive in research and is well-connected with industry and the engineering profession. Our internationally accredited programs include civil, computer, electrical, mechanical, process engineering and ocean and naval architectural engineering, the only one of its kind in Canada.
Still one of the only mandatory co-operative education programs in the country, our programs prepare students to be the best in their field, to meet complex engineering challenges and boast great achievements, winning international competitions in their field of study.
Our faculty is at the centre of ground-breaking research - vital research is underway in offshore basin evolution, reservoir engineering, characterization and management, offshore environmental risk assessment, environmental monitoring with autonomous underwater vehicles, and safety, health and risk related to oil and gas activities in harsh environments.
The faculty offers engineering education at undergraduate and graduate levels, as well as an active program in continuing engineering education with a range of short-courses, certificates and diplomas for the professional engineering community. Our faculty members are national, provincial and university award winners in teaching excellence, and hold prestigious Canada Research Chairs.
In addition to award-winning students, faculty and staff, we boast more than 3,500 skilled and successful graduates who make positive contributions to their communities everyday, whether that is around Newfoundland and Labrador or overseas.
Our engineering faculty is a leader in research, working with innovators and external partners to keep abreast of current engineering trends, providing relevant programs and producing superior engineering graduates.
With your support, we can access more opportunities to make new discoveries, challenge established ways of thinking, build skilled workforces, and contribute to the social and economic well-being of more people and places.
To help us accomplish these targets, we have developed an advancement plan to support scholarships and awards, outreach activities, research chairs and professorships, technology advances, and infrastructure improvements.
Your support for these initiatives will enable the faculty to grow and provide the best opportunities for education and research for the Faculty of Engineering and Applied Science and Memorial University of Newfoundland. Together, we can help build sustainable economic futures for our partners, their families, and their communities.
Naming Opportunities
With the expansion and growth of the Faculty of Engineering and Applied Science, many projects will need support to enhance and build upon quality education the faculty and Memorial provides to its graduates. Many naming opportunities have become available for donors to the faculty.
Gifts that Make a Difference!
There are a variety of ways you can support the Faculty of Engineering and Applied Science including Memorial's annual appeal, planned giving or matching gifts program. Please view our Ways to Give web page for further details on these programs. You may donate through online giving by indicating your gift is for the Faculty of Engineering and Applied Science on the online pledge form.
For More Information
To learn more about naming opportunities or contributing to the Faculty of Engineering and Applied Science, please contact:
Matthew Conway
Development Officer
Faculty of Engineering and Applied Science
Memorial University
240 Prince Phillip Drive
St. John's, NL A1B 3X5
Canada
Phone: 709-864-3274