Benchmarks
Benchmarks is the official corporate newsletter of the Faculty of Engineering and Applied Science.
The annual publication for alumni and friends highlights accomplishments of faculty, staff and students.
A PDF version of the current issue is available below or by clicking on the document name or the cover image below.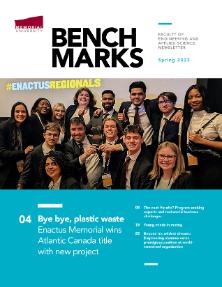 PDF versions of archived issues are below:
If you have a comment or questions about Benchmarks, please contact the editor, Jackey Locke, by emailing jackey.locke[at]mun.ca or by calling 709-864-8287.