Glyn George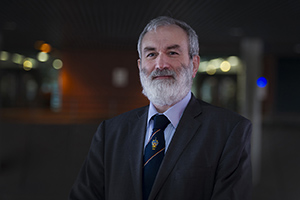 B.Sc. (Southampton), PhD Wales (U.C. Cardiff), Cert. Ed., FRAS, FIMA
Contact Information
Ph: (709) 864-8946
Em: glyn[at]mun.ca
Office: CSF4120
Research Interests
Probability, as applied to a variety of problems in astronomy, hydrology and engineering education
Personal Profile
I teach mathematics in the Faculty of Engineering and Applied Science at Memorial University of Newfoundland. I have teaching experience in the United Kingdom, Bahrain and Canada. I have also taken a volunteer role in K-12 education. I served for over seven years as a school board member and elected officer in Newfoundland and was the founding webmaster (1997-98) of the Avalon East School Board.
I served as the chair of the School Council for Booth Memorial High School (1999-2001). I was provincial secretary of the Newfoundland and Labrador Federation of School Councils during 1999-2002 and life membership was conferred on me in 2005. I returned to the Booth Memorial School Council (2003-15) and the successor Waterford Valley High School Council (2015-16) as a community representative and as its secretary in both cases.
I now volunteer as a public representative (since 2018) and vice-chair (since 2020) of the Council of the College of Registered Nurses of Newfoundland and Labrador (CRNNL), which is the regulatory body for registered nurses in the province.
Honours/Awards/Accreditation
Professional Engineers and Geoscientists Newfoundland and Labrador's Honorary Membership Award, 2018
President's Award for Distinguished Teaching, 2016
Dean's Award for Teaching Excellence, 2015
Dean's Award for Outstanding Academic Service, 2013
Life member, Newfoundland and Labrador Federation of School Councils (awarded 2005)
Fellow of the Royal Astronomical Society (FRAS)
Fellow of the Institute of Mathematics and its Applications (FIMA)
Other Contacts