Tian Liao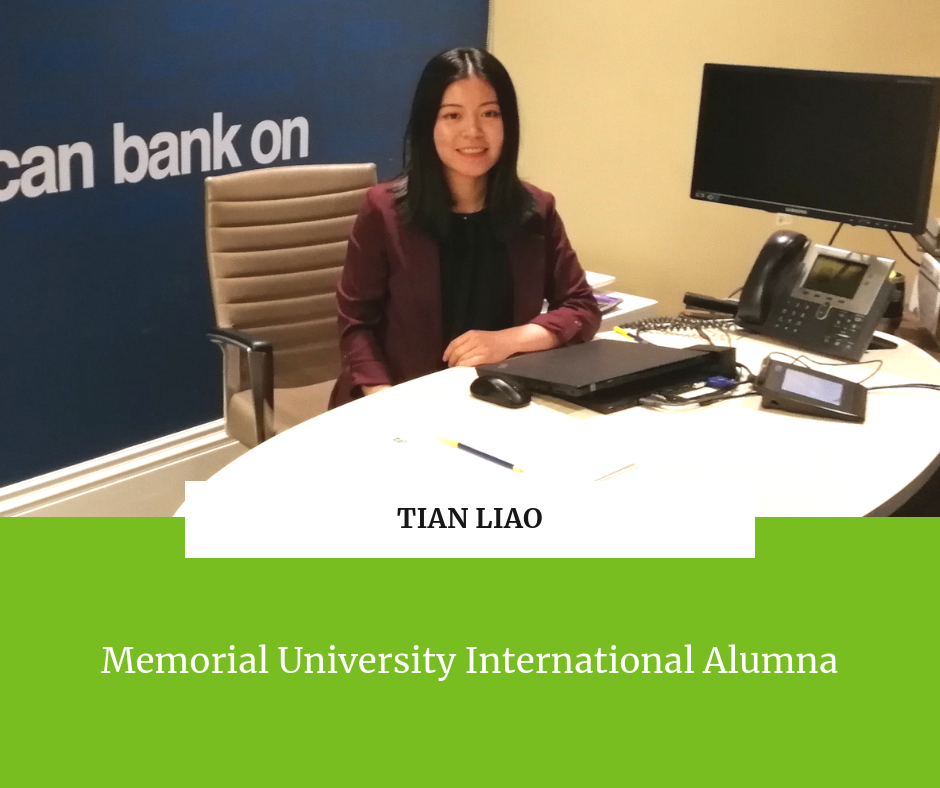 Memorial University Alumna
Banking Advisor / Mutual Funds Representative, RBC
---
Where are you from originally, and for how long have you lived in Canada?
I am from the People's Republic of China. I have been in Canada for 5 years (since 2013).
---
Where are you working now? Did you start working right away after completing your degree at Memorial University?
RBC Royal Bank, Kelsey Drive Branch. I started working with RBC eight months after my graduation.
---
How was the transition from being an international student at Memorial University to a full-time employee?
It was an absolutely fascinating experience, but at the beginning, it was also definitely challenging. I was hired as a Personal Account Manager (also known as a Banking Advisor) with RBC. This has allowed me to help clients in their everyday banking, investment, and credit needs. I was on a training program with RBC where I had coaches and mentors in different roles, to whom I could ask questions and whom I could shadow to develop my skills. Thanks to my training program, I learned the fundamental knowledge and skills for working. I got the opportunity to participate in community events which included Memorial University's Orientation, Career Fairs and Advice Events so that I could help students. This is very important to me since I am a MUN alumna.
---
How have your international background and culture been beneficial to your employer?
Through my volunteering with the Student Volunteer Bureau and the Internationalization Office, I made friends with different backgrounds. Through the friends I made in school and through my volunteering activities, in addition to speaking Mandarin and English, I also learned phrases in Japanese, Korean, Arabic, and many other languages. Because of my experiences, my employer encourages me to put my skills into practice and educate our staff and clients. My multicultural background aligns very well with one of RBC's core values: Diversity and Inclusion.
---
Did you work during your studies at Memorial University? How has that helped you prepare for entering the workplace after graduation?
I did accumulate part-time work experience while in school. I also focused on volunteering. Both working and volunteering helped me overcome my language barrier, sharpen my communication skills, and build up my confidence level.
---
From your experience, why should employers consider hiring international students and graduates?
To answer this question, I will quote the president and CEO of my company, RBC. According to Dave McKay, diversity and inclusion are a core value and a strength of the company: "Not only is it the right thing to do, but it makes us a better business and enables us to contribute fully in our communities. It fuels innovation, drives change, allows us to attract and retain the best talent, and enhances our value to our clients and shareholders."
I deeply believe that international students make great employees. We add value that can benefit our employers to help our clients thrive and communities prosper.
---
Any questions? Contact our International Student Career Advisor.