Trans & Gender Diverse Students' Guide
Except where otherwise noted throughout this resource, all content is licensed under a Creative Commons Attribution-NonCommercial-ShareAlike 4.0 International License. Full license details can be found below.
Guide Overview
This resource guide was developed specifically for trans and gender diverse students at Memorial University. It provides information and resources for navigating aspects of Memorial's systems and campuses, as well as links to services and supports outside of Memorial that are relevant for trans and gender diverse students. This guide may also serve as a great resource for those supporting trans and gender diverse students.
This guide will continue to be updated to reflect accurate information on our programs, facilities, systems and services and how they help to meet the needs and priorities of trans and gender diverse students. The resources listed here focus mainly on the St. John's Campus, but, many of these resources are applicable across Memorial's campuses.
A little about our systems
Memorial is a large and complex organization that relies heavily on a great number of computer systems to support almost 18,000 students. At any given time, Memorial relies on dozens of separate computer systems and programs to maintain both its academic and non-academic programs and services for students. Many of those systems 'talk' and interact very well. However, there are times when they don't. When this happens there are people to help students address any concerns or problems they encounter.
This resource guide outlines many of those systems and how they work to correctly identify and affirm trans and gender diverse identities. Where you may encounter challenges navigating these systems, names and contact information are provided of staff who can assist you with addressing those concerns.
Guide Contents
This resource guide includes information for trans and gender diverse students on a number of areas impacting campus life. You may scroll through or simply click on a title below to jump to a specific section:
---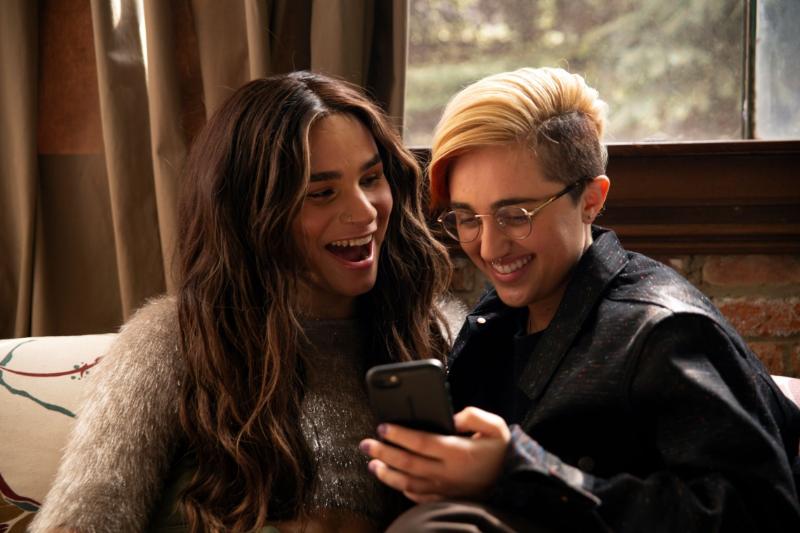 Changing Your Personal Information
Change or update your name
To change your name please go to the Registrar's website and follow the directions provided.
If you have gone through a legal name change, the Registrar's Office is able to produce a replacement parchment. To request a replacement parchment, please visit the Registrar's website to complete the request.
Change your sex or gender designation
You can also change your sex or gender designation with the Registrar's Office. Unlike changing your name, this request cannot be completed using Memorial's Self-service. To change your sex or gender designation, please email registrar@mun.ca for assistance.
To change your name or gender with the province, we've outlined some steps below.
If you encounter any problems or would like more information, please contact: Registrar's Office, A2003, (709) 864-8260, registrar@mun.ca.
Getting a new student I.D.
Students who wish to receive an updated student I.D. to reflect a name change, may do so through Student Residences and Ancillary Operations at no cost.

If you encounter any problems with obtaining a new student I.D., or would like more information, please contact: Yuri Gidge, Associate Director, Business Development, Ancillary Services, (709) 864-7922, yuri.gidge@mun.ca.
---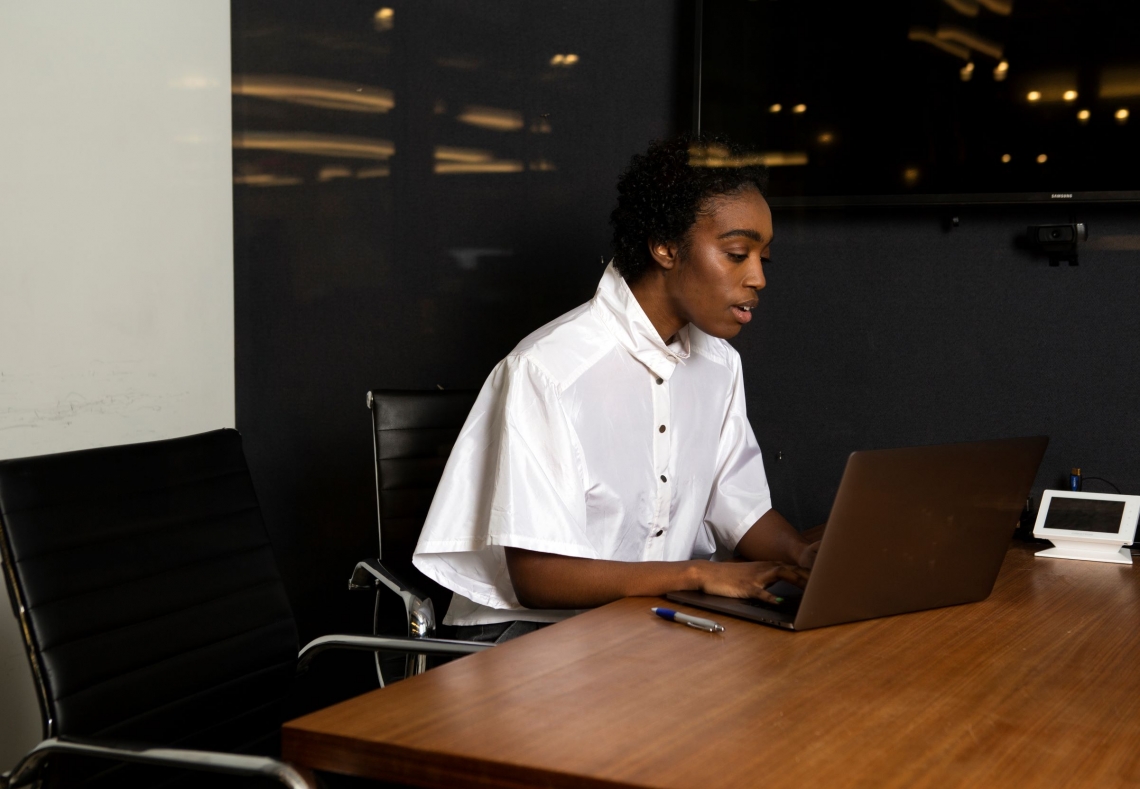 Changing your email address and account name
Your email address is an indispensable tool for communicating with professors, employers, and other students. In addition, your email address is the official form of communication recognized by the University. As such, Memorial wants to make sure that your email address identifies you accurately for your electronic communications.
Upon entering Memorial, all students are assigned an email address. If this default email address fails to identify you accurately, there are steps you can take to obtain an email address that does (you can only change the 'local' part of your email address, which is the part that precedes @mun.ca).
Changing your email address through 'my.mun.ca'
Students have the option to change the local part (the part before the @mun.ca) of their Memorial email address at any time via my.mun.ca. Once signed into the my.mun.ca portal, simply select "View and Manage your MUN email" on the Home tab. A pop-up box will appear, select the "Manage my Email Addresses" option. From there, choose from a number of pre-populated email address options.
Changing your email address through the ITS Service Desk
While changing an email address through my.mun.ca is very helpful, the system limits the number of email addresses available. The system generates a number of suggested email addresses to choose from, however, the options may include reference to your legal name or the first initial of your legal name. If the options provided in my.mun.ca are too limited and not appropriate, please contact the ITS Service Desk to request an email address that identifies you correctly.
Changing your email account name
When sending an email to someone from your MUN email, two pieces of information are visible. The first is your email address and the other the name attached to that email address. Changing an email address, and an email account name are two different processes. While students have the option to change their email address via my.mun.ca (as outlined above), changing the account name can only be done by contacting the ITS Service Desk. Support staff at ITS can work with you to make that change.
If you encounter any problems or would like more information, please contact: ITS Service Desk, UC-3005, help@mun.ca, (709) 864-4595
---
Personal Information in Brightspace (D2L)
If you take an online course through Memorial, or complete any of the mandatory online learning modules (lab safety, academic integrity, etc.), then you will encounter Brightspace (D2L), Memorial's Learning Management System (LMS).
The personal information that is displayed in Brightspace (D2L) is imported on a regular basis from the Registrar's Office through Memorial's main student information system (Banner). As such, any identifying information displayed in Brightspace should be the same as the information provided to the Registrar's Office. If the information displayed in Brightspace is not accurate, ensure the appropriate changes have been made through the Registrar's Office. If you have made the changes with the Registrar's Office and information is still appearing incorrectly within Brightspace contact the Client Support Centre for help.
If you encounter any problems, or would like more information, please contact: CITL Client Support Centre, ED1032, (709) 864-8700, 1 (866) 435-1396,
---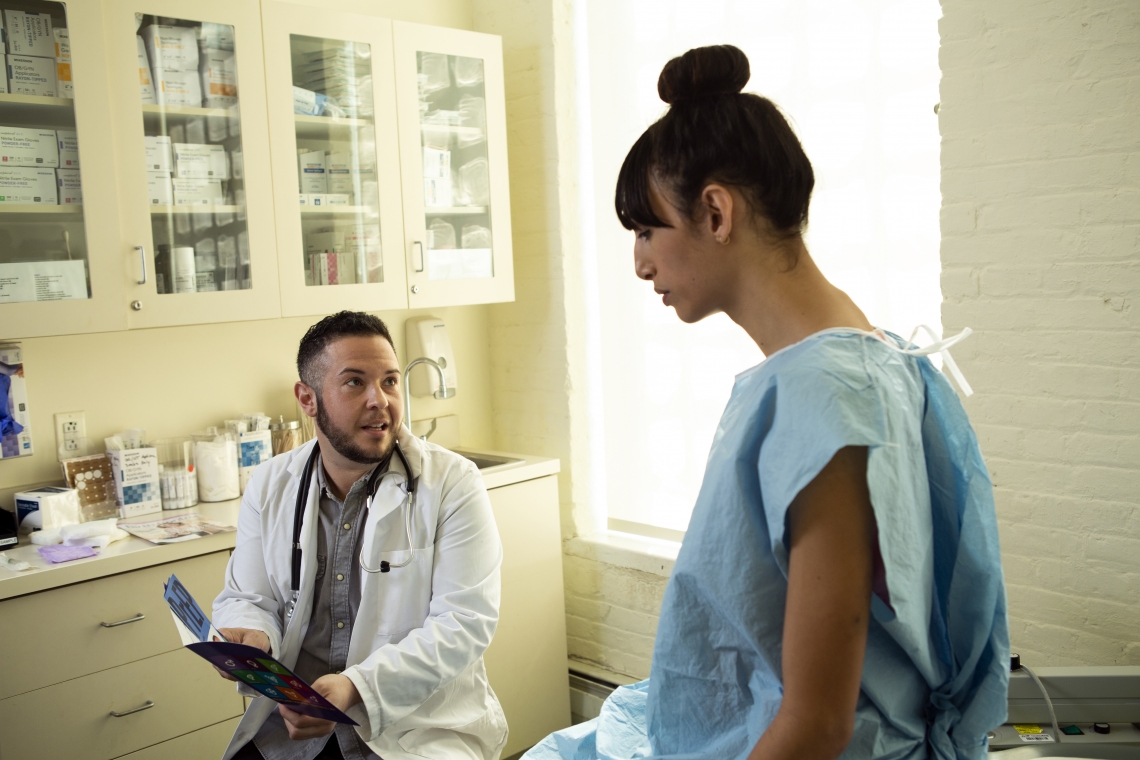 Student Health and Wellness
On Campus
Student Wellness and Counselling Centre
Location:
Student Wellness and Counselling Centre
Memorial University of Newfoundland UC-5000
St. John's NL A1C 5S7
Phone: (709) 864-8500
Fax: (709) 864-2087
The Student Wellness and Counselling Centre provides two main services: Medical Services and Counselling Supports.
Medical Services
The Student Wellness and Counselling Centre (SWCC) has been working to become a more gender-inclusive space through training for administrative staff, counsellors, physicians and students. They have family physicians who offer services Monday to Friday 8:30 a.m. -4 p.m. by appointment.
Physicians in the SWCC can provide gender affirming hormone therapy. Missy Power is the Registered Nurse and Clinic Manager and can help with any questions or concerns you might have. She can be reached by phone at (709) 864-3015, or by email at missyp@mun.ca.
The SWCC has also started a Gender Journeys group for trans and gender diverse students early in transition to help build community support and resilience for students at this big time of change. Registration occurs every fall. Contact the SWCC for posters or for more information.
For medical services, there are limitations in terms of needing to link the name and gender on your MCP card. However, the name that appears on your medical file can be changed and pronouns pop-up at booking and registration.
If you encounter any problems or would like more information, please contact: Missy Power, RN, Student Wellness and Counselling Centre, (709) 864-8500, missyp@mun.ca.
Off-Campus
Students wishing to self refer for gender affirming surgeries, or specific medial questions related to their their journey are encouraged to contact Dr. Mari-Lynne Sinnott at ProActive Wellness and Counselling. Dr. Sinnott is a family physician who provides timely access for gender diverse and trans patients in St. John's. A referral is not required and an appointment can be made through the contact information below:
117 Ropewalk Lane
St. John's, NL
Tel. (709) 722-9165
Email: dr.m.sinnott@gmail.com


Provincial Government Funding
If you have an MCP card, there is funding for some gender affirming surgeries. Information is available at: https://www.health.gov.nl.ca/health/mcp/transition_related_surgery.html
Counselling Supports
The Student Wellness and Counselling Centre (SWCC) also provides a variety of counselling and academic supports for students. SWCC offers same day and short-term counselling services, case management, as well as group counselling.
For a list of programs and services currently offered, please check the SWCC website.
To access counselling supports, please call (709) 864-8500 to book an appointment. A limited number of same-day/drop-in appointments are also available if you would like to stop by the SWCC (UC 5th Floor). When requesting counselling supports, you are not required to provide your gender or legal name when booking an appointment.
---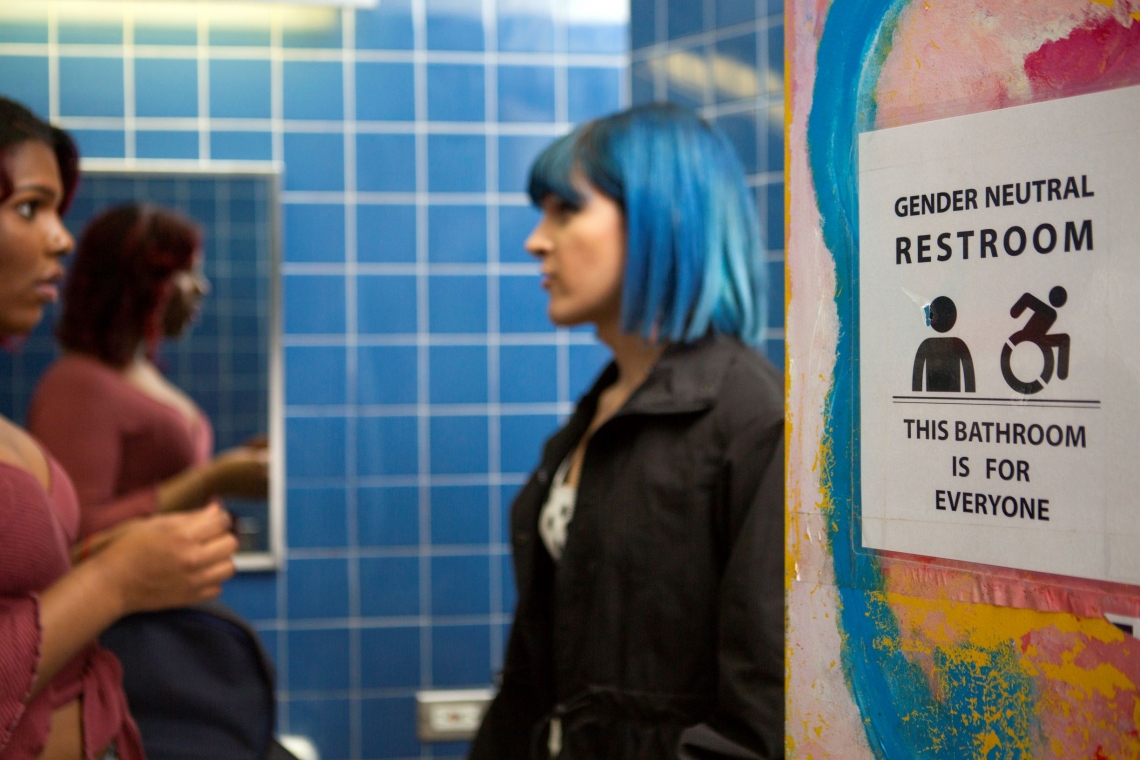 All Gender Washrooms at Memorial
Memorial's first all gender washrooms were available over 20 years ago!
Memorial has continued to prioritize the availability of all gender (also referred to as gender inclusive) washrooms. Currently, there are over twenty all gender washrooms available throughout the St. John's campus with plans for several additional all gender washrooms and locker rooms: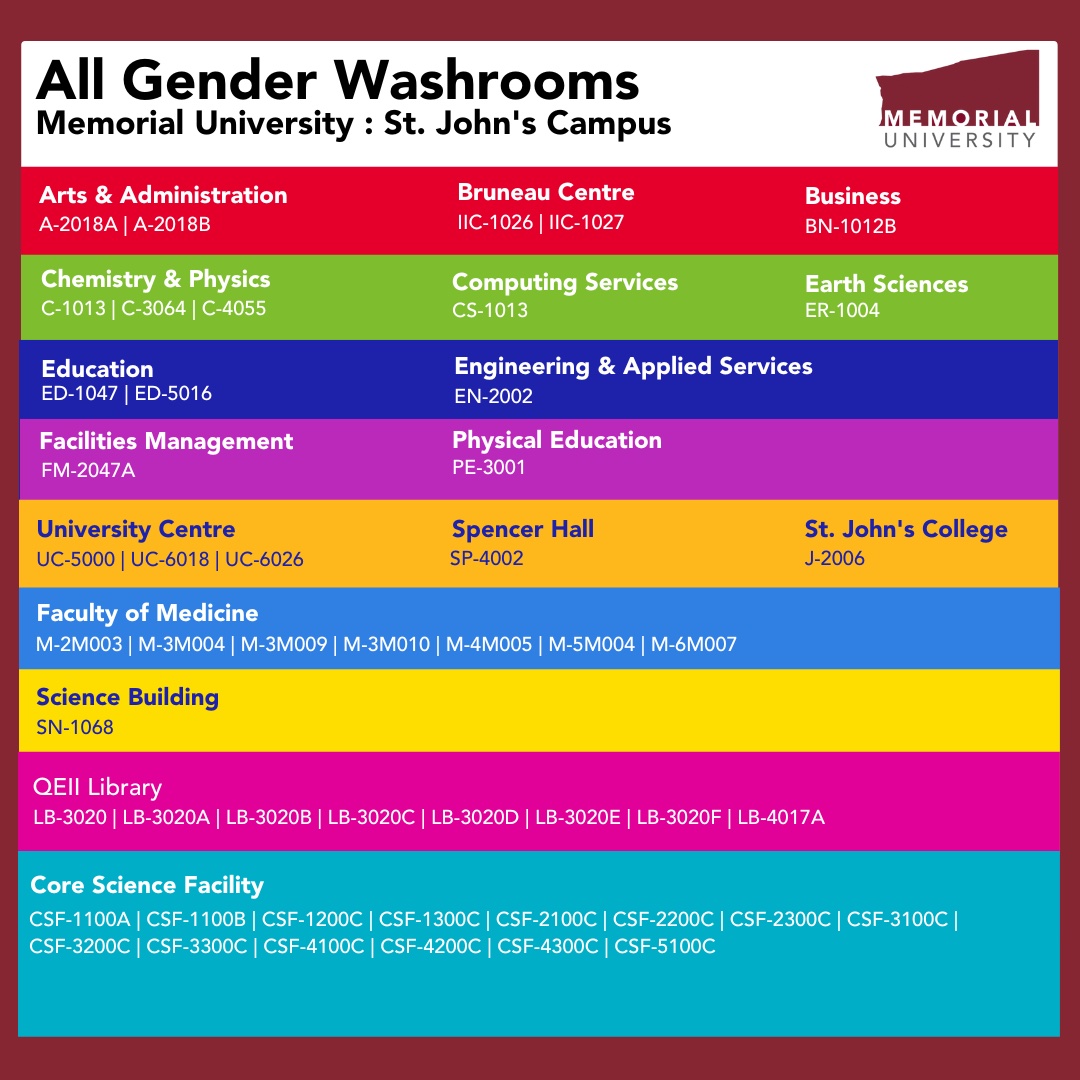 Still having a hard time finding an all gender washroom?
Click on the links below and use Memorial's interactive map to find the nearest all-gender washrooms and other resources on campus.
Arts and Administration - A2018A | A 2018B
Bruneau Centre - IIC 1026 | IIC1027
Business - BN1012B
Chemistry- Physics - C1013 | C3064 | C4055
Computing Services - CS1013
Earth Sciences - ER1004
Education - ED1047 | ED5016
Engineering and Applied Sciences - EN2002 | EN3008
Facilities Management - FM2037A
Medical Education Centre - M-2M003 | M-3M004 | M-3M009 | M-3M010 | M-4M005 | M-5M004 | M-6M007
Physical Education - PE3001
Spencer Hall - SP4002
St. John's College - J2006
University Centre - UC5000 | UC6018 | UC 6026
If you encounter any problems or would like more information, please contact: Space Planning and Administration; spaceadm@mun.ca.
---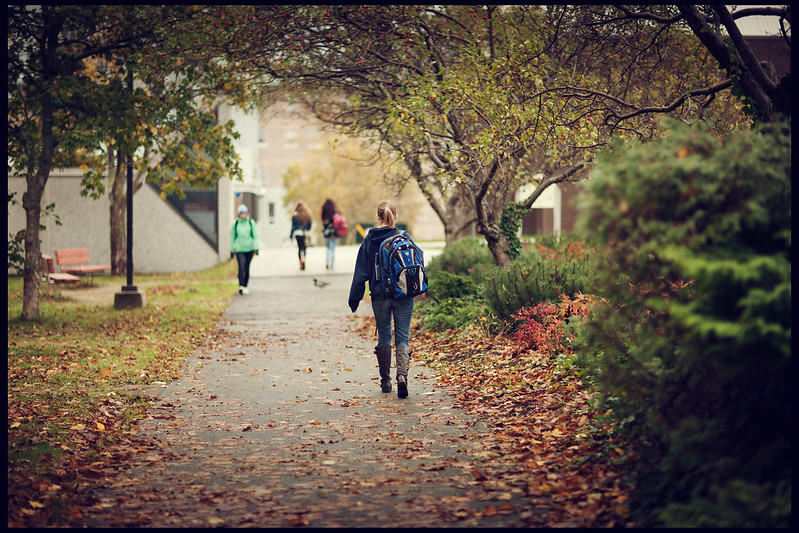 Personal Safety & Security
Memorial University takes the personal safety and security of all students very seriously. For trans and gender diverse students, ensuring your personal safety and security is paramount. The following resources provide information on where to turn should you feel unsafe on campus.
The Sexual Harassment Office is staffed with professional staff that deal with reports of sexual and gender-based violence.
Office Location:
ER6039 (Earth Science Building)
Phone: (709) 864-8199 (Collect calls can be accepted) OR (709) 637-7195
shoffice@mun.ca
To report an emergency on campus, dial 4100 (from a campus phone) or (709) 864-4100, 24 hours a day, 7 days a week.
To report an emergency off campus, simply dial 9-911 (from a campus phone) or simply 911.
Reporting an Incident (non-emergency)
If you would like to report an incident that is not an emergency or urgent that made you feel unsafe or you wish to share, please submit an e-alert notification to the university. This service will also allow members of the University community to communicate anonymously if you choose to do so and is available 24 hours a day, 7 days a week.
Note: While this resource is available for reporting 24 hours a day, 7 days a week; the system is not monitored 24 hours a day. If the incident is an emergency that requires immediate action please contact Campus Enforcement and Patrol at (709) 864-4100 or call 911.
Student Support Office
If unsure of who to call, but you want to connect with someone on the campus, the Student Support Office is available to help. They can assist with connecting to a variety of supports on campus.
Office Location:
University Centre 4th Floor (UC4023)
Phone: (709) 864-7594
Email: studentsupport@mun.ca
Student Code of Conduct
Memorial University's Student Code of Conduct reflects the expectation that students will conduct themselves in compliance with university regulations and policies; departmental policies; federal, provincial and municipal laws, as well as codes of ethics that govern students who are members of regulated professions. Read more about Memorial University's Student Code of Conduct.
If you feel that you have been subject to a behaviour or interaction by another student that violates Memorial's Student Code of Conduct, please contact Kyle Langille, Advisor, Student Code of Conduct (St. John's Campus; UC4018), (709) 864-3489, studentcode@mun.ca.
Emergency Blue Phones
Below is a map depicting the locations of all emergency blue phone locations across campus. Click on the map to use Memorial's interactive online map.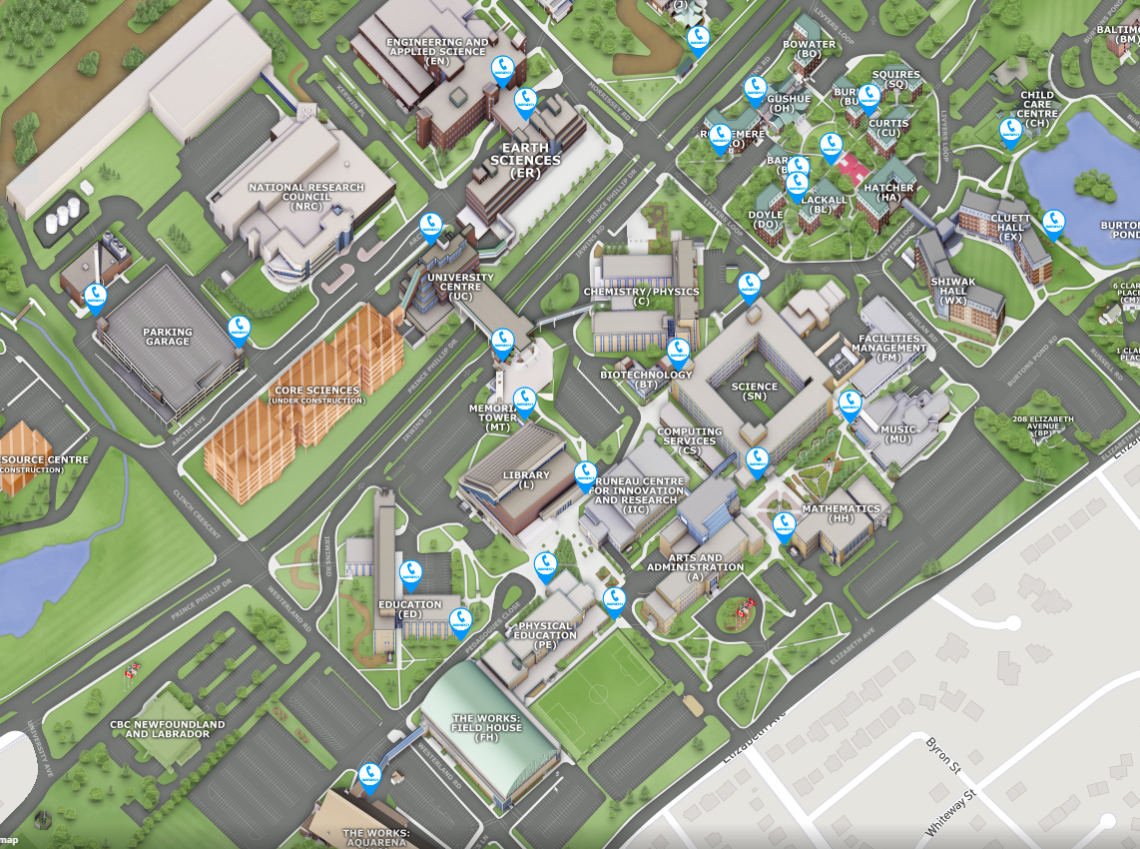 MUN SAFE App
Memorial University employs a smartphone app called "MUN Safe" to communicate urgent and emergency concerns on most of its campuses. If you haven't done so, download the app and become familiar with its features. These include:
'Friend Walk' - utilize this feature to send your physical location in real-time to a friend so they can watch you as you walk to your destination!
'Mobile Blue Light' - In the event of an emergency, you can activate this feature to send your physical location to Campus Enforcement and Patrol (CEP). CEP will receive your location in real-time, talk to you on the phone, and dispatch a CEP officer to your location.
'Work Alone' - Very similar to the "Friend Walk" feature, this feature will automatically check-in on you while you study or work and can automatically trigger a call to your emergency contact if you fail to check-in at the prescribed time.
'Report" - Similarly to the E-Alert system described above, the "Report" feature in MUN Safe allows you to report an incident. It is not monitored 24/7, so if your report is urgent, or an emergency, you should contact Campus Enforcement and Patrol at (709) 864-4100, 4100 or 911.
If you encounter any problems or would like more information, please contact: Fred Rideout, Manager, Campus Enforcement and Patrol, (709) 864-2046, frideout@mun.ca.
---
Residence Life
Student Residences has a long history of supporting students. In recent years, the needs of students who identify as trans or gender diverse has become more prominent. Student Residences has been at the forefront of supporting these students. The first all gender washroom on campus was in residence! Currently, the majority of residence buildings have all gender washrooms. Gender inclusive accommodations and room selection process allows students to select a room without disclosing gender to roommates. For those students who choose to identify, support staff are available to help them make a smooth transition to community living. As a trans or gender diverse student, you can always request to room with another trans or gender diverse student.
If you encounter any problems or would like more information, please contact: Residence Life, (709) 864-7625, reslife@mun.ca.
---
Athletics & Recreation
Athletics
Memorial Sea-Hawks varsity athletics consists of twelve varsity teams in six sports, including soccer, cross country running, volleyball, basketball, swimming and wrestling.
U SPORTS is the national sport governing body of university sports in Canada. As a U SPORTS member institute, Memorial University proudly supports gender equity in sport and is guided by the 2018 equity policy recently adopted by U SPORTS organization.
If you encounter any problems, or for more information, please contact: Dr. Karen Murphy, Director of Varsity Athletics; (709) 864-8683, karen.murphy@mun.ca.
Recreation
Healthy living at Memorial!
Exercise is great for the body and the mind. The Works provides diverse recreational opportunities for Memorial/MI Students that inspire health and well-being. A student recreation membership includes student only cardio, strength and weight studios, the indoor track, sport courts and fitness classes. Students also receive access to the MUN Pool and the Aquarena Pool.
All gender washrooms are located in the main lobby of the Aquarena and also on the third floor in the Physical Education (PE) Building.
To use your membership, present your Student ID Card to the Field House Customer Service Desk.
For more information on services offered to students, or to verify the name and photo listed for your Recreation Membership please contact: Jon Ivey, Manager of Fitness and Student Services, The Works, (709) 864-3809, jjivey@mun.ca.
---
Other Memorial Resources
Memorial University's Sexual and Gender Advocacy Resource Centre (MUN SAGA)
Phone: (709) 864-7619
UC-6022, St. John's Campus
MUN SAGA provides a support and social group for lesbian, bisexual, gay, transgender, questioning, and other members of the Memorial LGBTQ+ community. Their office is a safe (and confidential) place to be yourself and connect with other LGBTQ+ people! MUN SAGA also have a growing library of resource materials and LGBTQ+-themed fiction and poetry that is available. They also have information and possible assistance in securing binders and other 'gender gear'.
MUN Intersections - Memorial University's Resource Center for Marginalized Genders
Phone: (709) 737-4366
Email: munsuwrc@gmail.com
UC-1009, St. John's Campus
At the centre, volunteers trained in crisis intervention are available for informal peer support and can provide referrals to various campus and community services. MUN Intersections have a Trans support group and an Asexual and Aromantic support group. Anyone needing a safe space, a confidential source of information, or simply someone to talk to is welcome to stop by!
Memorial University Student Union (MUNSU)
lgbtrep@mun.ca or advocacy@munsu.ca
MUNSU has two representatives that advocate for the LGBTQ+ community on campus. The queer and transgender representatives advocate for the community as a whole by working with students to create better policies and aids those who require it due to discrimination. The trans representative specifically advocates for the unique needs of the transgender community on campus either on a systemic level or by helping individual students with specific issues they need resolved. In addition to the queer and trans reps, the director of advocacy can work with LGBTQ+ individuals who require aid due to discrimination based on being a part of a gender, sexual, or romantic minority.
Community Support & Resources
Changing your name/gender in Newfoundland and Labrador
If you wish to change your name:
You may apply to the Vital Statistics Division – the application form is available at https://www.gov.nl.ca/snl/birth/legal-name-change/.
You can provide your status document in Canada (e.g. Study Permit) in lieu of a birth certificate. The only requirement is that you must have ordinarily resided here for three months. You need not have been born here.
If you wish to keep your deadname from being published in the Newfoundland Gazette under the 'undue embarrassment' clause, please ensure that you include a letter of support for change of name/gender from your physician. You will then receive a Certificate of Change of Name.
If you wish to change your gender:
On June 23, 2021, the bill to amend the Vital Statistics Act to register a change of sex indicator for people born outside Newfoundland was given Royal Assent. Therefore, international students, workers, and students born in other provinces and territories can now change their gender with Service NL. Please call Vital Statistics Confidential Services at 709-729-3313 for more information.
Once you get a Certificate of Change (or a new Birth Certificate for people born in Newfoundland), you can take that Certificate and present it as legal proof of your gender change.
As an international student or worker, you can now also (as of April 2021) change your gender with Immigration Canada without having to amend the gender on your country of nationality's passport or other travel document. You can follow the instructions available here, and after getting it changed in IRCC records, obtain a Verification of Status as an identity-linking document (like the provincial Certificate of Change) by following the instructions available here.
After your name/gender is changed:
You can update the name on your MCP card and gender. The MCP worker may tell you that you will need to update your status document first with IRCC first. This is wrong. The change of name certificate is enough.You must update your information with government and private entities. Here is a non-exhaustive list:

Canada Revenue Agency
Medical Care Plan
Service Canada
Service NL
Your bank / credit union
Your workplace

The most important entities as a Temporary Resident to update are Immigration, Refugees and Citizenship Canada, and the Memorial University Registrar's Office.

IRCC will recognize a provincial change of name but may not recognize a change of gender.
The Registrar's Office must know of your changed name and/or gender in order to issue academic transcripts and diplomas with the appropriate information, as these are legal documents.
Trans Support NL (tsnl)
Facebook: www.facebook.com/tsnl.umbrella
Email: tsnl.umbrella@gmail.com

A non-profit organization that offers outreach, education and training in gender diversity along with a number of peer support groups for the trans community of Newfoundland and Labrador.

Trans Support NL - Adults Group
Email: tsnl.adults@gmail.com
This group is a peer-support group for any adults in the St. John's area who identify as transgender, gender diverse, non-binary - including those who are questioning or exploring their gender.
Parents of Trans and Gender Diverse Kids – Newfoundland and Labrador
Email: parentsoftranskids@gmail.com
Parents of Gender Creative Kids-NL is a peer-support group for parents of gender creative, gender questioning, and transgender children and youth in St. John's NL. The group meets on the second Tuesday of every month at 6:30 p.m. in the Janeway Resource Centre, in the Janeway Hostel. Parents and youth outside the St. John's area can also join the meetings via Skype or teleconference.
Bridge the gApp
Bridge the gApp is a comprehensive online resource of both online and community supports designed to support health and wellness.
CHANNAL Warm Line (peer support): 1-855-753-2560; hours: 11 a.m. - 11 p.m.
The Warm Line is a non-emergency, non-crisis telephone support and referral service. People with lived experience receive training to operate the service.
Doorways (walk-in counselling services)
Doorways provides rapid access to mental health and addictions counselling services 'one session at a time.' While most Doorways locations offer a walk-in service, some locations provide same-day or next day services or appointments by phone. Walk-in counselling services are available without an appointment or referral.
To find a doorways clinic call 8-1-1, or visit: www.easternhealth.ca/MHA_Counselling
Hope for Wellness Help Line offers 24/7 mental health counselling and crisis intervention to all Indigneous people across Canada. You can call 1-855-242-3310, or visit www.hopeforwellness.ca to chat with a counsellor by phone or online. This service is available in English and French, as well as Cree, Ojibway, and Inuktitut, upon request.
PFLAG Newfoundland and Labrador
Email: pflagnl@gmail.com or murphy_p_charlie@hotmail.com
PFLAG NL actively assist in the recognition and growth of gay, lesbian, bisexual, transgender, transsexual, two-spirit, intersex, queer and questioning persons and their families and friends, within their diverse cultures and societies.

Planned Parenthood - NL Sexual Health Centre
Planned Parenthood - Newfoundland and Labrador Sexual Health Centre offers sexual health clinics, counselling, contraceptives, Camp Eclipse, Sexuality and Gender resources, and education.
Office Location (*NEW):
47 St. Clare Avenue, St. John's NL A1C 2J9
Phone: (709) 579-1009
Toll Free: 1-877-NO MYTHS (666-9847)
Fax: (709) 726-2308
Facebook: @PlannedParenthoodNL
Email: ppnlshcdirectors@gmail.com
Tommy Sexton Centre (AIDS Committee of NL)As part of it's Safe Works Access Program (SWAP), the centre distributes free, sanitary, safer using supplies, including needles that can be used for hormone therapy. They can supply 1cc/ml and 3cc/ml barrels, along with needle tips of various gauges (18, 22, 23, 24, 25). They are also able to deliver supplies on Tuesday and Thursday evenings from 7 p.m. - 10 p.m. In addition, the centre can accept and safely dispose of used needles. Call them with any questions!

Location: 47 Janeway Place, St. John's, NL
Hours of Operation: Mon-Fri, 8:30 a.m. - 4 p.m. (closed daily from 12:30 p.m. - 1:30 p.m.)
Phone: (709) 757-7927
Crisis Supports
24-hour Mental Health Crisis Line: (709) 737-4668, or 1-888-737-4668 (toll-free)
Mobile Crisis Response Team: 811 (St. John's Region)
Crisis Text Line: Text 'Talk' to 686868
Psychiatric Assessment Unit: (709) 777-3021 or (709) 777-3022; 24-hour walk-in crisis service at the Waterford Hospital Site at 306 Waterford Bridge Road, St. John's
Newfoundland and Labrador Sexual Assault Crisis and Prevention Centre (24-hour crisis hotline): 1-800-726-2743 or (709) 726-1411
---
Do you have a suggestion, comments or update that will improve this guide?
If you have a suggestion, a criticism or a comment to improve this guide, or you would simply like to add/update information you've added to this guide, please email Claire LeDrew, Student Support Coordinator, Student Life, claire.ledrew@mun.ca. This guide will be updated as necessary on an ongoing basis.
---
Updated: June 23, 2020 8:25 a.m. NST
Trans & Gender Diverse Students' Guide by Geary, J., Browne, J., Brushett, S., Campbell, V., Craig, A., Gough, R., Hickey, T., Pickett, S., Porter, J., Power, M., St. Croix, L., Temple, J., Todd, A., Copyright 2020, Student Life, Memorial University, is made available under the terms of a Creative Commons Attribution-NonCommercial-ShareAlike 4.0 International License.