Tanaya Chatterjee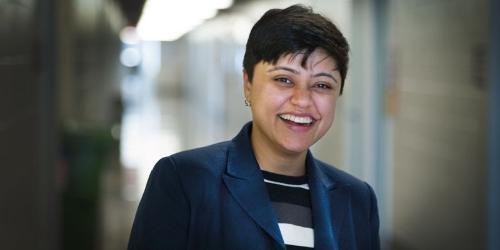 Memorial University Alumna
Clinical Psychologist in supervised practice, Psychological Trauma Program, Centre for Addiction and Mental Health (CAMH), Toronto
---
Where are you from originally, and for how long have you lived in Canada?
I am originally from a small town with lots of people called Howrah, in India. I came to Canada in September 2013 with three big bags and minimal warm clothes to pursue my degree at Memorial University, where I was accepted in the Doctor of Psychology (Psy.D.) program.
---
Where are you working now? Did you start working right away after completing your degree at Memorial University?
I work as a Clinical Psychologist in supervised practice at the Centre for Addiction and Mental Health (CAMH) in downtown Toronto.
As a part of the Memorial University doctoral program in Clinical Psychology, we are required to do a one-year residency at a mental health facility (e.g., hospital, clinic, counselling centre). It is generally done in the last year (fourth year) of the program. I applied to CAMH and I was accepted to do my residency in 2016. Just before the completion of my residency in August 2017, I applied for potential jobs at CAMH (including other hospitals) and I was fortunate to receive an offer from CAMH. As a result, I started working before I completed my Psy.D. - my title and salary changed after I was awarded the degree. I continued to work in the same department where I did my residency.
---
How was the transition from being an international student at Memorial University to a full-time employee?
When I started working at CAMH, I was still a student. Along with my clinical training, I began to build relationships with managers, supervisors in different departments, other students, and research assistants. Building a positive relationship was essential because not many professors, researchers, and supervisors knew me in Toronto. I wanted them to know me - as a clinician and as a person. The guidance from my immediate supervisor and mentor, Dr. Niki Fitzgerald, helped me navigate this aspect of my career to a great extent.
Nevertheless, the transition from being a student to an employee (i.e., being on the "real payroll") was quite daunting. That leap was a fairly big one, and at times it felt surreal. In many ways, it was similar to those adjustments I made during my first year at the university (such as adapting to changing environments and understanding what is expected). My colleagues and supervisors at CAMH made the transition (from a student to an employee) extremely easy for me. Whenever I felt like I did not know something (clinical, administrative, or otherwise), I just asked! Very soon I realized that no one thought I was silly if I asked questions. Instead, they thought I was being proactive and interested. It worked and it is still working!
Being in the "real world" helped prepare me for this transition. By "real world" I mean working part-time, working on- or off-campus, doing internships, volunteering, networking, and also living off-campus. Moving from St. John's to Toronto was very exciting, but I also was nervous because I did not know anyone. But I reminded myself that the biggest move (from India to Canada) was already over: the rest was a cakewalk!
---
How have your international background and culture been beneficial to your employer?
I never realized the benefit of being multilingual until I started to work at CAMH. Downtown Toronto is extremely multicultural, and I treat patients who are unable to converse fluently in English. As such, my manager and supervisors ask for my help to treat those individuals in their native language (i.e. if I happen to know that language). I use my international and cultural background as well as my knowledge of other languages as features that my patients and employer appreciate.
My journey from India to Canada has been a big milestone in my life. It included mentally exchanging rupees to dollars and vice-versa before deciding which appetizer to order when having dinner with classmates. This, among many other experiences, made me the person I am today. It made me humble, tolerant, and patient. It made me believe that anything is possible. Lesson learned: share these stories and anecdotes with your manager, supervisor, or hiring committee as examples of experiences - they will know it is real and that you did not just Google it.
---
Did you work during your studies at Memorial University? How has that helped you prepare for entering the workplace after graduation?
Yes, I did. Partially because I needed money to support my education (it also included going to the Duke of Duckworth or listening to Jazz music) and also to build connections. I wanted people to know that I am good at what I do, whatever that may be. I volunteered at the Waterford Hospital, where I learned to play cards and talk about Jiggs dinner with patients. I learned that not everything was a strategic plan to get a job; instead, I just enjoyed the company. Volunteering also gave me a sense of accomplishment because I was giving back to the community where I was living. It made me feel I was needed.
---
From your experience, why should employers consider hiring international students and graduates?
Remember the process we went through: searching for universities, applying and hoping to get accepted, applying for bank loans, and the immigration process. It is indeed a commitment! Remember that feeling when we said goodbyes to our friends and family, before the aircraft took off - perhaps filled with excitement and apprehension. Remember that feeling when the plane finally landed in Canada. I remember it every day. I remember smiling and thinking to myself: "I made it! I did not give up!". All of us, as international students, have experienced something similar. I believe it is because we are resilient. Throughout a graduate program, there are various successes and challenges and ultimately we complete the degree because we are diligent and committed. So this journey of resilience, diligence, and commitment is proof of our competencies for the employer. We know how to perform under pressure, we bring a diverse outlook and worldview, we are interested in learning, we can fit in, and we are committed. Our journey, experience, knowledge, and education are the proof.
---
Any questions? Contact our International Student Career Advisor.