Xili Duan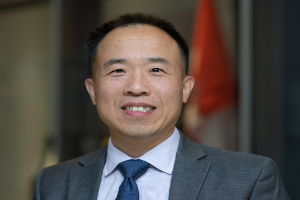 B. Eng., M.Sc. University of Petroleum, PhD University of Manitoba, P.Eng.
Contact Information
Ph: 709-864-7108
Em: xduan[at]mun.ca
Office: ER4019
Expertise
Research Interests
Heat transfer
phase change
energy storage
fluid mechanics
multiphase flow
thermal management
surface and interfacial phemomena
Personal Profile
I joined the Faculty of Engineering and Applied Science in 2014. Before this, I was a resident engineer with Siemens Energy (2012-2014) working on combustion testing and thermal design of combustor components in gas turbines.
I received my bachelor's degree in thermal energy and power engineering from the China University of Petroleum (UPC) in 1999. I continued at UPC for graduate research on gas combustion and received my master's degree in chemical process machinery in 2002. In the same year, the university offered me a faculty job as a lecturer. Besides teaching thermal fluid courses, I worked on several research projects developing gas burners and high efficiency heat exchangers.
In 2004, I came to Canada for my PhD study at the University of Manitoba working on ground heat transfer and thermal protection of power transmission foundations against problems caused by seasonal freezing and thawing. In 2009 I received my PhD degree in mechanical engineering from Manitoba and at the same time received the NSERC Postdoctoral Fellowship. With that I went to work at Massachusetts Institute of Technology (MIT) where I conducted extensive research on boiling heat transfer and multiphase flow in power generation systems.
Besides MIT and Siemens, I have worked closely with other leading energy R&D institutions and companies including the National Research Council Canada (NRC), University of Ontario Institute of Technology (UOIT) and Manitoba Hydro. I have published one book chapter and over 30 research papers in the thermal fluid and energy areas. I am a registered Professional Engineer (P.Eng.) and have published 3 book chapters and over 120 research papers in the thermal and fluid and energy areas.
Honours/Awards/Accreditation
Fellow of the Canadian Society for Mechanical Engineering (CSME), 2022
Terra Nova Young Innocator Award, 2019
Research Highlights
Marine Vessel Drag Reduction with Smart Coatings
Wind-powered thermal energy generation and storage device
Multiphase Flow and Phase Change Heat Transfer with Innovative Functional Surfaces
Hybrid Ice Protection Technique for Offshore Structures and Marine Vessels in Cold Regions
Liquid Repellent Surfaces to Improve Asset Integrity and Safety in Harsh Marine Environments
Other Contacts
http://www.engr.mun.ca/~xduan/